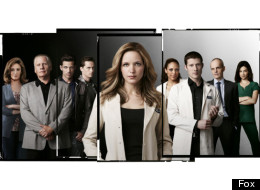 Every fall, the networks roll out their new offerings -- some destined to last forever in syndication, others doomed to be axed after two episodes. But does a show's title have anything to do with its longevity? Who would have thought that a series with a name as generic as "Friends" would become such a classic?
Sadly, for every hit, there are a dozen other new shows that will fade into obscurity, with names that are bland, vague, literal or just plain misguided. We've rounded up 10 new series premiering this fall and in January that we've deemed to have the worst names of the bunch, i.e. 2012's "GCB" (RIP).
We let the humdrum place names such as "Nashville" and "Vegas" off with a warning this time around.
From "Go On" (a.k.a. #goon) to "Partners," check out our gallery below and sound off in the comments -- do any of these titles make you want to check out the show, or do they actively put you off?
Some Of The Worst TV Show Titles
If the show's premiere ratings are any indication, viewers were as unimpressed with this medical/crime drama's name as we were. Sadly, it's the first of many uninspiring titles this season ... Airs Mondays at 9 p.m. ET.

Already the subject of a hilarious Seth MacFarlane skit on last week's "Saturday Night Live" -- as many have noticed, without proper capitalization, the title can be read as "Goon." And thanks to Twitter hashtagging, we bet Ryan Lochte isn't the only one who'll be confused. Airs Tuesdays at 9 p.m. ET.

They're business partners who also have romantic partners! (This show has so many layers!) The bland title is far from the most offensive thing about this shrill and repetitive odd-couple sitcom, and the cast deserves better. Premieres Monday, September 24 at 8:30 p.m. ET.

They're guys ... WITH KIDS. Hilarious, no? Premieres Wednesday, September 26 at 8:30 p.m. ET.

Aside from potentially being confused with a long-running Australian soap opera, this generically-titled alien comedy has a lot of other problems to overcome, and its name isn't even at the top of the list. Premieres Wednesday, September 26 at 9:30 p.m. ET.

A plucky young working-class lawyer from Jersey with big hair and even bigger dreams ... (Never mind that star Janet Montgomery was actually "Made in England.") It's not quite the least imaginative title this fall, but there's no hook there. Premieres Friday, September 28 at 9 p.m. ET.

Because "Chicago Firemen" would've been too on the nose. A cursory Google search reveals that the NBC drama has to compete with a soccer team, Chicago's actual fire department, a pizza joint and the Great Chicago Fire of 1871. At least the cast is attractive ... Premieres Wednesday, October 10 at 10 p.m. ET.

We're guessing "Generic Doctor, M.D." was already taken. The show was originally called "First Cut," which was marginally more interesting ... but since the main character is named Emily Owens, they probably didn't want to confuse people. Premieres Tuesday, October 16 at 9 p.m. ET.

This otherwise inoffensive family comedy starring Sarah Chalke certainly has the most unwieldy title to type and say, and it's equally tedious to abbreviate: "HTLWYPFTROYL." We can't see it trending on Twitter any time soon. Premieres midseason.

The lead character's not a spider, but she is a widow! Plus, there are Russian mob connections, and we're guessing she'll be killing plenty of people, so there are connotations galore in the title of this ponderous mob drama. (We guess it could've been worse -- "Mob Widow," anyone?) Premieres midseason.