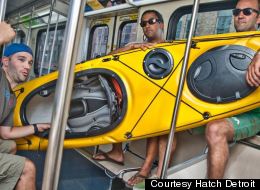 What do Detroiters want more of in their city?
Kayaks, Spanish small plates, meatless comfort food and pie, that's what.
The Comerica Hatch Detroit contest announced that a field of 10 semifinalists business plans have been narrowed down by popular vote to four finalists: Detroit River Sports, Detroit Vegan Soul, La Feria and Rock City Pies.
Over 30,000 votes were counted in the semifinalist competition in the last week, said Hatch media representative Vittoria Kattanski.
The Comerica Hatch Detroit contest, founded last year by Nick Gorga and Ted Balowski, will provide $50,000 and support services to one worthy local entrepreneur. They received over 250 business plans this year, choosing semifinalists with the help of an advisory board loaded with current Detroit business owners.
The entrepreneurs behind what may be Detroit's next non-motorized water sports outfitter, vegan soul food restaurant, tapas eatery and bar, or gourmet pastry counter will meet in person to defend their business plans and dazzle a panel of local and regional business owners at this year's Hatch-Off on Sept 26 at the Majestic Theatre from 6 to 9 p.m..
Each finalist will take the stage for a very public, fast-paced Q&A at the hands of Lydia Gutierrez of Hacienda Mexican Foods, Rufus Bartell of the Simply Casual clothing store, local restauranteur Sean Harrington, of Town Pump, Centaur and Hot Taco fame, and New Holland Brewery's Brett VanderKamp. Tickets are $50, including appetizers, beer and wine, and can be purchased here.
The second round of voting begins Sept. 24 and lasts until Sept. 27. Hatch organizers say they will also man one on-site voting booth location in the city, where passionate retail supporters can cast up to three votes per day.
Last year, Joe Posch's concept for men's retail took home the grand prize. He's been working with Hatch since and plans to open his store Hugh in the Auburn, a building under construction at Cass Avenue and Canfield Street, this fall.
Who will be the next winner? We'll find out on Sept. 27. Who are you voting for? Let us know.
See all 10 semifinalists in this slideshow.
Hatch Detroit 2012 Semifinalists
They Submitted. They Rocked. They Conquered. Hatch Detroit named 10 semifinalist entrepreneurs who will compete for the hearts and minds of Detroiters this fall. The winner will take home $50,000 and the support to build the business of their dreams. Find out a little more about the 2012 Hatch Detroit class through the slideshow, featuring quotes from their business proposals. Vote for your favorite Hatch Detroit contestant every day, and make sure to explore every budding Detroit entrepreneur through our Hatch Q&As.

"Tashmoo Biergarten is a European style outdoor beer garden that opened in the fall of 2011 as five sequential pop-up events in the West Village neighborhood of Detroit, MI. The next phase of Tashmoo Biergarten is to purchase property with enough space for the beer garden and a building to house a tasting room and the necessary facilities."

"Whip Hand Cosmetics offers luxury, artisan, professional makeup artist quality cosmetics made in Detroit With Attitude. The brand's products include more than 100 color cosmetics for the eyes, lips and cheeks, as well as a line of skin care and prep products. Whip Hand Cosmetics: The Art of Control."

"La Feria will be a small authentic Spanish Tapas restaurant in the style of those commonly seen in the south of Spain. The food and menu will follow the Tapas tradition of a number of plates that are small portions of various Spanish dishes, accompanied by wine or beer. "

"Our mission is to create a whole new dynamic on the Detroit River, built around sports and recreation activity. Detroit River Sports will be a hub for all human or nature-powered, sports on the River. By offering rentals, lessons, tours, and retail we will provide amenity to those already familiar with the pleasures of waterfront recreation, and expose the uninitiated, creating new River enthusiasts within the city. By providing new ways to experience the City and its River, interest in the Detroit Riverfront as a whole will grow."

"Detroit Vegan Soul is a newly created meal delivery & catering company that with the help of Hatch Detroit will open a café in one of Detroit's historic neighborhoods. We want good, healthy food to be accessible to everyone. Our mission is to help people live healthier lives by providing great-tasting, high-quality, nutritious vegan food that appeals to everyone, while at the same time doing our part to support a sustainable earth."

"Vividbraille fuses high end fashion and design with USA manufacturing in a retail setting. The studio boutique offers its customers some of the finest Made in the USA high fashion goods while also allowing its customers to experience the creative process leading up to the completion of any given collection or item of clothing."

"We would like to open a 50-seat Pho House in Midtown, Detroit, to bring the first Vietnamese restaurant to the people. Eating at Da Nang is much more than a dining experience. We treat our customers to authentic Vietnamese cuisine, of course, but we are careful about the setting. We want to share the beauty of Vietnam and its people through our menu, our décor, our staff – basically every touch point."

"Motor City Design Co. store is a custom denim specialty retail store featuring all made in Michigan products as well as products made directly in the store. People will be able to shop in the store and see seamstresses sewing and making garments behind large glass walls. The store will be the first of it's kind in Detroit -- or in the world, for that matter. "

"Rock City Pie products are NOT like your grandma's pies. They are as unique and pure and as unexpected as the people who make-up the Detroit urban "hipster" scene, with flavors and sensations unlike anything else. Bizarrely original, they are totally fresh with locally-sourced ingredients and are even a little bad ass…..and DAMN they are good."

"The Collective Tap is a community focused beer retailer promoting and cultivating a respect for beer in Detroit. We specialize in the education and selling of Midwestern craft beers, while also selling brews from the US, UK and Belgium. Our goal is to make high‐ quality beer approachable, from the first time craft beer drinker to the seasoned home brewer."