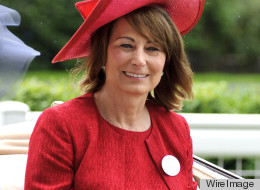 When Karl Lagerfeld decides to unleash his fire hose of Karl Komments, no one is safe. Previous victims of the Chanel bigwig's famously brazen tongue include Adele ("fat"), Russian men ("ugly") and the Duchess of Cambridge's rump (surprisingly, "lovely".)
Now, in a new exclusive with Grazia, the 79-year-old designer lets loose on Carole Middleton, the mum of Kate and Pippa. But it's not as bad as you'd think! More specifically, Karl thinks Carole is kind of a M-I-L-...well, you know.
"I think Carole is very sexy. I think the mother is sexier than the daughters. There is something full of life about her. For a woman who must be 50 or so I think she's great. Full of energy."
She's 57, by the way, and sorry, Karl: she's married.
Lagerfeld also backtracks to the magazine about his previous statements on Pippa Middleton's, er, face problems. You might remember when the Kaiser weighed in on where Kate and Pippa fall on Karl's Scale Of Bootyliciousness to the Sun:
"Kate Middleton has a nice silhouette and she is the right girl for that boy. I like that kind of woman, I like romantic beauties. On the other hand, her sister struggles. I don't like the sister's face. She should only show her back."
Now, he clarifies to Grazia what he meant about Pippa's visage: "I didn't mean that! I only meant I don't think her make-up is right; she has a roundish face and round eyes and she should pick another make-up for the eyes." (Actually... we sort of agree?)
Whew! The world can finally sleep easier now that we have a clear understanding about what Karl thinks of the Middletons. For more warm fuzzies with Karl, head over to Grazia to read about why he REALLY wears those fingerless gloves all the time.
Karl's bon mots just keep on coming...
Karl opened up to Women's Wear Daily about Tokyo Fashion Week: "It's changed a lot but it's changed for the better I think. I noticed that people became bigger than before because now they eat more cake and sweets and things like this that they didn't do in the past. There's a real change in the look of the Japanese people. Normally, before, they were all tiny. It's the kind of beauty you get from junk food." (AFP photo)

Karl told Style.com he's very fond of Michelle Obama: "I'm a big fan of Mrs. Obama - and her face, I think, is magical. He would not be there without her. Mrs. Obama is not a fashion statement, but she has other things to do. My favorite thing about Mrs Obama was when she was asked if her skirt was not too tight and she answered 'Why you don't like my big black ass?' I want [Barack] Obama to win because there is nothing better anyway, and especially because of her." FYI: Kristina Schake, Director of Communications to First Lady Michelle Obama released a statement regarding Lagerfeld's comment saying, "Mrs. Obama never made that statement." (Getty photo)

In his infamous interview with Metro, Karl put his foot in his mouth when talking about Russian men: "If I was a woman in Russia I would be a lesbian, as the men are very ugly. There are a few handsome ones, like Naomi Campbell's boyfriend, but there you see the most beautiful women and the most horrible men." (Getty photo)

Karl caused major drama when he opened up to Metro about his feelings towards Adele: "The thing at the moment is Adele. She is a little too fat, but she has a beautiful face and a divine voice." (Getty photo)

If you ever wondered what Karl thought about the Greek financial crisis: "Greece needs to work on a cleaner image. It's a big problem, as [Greeks] have this reputation of being so corrupt. You can't be sure the money will go where it's supposed to go. They need to build trust, and that takes time too. Nobody wants Greece to disappear, but they have really disgusting habits - Italy as well." (AFP photo)

Karl sat down with former Vogue Paris editor-in-chief Carine Roitfeld and talked children for Interview magazine: "You're also lucky because they are very beautiful. It would have been difficult to have an ugly daughter." (Getty photo)

Karl thinks politics is all about survival: "I love Dominique Strauss-Kahn. I love his wife. They are great people and when they came back to Paris I sent them flowers. But you know, for people in politics, it's very embarrassing. On the left they had hoped he wouldn't come back, because I think other people want his job. And on the other side...but even in America, Clinton survived his blow job." (Getty photo)

The Independent reported Karl saying some insulting things about curvy women to the German magazine Focus: "No one wants to see curvy women. You've got fat mothers with their bags of chips sitting in front of the television and saying that thin models are ugly." (AFP photo)

At a press conference in Japan on Friday, reports Women's Wear Daily, Karl Lagerfeld said of Newsweek: "First of all, Tina Brown's magazine is not doing well at all. I'm sorry for Tina Brown, who was such a success at Vanity Fair, to go down with a shitty little paper like this. I'm sorry." (Getty photo)
Want more? Be sure to check out HuffPost Style on Twitter, Facebook, Tumblr and Pinterest.