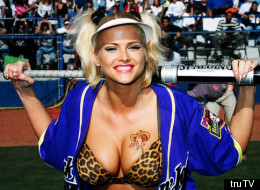 EDITOR'S NOTE:
Our friends at
TruTV
have shared with us these porn star death investigations and the truth behind the nature of their demise.
These are great stories, some of which were worked in collaboration with The Huffington Post! Check them out:
What Killed These Porn Stars?
For most people, the world of sex takes place behind closed doors. The adult entertainment industry acts as a peephole that offers a tantalizing glimpse of that secretive space. But the world of pornography, part of the underbelly of society, remains in the shadows -- the perfect place for conspiracies to grow. Are the many untimely and suspicious deaths of porn stars simply an occupational hazard, or is something more sinister at work?

According to the Sunday Sport, Foster was a dwarf, a porn star, and a Gordon Ramsay (above) lookalike, a combination that should have made the man a legend in the blue film industry. Indeed, Foster had already purchased a BMW and a diamond-studded soda-making machine in anticipation of vast riches. So it was a shock to everyone when he was discovered dead and partially eaten in -- of all things-- an underground badger's den. But when the Huffington Post investigating this story, local police claimed they'd "never heard of" the case and porn historian Bill Margold said he had never heard of the adult film star. Was the story a hoax? Is someone trying to "erase" all record of his life?

The former Green Party aide cum porn star cum porn director began her career innocuously enough. At age 19, she began nude modeling to help pay rent while working at a Blockbuster in San Diego. She had appeared in over 313 videos by 2007, when her husband, porn director Chico Wanker Wang, brought the aspiring sex therapist to a California hospital, where she was found to have no pulse.

The starlet had a history of heroin use and trace amounts of methadone was found in her system. Her husband, Wang, was suspected of foul play because of rumors he'd pistol-whipped Paige, however the police did not press charges and the case remains unsolved. Here the trail grows cold as Hwang soon met his own mysterious end...

Just a month after his wife's death, Hwang purportedly committed suicide and was found dead in a motel room decorated with a makeshift shrine of computer images of his late wife, Haley Paige, as well as scribblings in a notebook detailing how hard it was for him to live without her. Interestingly enough, Hwang died of a methadone overdose, the same substance found in Paige's body. Rumors have yet to cease that Hwang had gotten on the bad side of a Mexican drug gang, and both Hwang and Paige were murdered via forced overdoses.

On February 8, 2007, almost six months to the day after her son Daniel's death from an accidental overdose, Anna Nicole Smith was found in her hotel room unconscious and unresponsive. She died shortly thereafter, a victim of a lethal overdose of prescription tranquilizers, other sedatives and, some might say, a conspiracy to wipe out her family.

While porn itself is relegated to the basement of society, snuff films (i.e. a movie of a murder, usually a thrill-killing), hide even deeper in the darkness. Even there, money can be made. In March of 2010, a YouTube video showed male-on-male porn star Dustin Michaels choking to death while surrounded by stun-gun-happy cops. In the video, Michaels first appears to be resisting arrest, but the scene shifts dramatically when it becomes clear Michaels is suffocating.

After a few more shocks, the officers finally realize this one man is no threat and is actually in dire need of assistance and they try the Heimlich. Michaels is eventually pronounced dead... but the cause? A coroner ruled that he choked on a bag of marijuana he was trying to conceal from the cops.

Fetish specialist Taylor Summers her short life as the victim of a real snuff film. After shooting a bondage session in photographer Anthony Frederick's basement, Summers was reported missing. A month later her body, still dressed in Frederick's bondage paraphernalia, was found with multiple stab wounds. Apparently, after Frederick refused to pay her, things got ugly. Her DNA was found in Frederick's car, and he was sentenced to decades in prison.

Driver was a little known porn actor until he was fired from a porn shoot and went on a rampage with a prop Samurai sword, killing one of the workers. The production company offered a $2,000 reward, and a manhunt was organized by local law enforcement officers. One day later, Driver was found sitting at the edge of a cliff, threatening suicide.

After a long standoff, police officers hooked Driver's body with Tasers and fired "non-lethal" projectiles at him. This was allegedly done to prevent him from jumping, but videos of the incident show the projectiles pushing him off the cliff to plunge 50 feet to his death. One Deputy was quoted as saying, "We wanted this to end a different way."

In January 2011, the 23-year-old Cora died of a heart attack during a breast implant procedure in her native Germany. The operation was the sixth for the star of Germany's "Big Brother" TV series and over 100 porn films. Cora was having 28 ounces of silicon injected into each breast, transforming her 34Fs into 34Gs, but suffered two heart attacks and was put into an artificial coma she never awoke from. The doctors expressed a deep regret over her death and were fully exonerated by the police. EDITOR'S NOTE: The tabloid Bild reports that one anesthesiologist, "Marion F," is charged with involuntary manslaughter and faces up to 5 years in prison if convicted in Cora's death. The trial begins Feb. 5, 2013.

Ferrari, a French dancer and porn star, gained global notoriety by breaking the record for the world's largest breasts, which weighed in at 12.4 pounds and contained six liters of saline. Her life ended in March of 2000 from a reported overdose antidepressants and tranquilizers. Though her death was first ruled a suicide, a second autopsy determined that forced suffocation could not be ruled out. 17 months later, another autopsy was performed which, this time, supposedly proved the suicide.

This sweet-faced community college student went missing in 2007; six days later, her mutilated body was found. Israel Mireles, a convicted child molester who had fled to Mexico with another girl -- who was 16 and pregnant -- was extradited, convicted and sentenced to life in prison for Sander's murder, the details of which remain shrouded in mystery. During the course of her disappearance, Sander's double life as an internet porn model was unearthed.

Platinum-blond siren Savannah was a prolific porn star at the top of her game, having appeared in countless adult films. Yet it was her notorious sexploits -- bedding (and later bad-mouthing) big names like Gregg Allman, Slash and Billy Idol -- that kept the press buzzing. In 1994, she was found dead with a gun in her hand, hours after her a bizarre car crash left her with a broken nose. Her friends accused the adult film industry - or maybe her enraged ex-lovers - of being responsible in Savannah's death, which was ultimately ruled a suicide.

After the Feds began investigating her porn career in the 1950s, the notorious Bettie Page disappeared. She hid out in New York, eventually becoming a born-again Christian. At the age of 58, the pinup resurfaced again at a trial in which she was found not guilty of attempted murder on grounds of insanity for stabbing her landlords. When she died in 2008 of "natural" causes that were never determined, she had for years refused to be photographed or filmed in anything other than utter darkness. What really happened to the original pinup sensation?

The list of mysterious deaths in the porn business is long, and we fear it will just keep spreading... even to animals. In March 2011, an Israeli adult film star tried to kiss a large boa constrictor during a photo shoot. The manhood metaphor instead swooped into her bosom and bit one of her breasts. The stranger twist in this story comes later on, when the boa was found dead of-- you guessed it-- silicon poisoning. Editor's note: This turned out to be a hoax. The snake couldn't have died from silicone poisoning, experts say, because they don't suck when they bite.
More from truTV.com
Water-Powered Cars, Safe Cigarettes and More Inventions You'll Never See
Find Out Why Google Won't Show You These 24 Places
Discover Why We Think the Government is Researching Time Travel