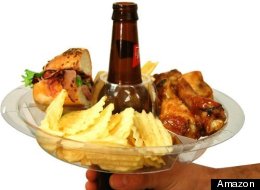 If you've ever been to a Spencer's Gifts, a fraternity house or your older brother's room, chances are you've encountered some of the funny beer-related products below. Sure, they're fun for a while, but as the night goes on we can bet that many of these would befuddle the inebriated individual.
Shooting a "beer blaster," using a "beer burglar" alarm or wearing a "beer hoodie" isn't so hard when you're sober (although it's still pretty ridiculous). The fun part comes in when your friend who's fond of keg stands gets a hold of them and attempts to partake. Just look at the 19 accessories below and imagine you've got a set of beer goggles on. You'll get the idea.
Also see: The Most Ridiculous Beer Names Of All Time
Beer Accessories Too Confusing For Drunk People
Let's hope that sweatshirt is stain-proof. Also, get ready to be asked, "Dude, where'd I put my beer?" a whole lot.

The party don't stop 'til you spill chicken wings all over your lap.

Aside from the cringe-worthy "Look! A six pack on my six pack!" jokes your drunk friend will undoubtedly make, just wait until she tries to tie her shoes.

If you're already this committed to drinking on the DL in public, we wouldn't be surprised if you end up thinking you're Arnold Schwarzenegger in "Junior" by the end of the night.

"DUDE YOUR BEER IS ABOUT TO SPI-- Oh, wait. It's cool."

Clever, but that remote would get lost faster than your beer. Also, encouraging people to lose track of their drinks might not be the best way to go.

A few beers later and your guests assume that you hired R2-D2 as your personal butler.

Does the night end with you trying to get this last sip of beer? Or does it BEGIN that way?

You know it's the end of the night when you start talking to your beer, but imagine what would happen if it talked back?

We'd like to see any beer actually make it into a drunk person's mouth with this product. Also, the makers ignored the obvious "Shotgun" pun opportunity. What a shame.

The packaging explains how easy it is to operate, but towards the end of the night? We're not so sure. Also, did we mention that it's completely unnecessary?

Not included: replacement iPod for when it falls into the ice water.

If you're already sitting on the ground, you've maybe had enough beer.

"DUDE YOU SPILLED BEER ON YOUR PHO-- Oh, wait. It's cool."

Have one too many and leaning over results in a waterfall of beer on your carpet. Sorry, mom!

"Have you seen my drugs? I mean my beer. I mean my bottle of beer. I mean my can of beer in a bottle of drugs."

All's well until your drunk friend tries to spin his "gun" around his finger.

You know a drunk person is just going to hold the can and have the gun part sticking out all night.

This might not confuse a drunk person, but the name "Shaft Cooler" will definitely make them giggle.