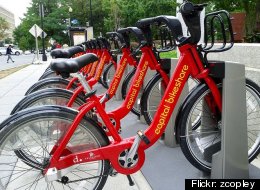 A large-scale bike-sharing program, a service that allows people who don't own bikes to borrow or rent them, could be coming to Detroit. A coalition of local business and nonprofit groups is now pursuing a study to see if this type of program, which already exists in places like Denver and Minneapolis, has a future in Motown.
Wayne State University is spearheading the research effort with a long list of business and nonprofit partners that includes the Michigan Trails and Greenways Alliance (MTGA), Henry Ford Health system, Blue Cross Blue Shield of Michigan, Quicken Loans, Midtown Detroit Inc., the Downtown Detroit Partnership, the Detroit Economic Growth Corp., the Detroit Medical Center, the Detroit RiverFront Conservancy, NextEnergy and DTE Energy.
Lisa Nuszkowski of Wayne State's Office of Economic Development said the idea had been bounced around among the groups she works with before, so her office chose to run with it. "We decided to pull a bunch of people together and decided to commit some money to [researching] the idea and go forward with it for the city," she said.
Nuszkowski believes the program would encourage alternative modes of transportation, help connect different parts of the city and increase the appeal of Detroit as a place to visit and live.
$45,000 has now been raised for a feasibility study since discussions over a potential program began in April. The Hudson Webber Foundation has contributed $25,000 to the undertaking through a grant and the rest is being covered by the coalition's other partner organizations.
The analysis would determine whether a bike-sharing program could be effective in Detroit and offer recommendations on how to best implement one. Although no firm plans have been set, Nuszkowski said such a program could potentially connect hotspots like downtown, Midtown, Eastern Market, Corktown and several other neighborhoods in the greater downtown area.
In an article about a potential Detroit bike-sharing program that appeared on M-bike.org, MTGA's Detroit Coordinator Todd Scott said "such a system would complement the Woodward light rail investment by expanding its reach into the surrounding neighborhoods" and other destinations.
It's a position Nuszkowski says the the broader coalition shares.
"We certainly view this as a link in a broader transportation system. Bike-sharing is a point A to point B form of transportation, said Nuszkowski. "You check out a bike and then you return it. You don't ride it non-stop somewhere for four hours. It's diferent than a bike rental in that way."
Bike-sharing programs in other cities have taken a variety of forms -- everything from free bikes left out in public spaces, to coin-operated bike docking stations and newer systems integrated with Information Technology and linked to public transit.
Nuszkowski said they can also have many different types of governance models.
"Some are wholly city-owned, some are privately owned, some are quasi public-private partnerships, or a non-profit could own it but contract out [maintenance] services," she said. "It could work a number of different ways and we want a better understanding of all the advantages and disadvantages of different systems and what would work for Detroit."
The next step in the project is to hire a consultant to undertake the study, which the coalition expects to have done by mid-October. Nuszkowski believes the study will take about three to four months to complete.
This isn't the first time the words "bike share" have been dropped in Detroit. Last year three College for Creative Studies graduates proposed a program called the Detroit Bike Project, although the group's website is no longer operational. In addition to that, the community bike space Fender Bender began work on a small-scale project, a bike lending library, earlier this year.
Flickr Photo by zcopley.

CORRECTION: The story has been changed to name the group contributing $25,000 as the Hudson Webber Foundation, and the spelling of Lisa Nuszkowski's name has been corrected.
Where to go to scope out Detroit's bike scene:
Detroit Bike Shops And Spaces
Bike Tech owner Brian Pikielek has operated his shop on Detroit's east side since the winter of 1984. Over the years, he's hired about 200 young people from the neighborhood and witnessed a lot of changes. "When I opened up in the '80s, there were 23 bike shops within 10 miles of me," he told The Huffington Post. That number has now dwindled to a handful. It's a trend that hasn't been limited to bicycle shops. Pikielek is the president of the Cornerstone East English Village Morningside Business Association and he's seen the group's membership drop from 65 businesses to six over the past 30 years. Still, his company has carved out a niche and held fast in spite of the population loss that has decimated the area. The full-service Bike Tech shop offers customers a sizable selection of about 400 new and used bikes. It specializes in vintage bikes, including those that Pikielek says are popular with the under-30 crowd, like old Schwinn 3-speeds from the '70s and '80s. Bike Tech also carries vintage bike tools. Pikielek credits his staff's skills with these tools and their superior know-how with keeping Bike Tech in business. "Doing bike repair on some of the older bikes is an art," he said, "and the knowledge isn't really available to work on them. Cruisers. Internal mechanisms -- we fix anything." Bike Tech is located at 18401 E. Warren Avenue in Detroit. The shop is open Monday through Saturday from 10 am 7 pm and Sunday from 12 pm - 5 pm. For more information see www.biketech.us.

Wheelhouse Detroit sits on a beautiful pavillion on Detroit's RiverWalk. The bicycle retail shop and rental outlet shares space with a carousel and seasonal cafe, and it's a stone's throw away from the William G. Milliken State Park and Harbor. The Wheelhouse stocks the Kona, Sun, Origin 8, Surly and Salsa bicycle brands and carries about 200 bicycles for sale. It also rents out bicycles including cruisers, hybrids, tandems and road bikes for adults and BMXs for children -- and offers accessories like tagalongs and trailers for family outings. Customers can also bring in their own bikes for repair and cleanup or join in one of the Wheelhouse's many Detroit-themed bicycle tours. These tours run from mid-April to October and feature geographic and historical themes, as well as contemporary trends like urban gardening. Kelli Kavanaugh, who opened the shop with co-owner Karen Gage in 2008, told The Huffington Post the tours attract all kinds of people. "We get a lot of lifelong Detroiters who are interested in particular aspects of the city and lots of metro Detroiters who want to see things they may have heard about," she said. "And many out-of-towners looking for something while they're in town." Kavanaugh said the Wheelhouse has seen travelers from every continent except Antarctica, with the majority of international visitors coming from Germany, Britain and the Netherlands. Wheelhouse Detroit is located at 1340 E. Atwater Street at the Rivard Plaza on the Detroit RiverWalk. Hours vary based on the season. For more information see: www.wheelhousedetroit.com.

The Livernois Bike Shop, founded in 1937, is the grandfather of Detroit bicycle shops, according to employee Damon Brunson, 34. He said the shop has operated from its present location across from the University of Detroit-Mercy for the last 53 years. The shop does good business with the university, handling its bike orders and helping out with an annual midnight ride that often draws more than 100 students. As for its stock, the 1,500-square-foot space offers quite a range of choices for cycling enthusiasts, video game players and others who happen to stop in for a look. "We carry 20 inch BMX Classics, Schwinns, high end use bikes, video games, unicycles, high-end BMX, toys comics, tricycles, used tires, new tubes -- any and everything you could think of," said Brunson. Those in need of a tune-up or a derailleur adjustment should feel free to stop on in, as the staff repairs most makes and models of bicycles. The Livernois Bike Shop is located at 16657 Livernois Avenue. For more information call 313-864-8734.

The gear heads at The Hub of Detroit's Cass Avenue retail space certainly sell bikes, but it would be a mistake to assume that's all they do. "We're more than a bike shop. We're also a community space," said Jason Fiedler, who handles communications for The Hub. "We focus on giving information and education to people in order to empower them." The Hub's shop is the retail wing of Back Alley Bikes, a program that started in 2000 with the goal of providing transportation for those involved in the Detroit Summer youth program. They now offer a variety of programming for local youth, including an Earn-A-Bike program and a Young Mechanics training program. Those who complete the mechanics training hare eligible for paid summer employment. The organization also holds adult mechanics classes, recycles old bicycles and bike parts and offers perks like floor space and free parts to "allies" who volunteer on a regular basis. Aside from the programming, the space also gives cycling enthusiasts from across the city a chance to meet one another. "We see bikes as a way to access community in Detroit that's super spread out and separated by freeways," Fiedler told The Huffington Post. "People who volunteer here are from everywhere and bicycles are that one object that brings them together." Unlike most bike shops, The Hub's retail space is a non-profit venture. It began in 2008 as a funding innovation that allowed organizers to spend less time writing grants and more time working with people and bicycles. The organizing structure of the Hub also differs from many business and non-profit models. It's run by a nine-person collective comprising paid staff and volunteers who use a consensus process make decisions about the retail space and Back Alley Bikes programming. In terms of retail selection, however, The Hub has exactly what one would expect from a bike shop: a well-stocked selection of merchandise and a knowledgeable crew of repair staff. Currently The Hub stocks about 50 different bikes in a variety of styles, including cruisers, mountain and road bikes. It also sells new and used parts and accessories and the shop can order new bikes and other bike-related items for customers. The Hub of Detroit is located at 3611 Cass Avenue. For more information, see thehubofdetroit.org.

The G&R Bike Shop is no newcomer to the Detroit bicycle trade. The shop has been in business since 1972 and staff have sold and repaired bikes from its location on Grand River and Lahser since 1976. G&R carries about 200 different bikes, many of them Huffys and Schwinns. The shop also stocks a full line of bike parts and accessories. The establishment gets its names from G&R's original proprietors, Greg and Renee Loiselle. As to G&R's longevity, Paul Duquesnel, the current owner, has few secrets to share: Besides hard work and a loyal local customer base, as long as the weather is good, business is good at G&R. G&R Bike Shop is located at 21706 Grand River Ave in Detroit. For more information call the G&R bikes at (313) 531-1146.

Fender Bender is a bike space for women and queer people to learn the basics of bike mechanics and find common ground for addressing environmental and social justice issues. It's located in the Cass Community Commons and organized by Detroiter Sarah Sidelko with the support of six other active members. "We're creating a culture of support and resources for women and transgender people to contribute to the biking community in Detroit," Sidelko told The Huffington Post, adding that these groups are active in the city's cycling community, but underrepresented. "We hope to have positive impact in the cycling culture by creating more inclusiveness." The space offers an open shop for women and genderqueer people on the first and third Tuesdays and second and fourth Wednesdays of every month. On the first and third Wednesdays of each month, Fender Bender works on bike-related art projects, like plant holders made from bike parts. Fender Bender also collaborates on mechanics classes with the Detroit Wheelhouse at their location on Detroit's RiverWalk on the second and fourth Tuesday of each month and also organizes classes for women and genderqueer people on Saturdays. Sidelko began facilitating the project out of The Hub of Detroit in January 2010 and moved it to the Commons, a community workspace located in the First Unitarian Universalist Church Complex, in the spring of last year. She funds the project herself with some help from fundraisers, small grants and donated parts from Wheelhouse Detroit. Although Fender Bender sometimes raises funds by repairing bikes, Sidelko says money is not the ultimate goal. "I might occasionally sell bikes and do tuneups occasionally, but I'm more focused on empowerment and encouraging people to gain skills," she said. Fender Bender is located at the Cass Community Commons at 4605 Cass Avenue in Detroit. For more information contact fenderbenderdetroit@gmail.com.