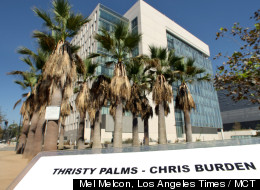 Los Angeles-based artist Wild Life recently took over his city's landmarks in a giant guerilla art installation that has urban residents confused.
Eight random areas of downtown L.A. have been marked with what appear to be official city plaques, offering elaborate background information about the dumpsters, city blocks, and signposts to which they are affixed, reports The Lost Angeles Times. The plaques are even equipped with faux-signatures from Mayor Antonio Villaraigosa and MOCA director Jeffrey Deitch, and allude to A-list artists and directors like Yoko Ono, Jean-Michel Basquiat and Werner Herzog as alleged designers of the city's downtown spots.
But the mysterious art project, which goes by the name of "Art Appears," is really just a giant hoax. We hate to break it to you, but the dumpster on Traction Avenue was not designed by Andy Warhol. The so-called "Thirsty Palms" exhibit on 2nd Street? Not by Chris Burden, says Curbed LA.
So what was the point of this gigantic misattribution project, you ask? "His only intention is to bring art and culture to the streets of Los Angeles by any means necessary," states Stephen Zeigler, owner of the L.A. art space 118 Winston, in an email to The LA Times. "Look, the mayor's name has shown up on much worse things than my stupid little signs."
What do you think of Wild Life's signage efforts? Was it a creative way of bringing attention to the oft-overlooked pieces of L.A.'s landscape? Or did the artist go too far?
Check out a slideshow of L.A.'s top street art stories below.
Top Street Art Stories of the year
After the resounding success of MOCA's "Art in the Streets," a lot of people were discussing whether graffiti and street art were art or crimes. The local news was reporting an upsurge in graffiti around the museum during the exhibition, but the LAPD had no arrests to show for it. Then, one of the artists in the MOCA show, Revok, was arrested and made an example of by the LAPD. Revok was arrested trying to board a plane to an art show and was booked on an exorbitant $320,000 bail. Revok did some time and eventually got released from jail. Even though he did his time, some city officials have since told the artist that he will never be allowed to paint in L.A. again, legal walls or not.

It has been fascinating to watch famous people's fascination with street art. Many celebrities seem to be drawn to the anonymity of these stealth art forms. Some have even started dabbling like Jim Carrey and Shia LeBeouf. Others, like Lindsey Lohan, have acted out being graffiti artists. And some have been unwilling participants, like when Scarlet Johansson's nude leaked photos were pasted on the streets.

L.A. street artists have been achieving huge success in L.A. and beyond. And the full extent of that stardom is best exemplified by Alec Monopoly. Alec has launched from the rooftops of L.A. to global adventure artist. In 2011, Alec has travelled all over the world, hosted sold out art shows in the hottest venues, sold pieces to celebrities, dated movie stars, and hung out with Damien Hirst. Alec Monopoly has truly shown that the sky is the limit for street artists in L.A.

In 2011, Teacher quickly became one of L.A.'s favorite street artists because he went BIG, with style, and his art carries a profound message. Teacher's art focused on funding education, teaching children, and generally making the world a better place. Unfortunately for street art lovers and children everywhere, Teacher got busted in late 2011. We're still not sure of what the outcome will be, but our thoughts and wishes are with Teacher!

Despite being technically illegal in Los Angeles, art murals have thrived. The city is bumbling towards installing some new guidelines for the murals, but meanwhile the art goes on.

The LAPD responded to a street art installation by Free Humanity as a bomb threat. Free's piece was entitled Forbidden Fruit and it featured an apple with a grenade cap attached to where the stem would be. The LAPD bomb squad shut down the nearby light rail station for three hours to 'disassemble' the apple with a bomb squad robot.

As street art has carved out its own niche, on the streets yet separate from graffiti, Los Angeles has made a name for itself as the busiest spot in the world for street art. The hits on M&F have followed this pattern, and based on hits and web traffic, earlier this year Melrose and Fairfax achieved ranking as the top street art blog in the USA and #2 in the world. This is especially impressive considering the blog only focuses on one city, while many top sites are a best of from the top artists in the world.

2011 saw the most ambitious graffiti and street art museum exhibition ever with MOCA's "Art in the Streets." The show had record breaking attendance and was the biggest exhibition ever at the museum. There was a lot of discussion about what was left in, what was left out, and Jeffrey Deitch's previous business and personal relationships with some of the artists, however, the show will be most remembered for giving a new level of credence and legitimacy to art on the streets. Indeed, we at M&F believe that street art is the biggest art movement of this generation, and MOCA's "Art in the Streets" signifies the beginning of high art institutions to recognize this.

Spring 2011 in Los Angeles was abuzz with Banksy fever. Banksy instigated a campaign to drum up hype for his Oscar nominated film, Exit Through the Gift Shop, and over a two week period, Banksy installed a series of new pieces in Los Angeles. The city was lit up trying to discover a new Banksy piece. Rabid 'Banksy hunters' would prowl the L.A. looking for new work. Once spotted, throngs of fans would flood to each piece and pose in front of it. Then there was always huge drama, and sometimes physical fights, when the pieces were taken down, cut out of walls, painted over, or even protected. It was a wild ride and the whole city really seemed to be caught up in the excitement. Come back to L.A., Banksy!

M&F's top story of the year is Mr. Brainwash's introducing "Art Show 2011" to Los Angeles. Art Show 2011 was the "Woodstock of Art Shows," and Mr. Brainwash invited the community to come decorate 20,000+ square feet of his building. The show was fraught with many technical issues, but in the end, it managed to be a resounding success, and signifies the first time that the street art experience has been produced on a mass level. Thousands, if not tens of thousands of people participated as artists or spectators, and the show inspired everyone from children to grandmothers to start creating art.