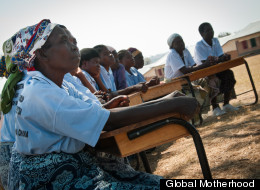 As Malawi -- a devastatingly poor and donor-driven country of 15 million tucked into the eastern coast of Africa -- stumbles its way towards the Millennium Development Goals, at least one thing is certain: Malawi has made significant strides in the last decade toward meeting many of its MDG goals by 2015. It's on track to meet goals on poverty reduction, reducing child mortality, combating non-communicable diseases, ensuring environmental sustainability, and MDG 8 on global partnership for development.
Despite this progress, risks that come with both HIV and maternal health in Malawi are still high. The problem? Antiretroviral therapy drugs and HIV education still are not widely available, maternal mortality ratios and infant mortality rates are high, and newborn deaths remain an unnecessarily common occurrence. Limited funding, limited access to skilled care at delivery, poor quality of newborn care at health facilities and inadequately trained staff are still troubles facing the country.

Malawi is unlikely to meet its goals on improving maternal health -- prompting a wide government and donor focus on improving conditions for expecting and new mothers. The maternal mortality ratio is still 807 per 100,000 births, and just three quarters of births are conducted by skilled birth attendants -- a number that drops significantly in more remote districts.

This photo-essay highlights how some of Malawi's most pressing issues in maternal health are hoping to be fixed through a wide range of technologies, educational workshops and trainings.
Last year, Johnson & Johnson began funding a 5-year, $2 million grant to support Save the Children's "Strengthen Management of Newborn Asphyxia" in Malawi, and also finished a 15 month pilot with CARE, mobilizing women through Village Savings and Loan Associations and offering them Sexual and Reproductive Health and HIV educational sessions. The efforts are part of a nation-wide strategy involving government, non-government, and other entities to help Malawi meet the Millenium Development Goals. Find out how you can help here.
A Photo Journey Through Malawi
The Maternity Ward at Dedza District Health Office. The district's main hospital, just 10 KM from the Mozambique border in southern Malawi, sees over 400 births per month. Malawi's fertility rate is around 6%, and the population is expected to rise from under 14 million today to over 22 million by 2030.

Due to lack of resources and space constraints, more than 80 new mothers per night cram into a small room with only 40 or so beds. Dedza District Health Office, Malawi.

Women with labor complications are referred from local health clinics to larger district hospitals. In recent months, Malawi's petrol crisis left many hospitals without fuel to use ambulances.

Anastasia Kasiteni of Thomas Village, Traditional Authority Kasherie, was driven 50 Km to Dedza District Health Office, to ensure a safe delivery of twins. In Malawi the Infant Mortality Rate is 69 per 1,000 live births- on track to meet the MDG of 44 per 1,000.

The first week of life poses the highest risk of infant deaths, with 50 percent occurring within the first 24 hours of life. Birth asphyxia accounts for 26% of these deaths globally. Two premature infants recovering from newborn asphyxia at Dedza District Health Office, Malawi. One baby was resuscitated through 30 minutes of "bagging", part of a procedure taught in an international training known as "Helping Babies Breathe." or HBB.

With the most basic training, most newborn deaths can be prevented. Eunice, a Nurse/Midwife in the Post Natal ward of Dedza District Health Office, Malawi, received HBB training just three months ago. Already, she has successfully used the procedure to rescue 4 newborns.

Each baby with newborn asphyxia or breathing complications is registered in the HBB register, to help track the impact of training and progress of Dedza District Health Office, Malawi.

A 2010 study found that 40% of skilled birth attendants in Malawi lacked proper baby resuscitation skills A "NeoNatalie", used internationally for HBB training, is used to train nurse/midwives of Ntchisi Distric in baby resuscitation. Trainings such as these are supported across the country by Save The Children Malawi.

Beatrice Ombani practices HBB resuscitation procedures. She has been a nurse/midwife at Ntchisi's District Health Office for 15 years, and says much has changed since she first learned about newborn asphyxiation. "We were slapping babies, trying to make them cry. We thought it worked" she said.

A million people in Malawi still live with HIV, and significant efforts are being made to ensure that mothers do not transmit the infection to their children. CARE, an international NGO, offers HIV education through women's Village Savings & Loans Associations in Malawi.

Annes Clement of Kubwese Village, is part of a Village Savings and Loans Assocation set up by CARE. Through free HIV education, she says she learned the importance of testing, and that getting tested "doesn't mean I'm positive." After two broken marriages, she says she will get married again, but will make sure husband is tested "not once, but 4 times!"

dith Peter, 34, of Kubwese Village, has been living HIV+ since in 2008. When she tested positive, the local clinic didn't offer any information on treatment. Now, she is on free ART's supplied by the government, and through free education has learned how to live with HIV- including traditional and herbal treatments, deitary requirements, and dealing with family planning. Edith is 6 months pregnant, and has received proper education from a local clinic on how to avoid passing the the infection to her child.

Technology is also playing a role in improving maternal health care in Malawi. Boabab Health Trust a Malawian NGO that provides technology solutions to meet healthcare challenges in Malawi, is installing touchscreen appliances in Maternal Health Wards across the country. The sytems digitize patient informtion history, while guiding healthcare workers through treatment protocol. They simultaneously collect data that is needed by the Ministry of Health.

Managing patients and health records is one of the many "paper problems" Malawi faces. Files can easily be lost, misplaced, or damaged, making consistant care difficult. Above, a filing room at Bwaila Hospital's Maternity Ward, the busiest in southern Africa, located in Malawi's capital Lilongwe.

For citizens to access health services in Malawi, they must purchase a "Health Passport," which is free for women and children. The passport contains all of their medical records. In select hospitals around the country, this information is now being digitized and scanned. A simple bar code now contains all their information.

The Baobab systems are designed for off-grid rural clinics, where most Malawians access healthcare. They have a solar-powered backup system which can last for 48 Hours.

Power is also an issue even in major cities. When the power goes out at Bwaila Hospital in Malawi's capital of Lilongwe, the system's backup generators kick in allowing uninterrupted care.

Rachel Macloed-Spring, a UK-trained midwife who is helping implement the Baobab systems at Bwaila Hospital in Lilongwe, Malawi, says "The system will change things, but won't take months, will take years. Improving quality management is the first step, data collection for quality improvement is the second." The touch-screen process forces nurses to adhere to patient protocol.

At Bwaila Hospital's Post Natal High Risk Ward, Jane Valeta, a nurse, approves of the need for digitizing patient information and management. "We need to move with the times" she says.

Baobab's systems allow clinics to uniquely identify and track patients. When an expecting mother with HV missed her appointment to pick up ART's, the pharmacy staff came to scan her barcode at reception. To their surprise, they found she was currently in labor- and can now bring the drugs directly to her in the Labor Ward. Without the system, they would have had to sent someone to her home location to find her- where villagers would have replied "she's at the hospital!"