Warning: This post contains explicit language.
"House For Sale By Owner Because My Neighbor's An Asshole," the sign proclaims.
As CBS points out, buyers learn about homes from three main sources: real estate agents, an Internet search and yard signs. While perhaps unintentional, the sign above, which is now a viral Internet phenomenon, combines both the physical sign aspect with web search-ability. Genius.
Perhaps unsurprisingly, this New Jersey homeowner is not the first to try radical tactics in the hopes of garnering attention for a property.
"I've gotten calls from Sweden and Scotland and Ireland and a man from Japan called to buy the house," Zober told ABC News Radio. The family is trying to avoid foreclosure and admits the sign is purely for exposure, although the story is also true.
However, some real estate agents aren't exactly encouraging the For Sale By Owner route. Judy Moore of Re/Max Landmark Realtors told U.S. News : "You wouldn't go to an amateur to perform an operation on someone. It just doesn't make sense."
But as these creative sellers prove, the journey can certainly be hilarious. On the other hand, eccentric ideas and signs could backfire. After all, "My neighbor's an asshole" is not exactly a ringing endorsement for a neighborhood.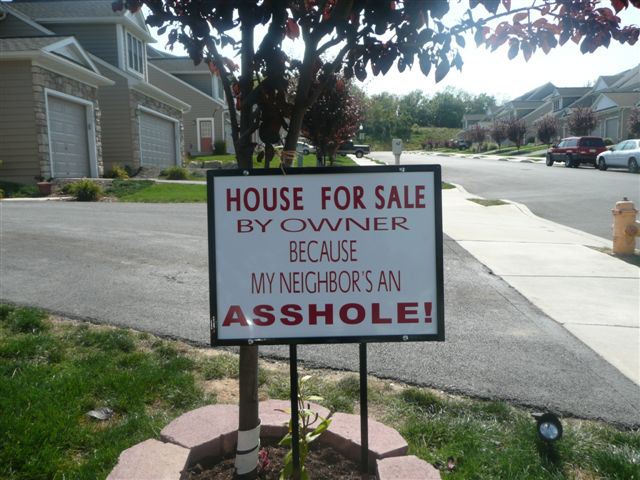 RELATED ON HUFFPOST:
Most Ridiculous Real Estate Agents Of All Time
SUBSCRIBE TO & FOLLOW THE MORNING EMAIL
The Morning Email helps you start your workday with everything you need to know: breaking news, entertainment and a dash of fun. Learn more