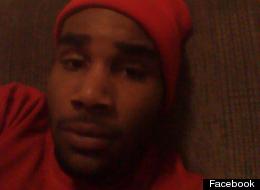 UPDATE: Klein Michael Thaxton has surrendered peacefully to police, just after 2 p.m., at Pittsburgh's Gateway Center. The standoff is over.
Earlier:
The armed suspect who has taken a hostage in a Pittsburgh, Pa. high-rise has been identified as Klein Michael Thaxton, 22.
He is currently negotiating with SWAT officers at the scene, which started shortly after 8 a.m. on the 16th floor of Three Gateway Center.
Thaxton has been posting emotional, misspelled tirades on Facebook during the alleged hostage situation.
"I cant take it no more im done bro," he wrote at about 9 a.m. "How this ends is up to yall bro real shyt."
At about 11:18 a.m., at the time of this article's writing, he wrote, "Stop postn silly shyt bruh i aint laughin rite now nigga!"
PHOTO (story continues below):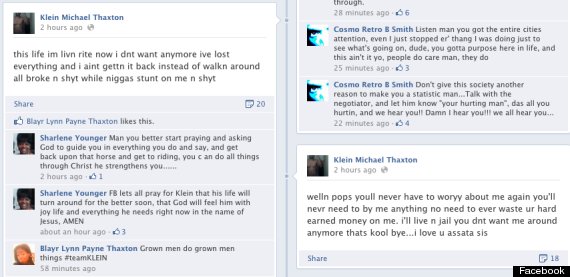 Friends on the page are trying to console him.
"Boogie we love you," wrote Raven Thaxton on his Facebook wall. "Watevers goin on you can get through this .. i love you cuzzo stay strong."
Thaxton reportedly doesn't know his victim and is described as "ex-military" by police, according to the Associated Press. His Facebook page says that he's from the Pittsburgh area, but cops said he doesn't work at the building he's currently holed up in.
There are no reported injuries. Thousands of workers in the surrounding area were evacuated.
UPDATE: Police believe the hostage is the owner of CW Breitsman Associates, the business where the incident is taking place.
Thaxton has a criminal history. In March, he was arrested on suspicion of carjacking a motorist in McKeesport, and then giving chase when police tried to arrest him, according to the Pittsburgh Post Gazette.
This is a breaking news story, and an investigation is ongoing.
GALLERY:
Klein Michael Thaxton's Facebook Posts
WARNING: GRAPHIC LANGUAGE Klein Michael Thaxton, suspected of taking a hostage at gunpoint at about 8 a.m. in downtown Pittsburgh at about on Sept. 21, 2012, made several unsettling posts to Facebook throughout the morning. His Facebook was deleted at about 1 p.m. that afternoon. The suspect surrendered at about 2:00 pm. This is Thaxton's profile picture on the morning of the hostage-taking. The following are Thaxton's Facebook posts taken from a screenshot at 12:31 pm that day. Some posts contain GRAPHIC language.

"i cant take it no more im done bro"

"how this ends is up to yall bro real shyt"

"this life im livn rite now i dnt want anymore ive lost everything and i aint gettn it back instead of walkn around all broke in shyt while niggas stunt on me in shyt"

"welln pops youll never have to woryy about me again you'll nevr need to by me anything no need to ever waste ur hard earned money on me. i'll live n jail you dnt want me around anymore thats kool bye...i love you assata sis"

"fake mafukaz, thats the shyt i dnt like!"

"stop postn silly shyt bruh i aint laughin rite now nigga!"

A former Facebook profile photo of Thaxton.
An armed man who took a hostage inside a downtown Pittsburgh office building has surrendered to police.
Police Chief Nate Harper says the suspect gave himself up after posting Facebook updates in the early hours of the standoff saying he had "lost everything." Harper says the hostage is OK.
Police identified the hostage-taker as Klein Michael Thaxton. Harper had said Thaxton had a military background and was suicidal.
The standoff began Friday morning inside the 16th-floor office of a benefits administration firm.
Harper says Thaxton was cooperative but made no demands.
Thaxton's friends had responded to his Facebook posts by urging him to end the situation peacefully, including one who asked him to think of his mother.
The Facebook page was later taken down.