While various American-themed burgers are nothing new for McDonald's, the website Burger Business is noting an uptick:
American-theme burgers have worked before for McDonald's, but the sheer number of such promotions simultaneously mounted across Europe right now is striking.
Burger Business mentions everything from Switzerland's "Stars Of America" menu with items like an L.A. Bacon burger and Texas Chili burger with Tabasco to Hungary's "American Sweethearts" menu with items like a Texas Bacon burger and a Hawaii Grill sandwich with pineapple.
Here are Switzerland's current offerings:


And Denmark's "Tastes Of America":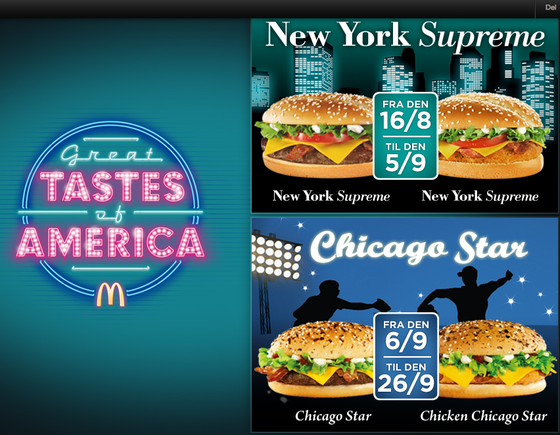 Hungary's "American Sweethearts":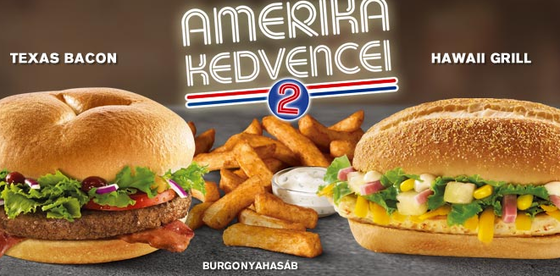 Like previous promotions, these limited-time offerings somewhat confuse American identities. But when it comes to selling burgers, vague notions of American eating traditions are probably more powerful than actual regional food specialties.
Burger Business also has a list of non-American but other globally-inspired offerings such as a Big South Africa beef burger in Germany and the Mexican-inspired Chicken El Wrappo in Sweden.
Recently, McDonald's made headline for the launch of Asian-themed McNoodles in Austria. But that announcement pales in comparison to the black and white paired McDonald's burgers available in China.
Also on HuffPost:
Loading Slideshow
10. Sonic

America's Drive-In rounds out the top 10 with U.S. revenues of $3.6 billion.

9. KFC

KFC, the biggest chicken vendor in America, comes in ninth with revenues of $4.7 billion, though there were 107 fewer outposts in August 2011 than there were the year before.

8. Pizza Hut

<a href="http://www.huffingtonpost.com/2011/07/27/pizza-hut-ads_n_911106.html" target="_hplink">Good ads</a> equal big revenues for the biggest pizza chain in America. Pizza Hut took in a solid $5.4 billion in 2010.

7. Dunkin Donuts

America runs on Dunkin' to the tune of $6 billion a year -- that's almost $20 for each and every person in the country.

6. Taco Bell

2010 U.S. revenues of $6.9 billion make Taco Bell the biggest Mexican restaurant chain in the country.

5. Starbucks

Starbucks may have had a few hiccups <a href="http://www.huffingtonpost.com/2011/07/13/starbucks-bistro-boxes_n_897768.html" target="_hplink">when it comes to introducing food</a>. But its success in beverages has propelled American's biggest coffee purveyor into fifth place among fast food chains, with 2010 revenues of $7.6 billion.

4. Wendy's

Wendy's fries may be <a href="http://www.slashfood.com/2011/04/20/wendys-fries-vs-mcdonalds-fries-taste-test/" target="_hplink">number one</a>, but its revenues aren't there quite yet.

3. Burger King

Number two burger chain Burger King was sold for $3.26 billion to 3G Capital in 2009. 2010 revenues of $8.6 billion make that sound like a deal to us! (We know, we know, there's a difference between revenues and profits...)

2. Subway

Subway has the most outlets of any fast food brand; it expanded that total by 816 in the past year alone. But because each store is relatively small, revenues, at $10 billion, pale in comparison with those at the number one chain.

1. McDonald's

With revenues standing at a whopping $32.4 billion in 2010, the Golden Arches aren't being dethroned any time soon. What's surprising about its success is that per store sales at McDonald's are bigger than those even cult-ish brands with fewer outlets. With $2.4 million <em>per store</em>, they're second only to Chick Fil-A, which fans travel miles to visit.