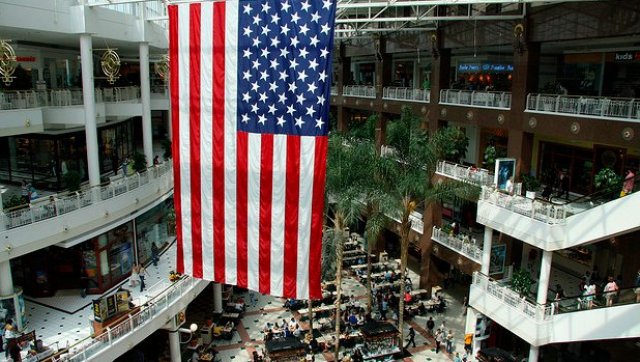 ARLINGTON, Va. -- Two women stand accused of trying to steal more than $600 worth of clothes from Macy's at the Pentagon City mall on Wednesday evening.
When police arrived, both suspects claimed to have diplomatic immunity, according to Arlington County Police spokesman Dustin Sternbeck. After checking with the State Department, it was determined that one suspect, a 35-year-old woman, was indeed a diplomat from Jordan and had diplomatic immunity. She was released on a court summons, accused of trying to steal $205 worth of merchandise.
The immune diplomat wasn't identified by police. ARLnow.com reports that the other accused clothes-pilferer, who has been charged with grand larceny for allegedly trying to take $427 worth of goods, was identified by police as Entaser Alsmady.
Dana Zureikat Daoud, director of the Jordan Information Bureau, told The Huffington Post by email that in "reference to the incident that took place Wednesday evening in the Macy's department in Pentagon City Mall, please be aware that the Embassy is conducting a thorough investigation into this matter and is taking it very seriously."
Meanwhile, are you curious how diplomatic immunity works? A 2011 State Department pamphlet explains the basics:
Diplomatic immunity is a principle of international law by which certain foreign government officials are not subject to the jurisdiction of local courts and other authorities for both their official and, to a large extent, their personal activities.
A person's job determines his or her level of diplomatic immunity. Diplomatic agents, the pamphlet explains, "enjoy complete personal inviolability, which means that they may not be handcuffed (except in extraordinary circumstances), arrested, or detained; and neither their property (including vehicles) nor residences may be entered or searched. Diplomatic agents also enjoy complete immunity from the criminal jurisdiction of the host country's courts and thus cannot be prosecuted no matter how serious the offense unless their immunity is waived by the sending state."
The family members of diplomatic agents also are granted this robust level of freedom from the law's reach.
Lower-level embassy employees enjoy lower levels of immunity. Members of the administrative and technical staff of a diplomatic mission have nearly the same level of immunity as diplomatic agents, but they aren't immune from civil suits. Members of the service staff are immune only from acts committed as part of their official duties; their families aren't granted immunity at all. (Read the whole interesting pamphlet here.)
SUBSCRIBE TO & FOLLOW THE MORNING EMAIL
The Morning Email helps you start your workday with everything you need to know: breaking news, entertainment and a dash of fun. Learn more