'SNL' Spoofs 'Fox And Friends' Romney Coverage (VIDEO)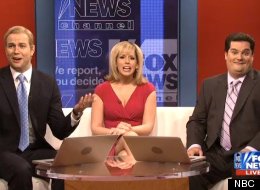 Jon Stewart isn't the only one out there impressed by Fox's Romney coverage. On Thursday night's "SNL Weekend Update Thursday" -- the show's first since 2009 -- Vanessa Bayer, Bobby Moynihan and Taran Killam spoofed the news network and the logical gymnastics they've had to pull in order to spin the GOP candidate's 47 percent comments positively.
So for anyone out there who thought the Florida fundraiser footage was bad, just wait until you see what other hidden camera things they were able to unearth.
You'll be shocked.