Four retired Army and Air Force colonels and a former British Ministry of Defense investigator join forces this weekend at the National Atomic Testing Museum to speak on a subject public officials rarely address -- UFOs.
The Smithsonian-affiliated museum's special lecture, "Military UFOs: Secrets Revealed" is open to the public and has been long anticipated by researchers of unexplained phenomena.
The exact nature of the secrets hasn't been revealed, but the participants form a historic who's who of UFO researchers spanning half a century.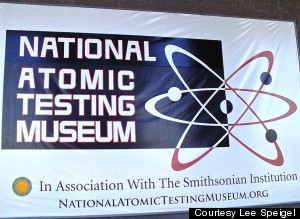 At least one of the participants has strongly hinted he's going to reveal startling UFO-related information that hasn't yet seen the light of day.
"I'm going to explain what I think and what I believe, and this is after all these years thinking about it. I think I've got the answer and no one has ever mentioned it," said retired Air Force Col. William Coleman.
Coleman is a former Air Force bomber pilot, public affairs officer and chief spokesman for the Air Force's Project Blue Book between 1961 and 1963. Blue Book was the official 20-year study of UFOs, which ended in 1969, after reaching several negative conclusions about UFOs, including:
There has been no evidence submitted to or discovered by the Air Force that sightings categorized as "unidentified" represent technological developments or principles beyond the range of present-day scientific knowledge.
Coleman's career led him to serve as producer of NBC's two-season drama, "Project UFO," executive produced by Jack Webb, of "Dragnet" and based on thousands of reports from the Project Blue Book files.
Here's the opening of 1978's William Coleman-produced "Project UFO" TV series
Throughout the Blue Book investigation of UFOs, many reports seemed to contradict the official Air Force findings.
Coleman described his experience when, as a major, he piloted a B-25 bomber -- similar to the one pictured below -- with a four-man crew over Alabama on a clear afternoon in 1955.
"The co-pilot told me to look out at 2 o'clock high, so I turned around and pulled my seat back up and said it could be a little bright spot from sun reflection," Coleman told The Huffington Post.
"I took the airplane and started making a right turn and the object moved, meaning we were looking at an object at roughly 25,000 or 30,000 feet. It was a real bright dot, and suddenly, it started descending and it was coming across our flight path, and I sent my crew chief up into the bombardier's section so he could look out through the glass nose of the bomber to get a different view than what we were seeing in the cockpit."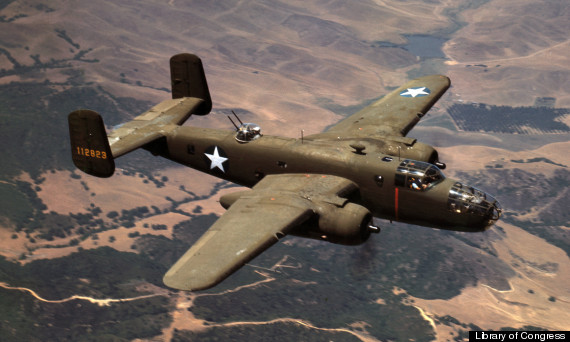 Coleman's pursuit of the UFO brought the bomber very near treetop level.
"We had a good view of it, because it was a cloudless day, it was out in the middle of nowhere and we didn't see any cars or people, and I said, 'Look at the shadow on the ground" -- it was circular. At that point, I was overtaking it and I said I was gonna make a hard turn to the right, I'm gonna stand the airplane up on its wing and I'm gonna turn back around, and we should be back alongside of it.'"
The bomber crew saw the object again as it flew over a freshly plowed field.
"As it was going across the field, there were two vortexes coming off the edge of it as it went across that field," Coleman recalled. "It was like a horizontal tornado."
The now-retired Air Force colonel, pictured below, said that, at their closest approach to the UFO, the bomber was about an eighth of a mile from it. And he got a good look at it.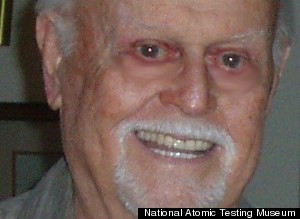 "It was about 75 feet in diameter, 15-feet-thick at the center, no rivet lines, portholes, glass or windows. It was just metal -- what I call a run-of-the-mill flying saucer. It wasn't reflective at all, except when it was at extreme altitude, it reflected sunlight, but as we got closer, all that disappeared."
Coleman tried to maneuver the bomber in order to "head him off at the pass," but by the time he was able to emerge from behind some trees, the UFO was gone, leaving the vortices of dust to settle on the ground.
Nearly 60 years after this close encounter, and 50 years since his involvement with Project Blue Book, Coleman has decided to make a definitive statement about UFOs.
"I think I've hit the nail on the head," he said, and plans to share this information on Saturday at the UFO lecture in Las Vegas.
Stay tuned.
Check out some UFO encounters here.
This cigar-shaped UFO was photographed by general aviation pilot David Hastings as he piloted a Cessna Skymaster plane over the Mojave Desert on Sept. 9, 1985. There has never been an indication of hoax in this case, which remains unexplained to this day.

An unidentified flying object was photographed by a government employee over the Holloman Air Development Center in New Mexico in 1964. Conspiracy theorists have claimed the photo is proof that the U.S. government has been in contact with aliens.

While descending an Austrian mountain in 1954, photographer Erich Kaiser captured an image of what he called mysterious silvery-white flying objects.

Mexican Air Force pilots filmed strange, brightly lit objects that moved quickly in the skies on March 5, 2004. Some scientists said the phenomenon could have been caused by gases in the atmosphere.

America's most infamous UFO case centers in Roswell, N.M. Some people claimed an alien spacecraft crashed there in 1947; the military said it was a weather balloon.

The Air Force issued "The Roswell Report" in 1997. Countering claims that aliens were recovered at the New Mexico site, the report said military officials picked up 200-pound dummies, above, that were used in an experiment.

Video grab close up. What looks like an alien creature with visible head, neck, arms and body standing in the Brazilian rainforest in Manaus, Brazil. In this Amaz-alien footage, a lone unidentified being appears to stand in the jungle of Brazil -- even arching its back -- just feet away from a bright flashing blue light. In what some allege as proof that Earth is being visited by aliens from another planet, the video was obtained by paranormal writer Mike Cohen who says the video was taken by two British tourists visiting the Manaus region of the Amazon jungle.

A large circle and geometric pattern local residents say were created by a UFO appeared in a rice field in Krasakan hamlet in Sleman, Yogyakarta, on the morning of Jan. 23, 2011.

Stan Romanek claimed that this still image from a three-minute video he shot in 2003 shows an alien looking into his home in Nebraska. In the film, a strange face appears to be popping up and down outside Romanek's window.

This eyewitness drawing of an alleged UFO sighting is in one of 19 once-secret files posted to the British National Archives website. The files cover sightings reported between 1986 and 1992. Although many of the reports were debunked, some remain unexplained.

An investigator in 1989 measures markings that some said were left behind by a UFO in Normandy, France. France began releasing its "X-Files" on UFO sightings in 2007.

President Jimmy Carter, shown here in 1971, reported that he saw a UFO above Leary, Ga., in 1969. He filed a report about the sighting to the International UFO Bureau in 1973.

Astronaut Gordon Cooper, who piloted Mercury and Gemini space missions in the 1960s, once said he saw a "typical saucer shape, double-cylindrical shape, metallic" UFO. He was also outspoken on the idea that some UFOs were interplanetary vehicles visiting Earth.