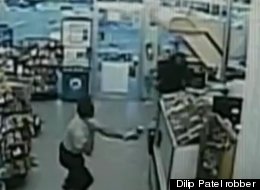 A robber got a couple cold ones to the face when he tried to grab cash from a Port Orange, Fla. gas station on Tuesday.
WESH reports that store clerk Dilip Patel pelted the robber with cans of Natural Light beer after the would-be thief threatened him with a knife and tried to walk out with cash from the register.
"I scared him and he ran away," Patel told KSN.
ABC News reports that Patel ran after the suspect, who cops identified as Steven Paul Larson.
Police arrested Larson at his home and charged him with battery and armed robbery.