Healthy Fall: 7 Reasons Why Autumn Is Good For You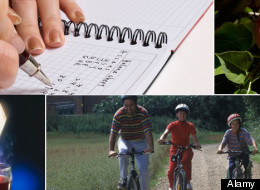 The sun rises just a little bit later and sets just a little bit earlier; there's a tell-tale chill in the air, enough to merit a light sweater. There's no question about it: Fall is here!
Autumn officially starts today, Sept. 22, and we're excited about all the health opportunities the new season brings -- from a different range of fitness opportunities, to an excuse to really get into a daily routine.
Click through the slideshow for some reasons why fall is good for your health, including some expert advice from Dr. Philip T. Hagen, M.D., a preventive medicine doctor at the Mayo Clinic:
Healthy Reasons To Love Fall
Take advantage of autumn activities and chores -- like apple and pumpkin picking, and raking the fall leaves -- to burn some extra calories. According to Reader's Digest, just a half-hour of raking leaves can burn 50 calories. And going apple-picking for an hour and a half can torch more than 300, Yahoo! Shine reported.

During the fall, "fresh fruits and vegetables are in great supply -- visit your farmer's market and stock up," Hagen says. Some of our favorites: apples, which have cholesterol-lowering powers due to their high fiber content; pumpkins and sweet potatoes, which are both rich in vitamin E and low in calories; and figs, which have high levels of fiber and potassium. For more fall superfoods, click here.

At the beginning of fall, temperatures are finally starting to drop -- so what better way to celebrate than by heading outside without having to worry about heat-stroke dangers? "The temperatures are moderate -- therefore getting outside for fresh air and activity are easier and more comfortable," Hagen says. But he notes that as early fall passes and late fall sets in -- and the temperatures drop even lower -- that'll push people indoors. We should "take an opportunity to remind ourselves how to share friendship but not germs," by practicing basic health behaviors such as washing our hands and getting a flu shot, he says.

On Nov. 4 of this year, we'll be able to get an extra hour of sleep because Daylight Saving Time is ending. This is not just good for our tired bodies, but it could also have a beneficial effect on heart attack risk, according to a New England Journal of Medicine study. Harvard Health Publications explains a possible reason for this effect: Sleep is the presumed link between these twice-a-year heart attack trends. The hour of sleep gained or lost is layered on what many sleep experts consider a baseline of sleep deprivation.

It's good to be an autumn baby! Research from University of Chicago scientists found that people born in the autumn months have a higher chance of living to age 100, the New Scientist reported. That study included 1,500 centenarians born between 1880 and 1895. "It was found that months of birth have significant long-lasting effect on survival to age 100: siblings born in September–November have higher odds to become centenarians compared to siblings born in March," the researchers wrote in the Journal of Aging Research study. The researchers hypothesized that seasonal infections (with long-lasting effects) might play a part in the difference in longevity, according to the New Scientist.

There's nothing quite like enjoying a warm beverage indoors when the evenings start to get chilly. Fortunately, a lot of our favorite warm drinks -- like green tea, black tea and coffee -- are loaded with nutrients. Green tea, for example, is high in antioxidant polyphenols which are able to help our bodies fight against the cell-damaging free radicals acquired through the environment. And coffee, which also contains antioxidants, has been shown in several studies to lower the risk of some cancers. For more health benefits (and possible pitfalls) of some favorite warm fall drinks, click here.

For people in school (or people who have kids who are in school), fall marks the start of a set routine -- which is a good thing for our health, if we let it be. For example, waking up and going to bed at the same time every day promotes healthy sleep, Hagen says. But it's important to make sure we prioritize what we build into our routines. "There is a rhythm to the day -- make sure that 'face time' with kids [and] family are part of the rhythm," he says. Best way to do this? Activities like having supper as a family, and not screen-based activities (like sitting in front of the TV or computer), Hagen adds.

Do you change your face lotion for autumn? NYC women reveal their moisturizing secrets