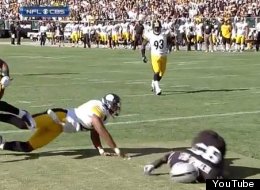 Oakland Raiders wide receiver Darrius Heyward-Bey appeared to be knocked unconscious by a helmet-to-helmet hit delivered by Pittsburgh Steelers safety Ryan Mundy, laying motionless for several minutes after the collision.
With the Raiders trying to mount a rally against the Steelers in the fourth quarter, Heyward-Bey stretched out to try and make a catch in the end zone, but was sandwiched between two Pittsburgh defenders. After absorbing the jarring hit from Mundy, Heyward-Bey seemed to be out cold before even hitting the ground.
No flag was thrown on the play by the replacement officials.
After trainers attended to Heyward-Bey and put him on a stretcher, he acknowledged the crowd with a thumbs up while getting carted off the field in Oakland. According to Steve Corkran of Contra Costa Times, Heyward-Bey was taken to a local hospital for examination and observation.
The Raiders eventually would rally past the visiting Steelers to win 34-31.
Much like Golden Tate's illegal and vicious block on Dallas linebacker Sean Lee in Week 2, the frightening hit left many speculating on Twitter that the replacement officials were endangering the health of players.
@BillPlaschke

Bill Plaschke
All the concern obviously with Heyward-Bey's health, but as long as no flag thrown, again, defenders will keep doing this..
@samfisher908

Sam Fisher
Thoughts and prayers with Darius Heyward-Bey. Another helmet-to-helmet against a defenseless receiver with no call. Safety first, Goodell!
@heathradio

Heath Cline
Helmet to helmet hit led to Heyward-Bey being taken off on a backboard, didn't draw a flag. Replacement ref incompetence again on display.