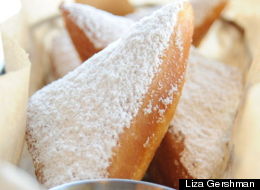 For some of us (ahem), it's energy drinks. For others, that 4 p.m. cookie looms large over our willpower.
For many of the healthiest eaters, there's one (or two) junky treats we can't seem to shake. Luckily, the research shows that if we're able to practice moderation, treats can be a part of a healthful diet. By allowing yourself a small amount of the foods you crave, the logic goes, you can prevent a later binge.
Of course, it is difficult to be moderate, especially when it comes to salt, fat and sugar -- three top ingredients in most bad-for-you foods. Struggling? The Mayo Clinic has a set of suggestions for following the moderation of the federal nutrition guidelines. And read on for a little bit of commiseration. Here are the dietary weaknesses of your fellow Healthy Living readers and staffers:
I put cheese on everything thing. Its my diet kiler I just can't give it up. Rosalee Harris, HuffPost reader

Vente Vanilla Latte are three words that are the bane of my existence. - Montex, HuffPost reader

I have never passed a bakery I didn't go into, or drool on the store front of. - Mara Valensuela, HuffPost reader

I only make these for holidays (thank goodness!). It's made with phyllo dough and homemade cheesecakes. Praline pecan and jamocha almond fudge are the two most popular. Yummy! - Redheaded stranger, HuffPost reader

I have a sweet tooth but my guilty pleasure is bacon. - BlindChance , HuffPost reader

Pink lemonade is among the world's all-time greatest inventions. I rank pink lemonade right up there at the top with the wheel and electric light bulb. - EarDrummer, HuffPost reader

No matter how potatoes are prepared. They can be mashed, boiled, scolloped, roasted or french fries. Hmmmm...love 'em! -Cye , HuffPost reader Potatoes and I have had a long and intimate relationship. -Spock , HuffPost reader

You'll get my chocolate when you pry it out of my cold, dead hand! -Prodemlib, HuffPost reader

I am CRAZY for olive bread toasted with olive oil, garlic and parmesan cheese...and slathered with pesto. OMG! Talk about happiness! - Fortune27, HuffPost reader

Getting between me and my caramel macchiato is like getting between a bear and her cub. - Retromancer, HuffPost reader

It's not that I can't give them up, it's that I won't. -Retromancer, HuffPost reader

Coca-Cola. The real stuff. Keep trying to do diet, but it's just not the same. Not even close, really. - I wasnt here, HuffPost reader

Chilli cheese dogs are tasty for the few first bites. The rest are just gastronomical martyrdom. - BuckyJamesDio, HuffPost reader

Clancy Baked Barbecue Potato Crisps. = Manna from heaven. - Spock, HuffPost reader

I pass by the frozen foods aisle and the container calls out to my fat cells..."Pssst-Over here, Big Guy!" And my fat cells do this magnetic attraction thing, dragging me over to the freezer case against my will. Or not. - themightyabealrd , HuffPost reader

What's wrong with a half-gallon of double fudge brownie ice cream, with hot fudge and walnuts on top, if I only eat one every now and then? - ChicagoBob, HuffPost reader

Cake. and not just any cake. Cheap, grocerystore, fluffy vanilla cake. - Montanagrl , HuffPost reader

Sausage, egg and cheese sandwiches. Nope, I wont give em up. I only have them once a week. - Humaneisfact, HuffPost reader

Fat milk in my coffee is so hard to replace it with a low-fat one. It gives a very special taste, flavour and texture to my morning awakening drink. - AlinaESanto, HuffPost reader

Fried Chicken! Which I haven't had in...jeez...I need some fried chicken, mashed potatoes, gravy and biscuits! - Bradtvx, HuffPost reader

Big ol ' Machaca Breakfast Burrito. With lots of green chiles and salsa. - Ovaltine Jones, HuffPost reader

I would be fine if it were not for Cinnamon Buns, Chocolate Cake, and Coffee Ice Cream. We can't even bring them in the house, I'm just too weak to resist. - Cmag1971, HuffPost reader

"I can never say no to tiramisu!" tweeted Karen Erfe @karenerfe

"#Guilty," tweeted Sarah Bakian. @sarahbakian

"Just a little while ago I ate this yummy cameral custard," tweeted Geetanjali Dhar @geetanjalidhar

"This is my favorite junk food, my wife's amazing Vegan Meatloaf dinner," says Paul Moorehead, who e-mailed us this shot.

When Ellie Gill, a member of Healthy Living's Twitter family saw us retweet a picture of donuts she said, "Healthy living eh? ;)" Our reply? "Don't you have a guilty pleasure food?" She tweeted us this picture with another wink. @EllieGillPT

"The caffeine might be disrupting my sleep and the sugar substitute is deeply problematic, but even though I'm a health editor, I have a lot of trouble shedding this afternoon pick-me-up!" says HuffPost Healthy Living's Meredith Melnick.

"#healthysnapshots. Or should we say not," tweeted community member "It's Never Too Late" @out_with_bad

Judy Perofsky Goldberg, a reader, told us Malomars were her guilty pleasure food. Photo by Yvonne Ruperti for SeriousEats.com via Pinterest.com

Reader Diana Burt told us Black Forest cake was her favorite guilty pleasure food. Photo by Kelly Baker via Pinterest. Karen Baker

Reader Kay Merx called homemade vanilla ice cream "The Best." Photo via ChocolateCoveredKatie.com via Pinterest.

Kathleen Flanigan shared a photo of her guilty pleasure food: Hazelnut Chocolate Cake. On her blog she wrote, "It's hard to say no to a piece of cake, and even harder when you can tell yourself it's "healthy" because it has fruits and nuts in it." Photo by Kathleen Flanigan via TheWannabeChef.net

Magda Lucy, another reader, told us she can't stay away from brigadeiros, "a sweet Brazilian present at birthday parties."