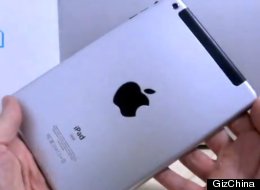 Hello, ladies and gentlemen, and welcome to This Week In Apple Rumors, our regular look back at all of the week's unconfirmed gossip, questionably-sourced reports, and blatant speculation about future Apple products from around the Web! Let's take a look back at what the various Apple blogs and websites were excited about in the past week, from September 16 - 22. Check out our previous edition of Apple rumors here, and for all the latest you can follow me on Twitter right here.
This Week In Apple Rumors
Welcome back to This Week In Apple Rumors! We want to start this week by giving a special shout-out to everyone reading on a new iPhone 5, and also let them know that we were very worried about them and maybe they should carry around a paper map until Apple sorts this whole Maps app debacle out. Anyway, now that the iPhone 5 is out in the wild, Apple watchers are awaiting the iPad Mini, the Kindle Fire competitor for Apple that is still widely rumored to be announced and released in October. Unlike the iPhone 5, however, the iPad Mini hasn't suffered from endless parts leaks: By the time the iPhone 5 was actually announced, we knew pretty much everything about it, from the screen size to the colors to details on the camera. Not so for the iPad Mini: Just about all we've seen, and repeatedly heard, is that a 7.85-inch screen (one that's a bit bigger than that on the Kindle Fire or Nexus 7) is included, as is the new Lightning dock connector. To your left you can see an apparent mock-up of the iPad Mini, from GizChina, which is apparently based on the tablet currently being mass-produced in China. It does indeed look more like a larger iPod Touch than a smaller iPad (note how much more of the front side of the tablet the screen takes up), as first suggested by a report from 9to5Mac. A non-working mock-up of a supposed factory design is not the sexiest thing you can see on the Internet, of course; but that might be due to the fact that the iPad Mini is not the sexiest product that Apple will make: It is, after all, a response to another product, and not a world-busting miracle original. Perhaps Apple has something up its black sleeves. But for now, every leak of the iPad Mini we've seen has suggested -- well, a miniature iPad. Click on for more...

Here is yet another look at what is probably just a mock-up of the iPad Mini, from the Chinese site BoloPad (coincidentally, "BoloPad" is just one letter a way from "YOLO Pad," which is what my crazy buddy Jimmy named his apartment after his girlfriend broke up with him). Again: The screen nearly stretches to the side edges, and you can see a rear and front camera and (if you click through to the BoloPad site (#BOLO) to see more pictures) the Lightning dock connector. Again: We're still waiting for this thing in October, probably for between $250 and $300, since Apple doesn't want to lose any more first-time tablet buyers to Amazon and Google's smaller, less expensive offerings. Analysts are also expecting light sales at first, since no one with iOS 6 has any idea how to get to an Apple store. (Just kidding: Analysts are, as ever, predicting mammoth sales for this thing, just like every other Apple product from the past year). That's all for the iPad Mini for now, though stay tuned: As the announcement date gets closer, there should be more leaks and information, including on whether or not Apple accuses Samsung and its 7-inch Galaxy Tab of traveling forward in time and infringing on the iPad Mini's patents.

Shortages of iMacs would indicate just that, right? iMacs -- which have not gone through a refresh since May 2011, and which were rumored by handsome Fox News reporter Clayton Morris to share the stage with the iPhone 5 at Apple's September event -- are apparently in short supply, according to an anonymous inventory source who spoke with our friends at The Unofficial Apple Weblog (or TUAW, to you). The iMac is, indeed, due for at least an upgrade in processor, to the new, faster Ivy Bridge chips from Intel which now power Apple's line of MacBooks. And with Apple guru/analyst (gurunalyst?) Ming-Chi Kuo predicting a refresh by the end of the year, we'd be surprised if Apple held off much longer unless it is having serious supply chain problems. These might not be the Retina iMacs that many are waiting for, but we should at least see a processor swap and faster ports on new models by the end of the year. But what do I know? I'm no gurunalyst. Still, it's a good idea to hold off on your iMac purchase for a month or so, just in case these persistent predictions turn out to be true.

And finally, we finish with a subject near-and-dearexistent to Apple watchers everywhere: Patents. A new patent published by the United States Patent & Trademark Office (or 'NAMBLA') shows that Apple is working on a "shake-to-charge" power method that would allow iPhone owners to charge their phone simply through their movement. That would mean, as our good buddies at TechCrunch point out, that any movement you make throughout the day could deliver extra power to your phone, to "ensure that you never run completely dry while on the go." That's exactly why I carry a flash everywhere with me, too. This is a technology from Apple we've seen before -- it was awarded a similar patent in March, the patent-watchers at Patently Apple note. Patently Apple also notes that this one is probably farther away than, say, next month's iPad Mini: This is definitely a conceptual idea and one that we're unlikely to see come to market on iDevices for many, many years – if ever. But that doesn't mean that Apple isn't working on a variant that could be a gamer changer. Apple has probably already booked the San Jose Federal Courthouse and Judge Luy Koh for September 2023. That's all for This Week In Apple Rumors. Make sure to join us again next week for a fresh edition; or, if you can't wait a whole week, you can get up-to-the-minute Apple rumors by following me on Twitter right here.