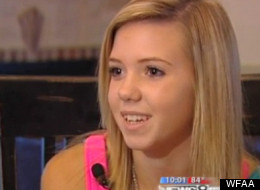 A Texas high school student opted to take a spanking rather than serve another day of in-school suspension, but she was left bruised and blistered after she was spanked by her male vice principal, who violated the school's policy on corporal punishment, reports WFAA.
Taylor Santos, a high-achieving sophomore at Springtown High School, said she didn't know that a classmate had copied her homework, but the school assigned both students to two days of in-school suspension. Taylor volunteered to take a paddling instead, to avoid missing any classes. Texas is one of the 19 states that still allows spanking in school, but it requires that parents give permission, which Santos' mother, Anna Jorgensen agreed to.
But what they didn't realize was that it would be the school's male vice principal who would administer the spanking -- violating the school's rule that the teacher giving the paddling must be the same sex as the student.
"I knew school policy was females swatted females, and males swatted males. If Taylor wanted that, I said that would be fine," Jorgenson told WFAA, adding that she was horrified when she saw the results of the spanking and learned of who did the swatting.
"It looked almost like it had been burned and blistered, it was so bad," Jorgensen said of her daughter's behind.
Jorgensen said she called the vice principal to complain, but he told her that it was perfectly normal for her daughter's bottom to look like that after the spanking and he wasn't aware of the school same-sex swatting policy.
'He used too much force," she said, and is furious that rather than taking action against the vice-principal, Springtown ISD Superintendent Mike Kelley asked the school board to scrap the same-sex policy, claiming that he can be difficult to adhere to in some schools, because of the ratio of male to female teachers.
Spanking students has been outlawed by 31 states, but past efforts to ban it in Wyoming, North Carolina, Louisiana and Texas failed. In 2011, however, laws were introduced in both Texas and North Carolina that gave parents the right to exempt their students from corporal punishment.
There has long been controversy over spanking children both at home and in schools, and new research published in The Journal of Pediatrics shows that it can mean risking more than just a sore behind. New findings suggest that eliminating all physical punishment of children would reduce the prevalence of mental disorders, as 2 to 7 percent of cases of mental disorders — including major depression, anxiety disorder and paranoia — are attributable to physical punishment that occurred during childhood, according to researchers at the University of Manitoba.
A Houston, Texas teacher and teacher's aide have been removed from their classroom for allegedly disciplining their pre-K students by placing them in custodial closets they nicknamed "monster closets."

Laurie Bailey-Cutkomp, a 47-year-old Zephyrhills High School science teacher in Zephyrhills, Fla., is under fire after photos of her students wearing dog collars as punishment for bad behavior surfaced on Facebook.

Clayton High School Principal Louise Losos resigned following a leave of absence after an accusation that Losos had created a Facebook profile pretending to be a student named Suzy Harriston.

A middle school teacher in South Carolina has been accused of dragging a student under a table during class, telling the boy "this is what the Nazis do to Jews," police said. The 12-year-old student said he got up to sharpen a pencil at Bluffton Middle School on Wednesday when Patricia Mulholland grabbed him by his collar and said, "come here, Jew," police said. The teacher then dragged him 10 feet under a table and made the comment about Nazis, according to police.

Jack Conkling, a Prairie Hills Middle School social studies teacher and Buhler High School assistant women's basketball coach in Buhler, Kan., is under fire after equating being gay to being a murderer on his Facebook profile.

Teachers at a Brooklyn elementary school are accused of giving their students the answers on standardized tests. In return for high scores on those tests, teachers at Public School 94 were allegedly offered smaller classes and fewer non-English-speaking students.

A Virginia high school English teacher was under investigation for allegedly asking the only black student in the class to read a poem in a "blacker" manner. Jordan Shumate, a ninth-grader at George C. Marshall High School in Falls Church, Va., says he was reading aloud Langston Hughes' "Ballad of the Landlord" when teacher Marilyn Bart interrupted him. "She told me, 'Blacker, Jordan -- c'mon, blacker. I thought you were black,'" Shumate said.

A teacher at Malibu High School in Malibu, Calif., was under investigation after ninth-grade student Dionne Evans went to local authorities claiming the educator slapped her six times for not bringing her notebook to class.

A kindergarten teacher in Georgia has stirred controversy after presenting one of her students with the "Bermuda Triangle Award," honoring the student's desk -- or "the place where things go in but never come back out."

Kathleen Pyles, a math teacher at North End Middle School in Waterbury, Conn., was on paid leave while school officials investigate allegations that she addressed a black student with a racist remark. Parents and the NAACP spoke out during a Board of Education meeting, accusing Pyles of inappropriately calling a student "black boy" when she couldn't remember his name.

Parents in Clinton, North Carolina, were outraged after an assistant principal gave a third-grader a strip search there. The Union Elementary School official believed the boy had stolen money and ordered him to strip to his boxers.

A Tampa Bay, Fla. school teacher was suspended for three days without pay after allowing one of her students to write and present a speech that criticized a former Oakstead Elementary teacher by name.

Matt Hansen, a 38-year-old teacher for the Fort Zumwalt School District in O'Fallon, Mo., has been charged with felony possession of child pornography after a local cyber crimes unit found he allegedly videotaped 80 male students undressing.

Diane John, the mother whose 15-year-old son suffered a beatdown at the hands of much larger teacher Stephan Hudson, sought criminal charges against the offending public school dean and sued the city for $5.5 million after being shown surveillance footage of the incident.

The Scholars Academy Principal Steve McClenning and assistant Billie Madewell have both lost their jobs at the Quartzsite, Ariz. school after the two were caught passionately making out on video.

Audrey Grabarkiewicz, a 46-year-old preschool teacher at Lake Bowen Baptist Church in Spartanburg, S.C., managed to avoid jail time despite being arrested for throwing alcohol and sex parties for teens last year.

A Texas teacher lost her job after ordering more than 20 kindergartners to line up and hit a classmate accused of being a bully. The teacher at a suburban San Antonio school is accused of orchestrating the slugfest after a younger teaching colleague went to her seeking suggestions on how to discipline the 6-year-old, according to a police report from the Judson Independent School District.

Bronx teacher Marcy Rubenstein allegedly duct-taped a rowdy student to his chair while other classmates laughed and pushed him around, after she became irritated that the student repeatedly got up during a test.

Indiana teacher Samuel Fies was fired from Highland High School after he was arrested and charged in December 2011 with multiple counts of sexual misconduct with a minor, child molestation, criminal confinement, child solicitation and attempted child seduction.

Ohio science teacher John Freshwater was fired in early 2011 after being accused of preaching religious beliefs in class and keeping a Bible on his desk. Freshwater appealed the firing, but a judge upheld the decision in October 2011.

Jill Lyle, a substitute teacher in Santa Fe, N.M. was fired in November 2011 after she was reportedly found passed out drunk while on the job.

Sean Loftis, a Florida substitute teacher who starred in gay porn films under the pseudonym Collin O'Neal, lost his teaching job in October 2011 after his X-rated activities came to light.

Andrew Harris, a science teacher at Glacier Creek Middle School in Cross Plains, Wis. first lost his job for looking at porn at work. The school district decided in March 2012, however, that he would be offered to be reinstated and given back pay and benefits estimated at $200,000.

An unnamed teacher at Tallulah Elementary School in Tallulah, La. was fired in March 2012 after she failed to notice two third grade students allegedly having oral sex under a classroom table.

A teacher at the Friendship Public Charter School in Washington, D.C. was fired after she allegedly taped Christian Washington, a 9-year-old vision-impaired student, to his classroom chair.

A Washington, D.C. teacher was fired in March 2012 for sending home violent, morbid and traumatizing math problems to third graders at Center City Public Charter School's Trinidad campus.

Teacher Brooke Harris says she was let go from her position at Pontiac Academy for Excellence in Pontiac, Mich., in March after attempting to help students organize a hoodie-themed fundraiser for the family of Trayvon Martin. In this AP photo, a man wears a hoodie and a scarf with the likeness of Trayvon Martin during a "One Thousand Hoodies March for Trayvon Martin" event Thursday, March 29, 2012 in Minneapolis. (AP Photo/The Star Tribune, Renee Jones Schneider)

Jarretta Hamilton, a fourth grade teacher, was fired from the Southland Christian School in St. Cloud, Fla. in 2009 because the child she was carrying was conceived two months before she and her husband married.

Indiana teacher Emily Herx says she was fired from her Roman Catholic school -- St. Vincent de Paul school in Fort Wayne -- for using in vitro fertilization to try to get pregnant.

31-year-old Meredith Burris Pruitt was fired in March 2012 from Forestview High School in Gastonia, N.C. after she was accused of selling, and employing students to help sell, prescription drugs around the school.

Jeffrey R. Sears Jr., a 29-year-old former teacher at Glen Burnie High School, faces more than 50 years in prison after allegedly having sex with 15 and 16-year-old students over the course of two years.

Megan Denman, a 29-year-old social sciences teacher at Hoover High School in Fresno, Calif. was placed on paid leave in the spring of 2012 for allegedly performing oral sex on and sleeping with a student who was under the age of 18.

California teacher Stacie Halas was fired from Richard B. Haydock Intermediate School in April 2012 for performing in a pornographic video.

Bernadette Camacho, a 39-year-old teacher in Queens, New York, was fired from Hillcrest High School in January 2012 after reportedly telling students they had their "brains in their ass" and attempting to bribe them to keep quiet.

a bullying attack by peers -- and at some points, by the teacher. The incidents occurred in February at a Gig Harbor middle school. Cell phone footage shows more than a dozen students dragging the then-eighth-grade boy around the classroom, carrying him by his arms and legs, burying him under chairs, writing on his feet and stuffing his socks in his mouth. The antics last about 15 minutes while teacher John Rosi watches, and later joins in.

A state investigation was been opened at Hudson Middle School in Caldwell County, N.C., following allegations that a teacher forced a student with special needs to sit in a cardboard box as a disciplinary measure.