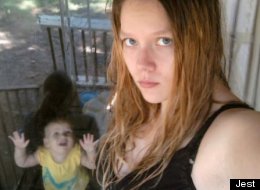 We all know that animals are pretty awesome photobombers, but they're not the only experts in the family. Babies know a thing or two about taking a normal snapshot and making it something amazing too.
Don't believe us? Just check out these 25 expert examples and you'll be singing a different tune.
And if this is how funny they are young, just imagine how great they're going to be when they get older.
Ok, so sometimes it's hard for babies to bomb photos by themselves.

That baby is just begging for attention.

"I had to watch this whole boring marathon."

The eyes say it all.

If you are going to photobomb, you should cheese adorably.

The baby is her stand-in model.

That's a pretty big (fake) gun for a baby.

"Let's go swimming! Stop taking pictures!"

This has to be one of the first.

Ruining perfectly good cleavage pics is just one of the many services he offers.

The best way to improve boring, old lectures, hands down.

Can you photobomb yourself? Contemplate this and get back to us.

"Mom, are you taking pictures of your butt again?"

Making birthday dinners at the Cheesecake Factory weird since 2009.

"Mom, that site doesn't even exist anymore."

We're just going to assume this turned out fine.

He just wanted that shoe.

That face!

Look behind her shoulder.

They're trying to be cute, but he's cuter.

You might be focused on the TV bomb, but the little baby in the back takes the cake.

"Hey, no fair!"

This baby is living life to the fullest.

Without the baby, this is a pretty boring picture.