Art experts this week are claiming that they have found an early version of Leonardo da Vinci's wryly smiling beauty, Mona Lisa, reports The Daily Mail.
The work, dubbed the Isleworth Mona Lisa, was reportedly discovered by English art collector Hugh Blaker in Isleworth, London shortly before World War I. Though slightly larger than Leonardo's famous portrait, the subject in the Iselworth became famous for its striking resemblance to Lisa del Giocondo, sparking years of debate as to whether Blaker had discovered Mona Lisa's prequel, ABC News reports. Now, nearly one hundred years later, the not-for-profit Mona Lisa Foundation has announced that it will reveal "historical, comparative and scientific evidence" that will prove that the long-speculated treasure is indeed the handiwork of the 16th century master. The group is citing the research of Professor Alessandro Vezzosi, director of his own art museum in Vinci, Italy, and emeritus professor Carlo Pedretti of the Armand Hammer Center for Leonardo Studies at the University of California.
There's no doubt that the word of the art historians will be met with outstanding dissent. Martin Kemp, an art historian at Oxford, has already refuted the idea that the Isleworth depicts a more youthful rendering of Leonardo's original sitter: "'She might look younger but this is probably because the copyist, and I believe it is a copy done a few years after the Mona Lisa, just painted it that way," he told The Sunday Times.
The Isleworth Mona Lisa, which was once owned by Henry F. Pulitzer, has been in a vault since it was bought by a Swiss-based consortium of unnamed individuals 40 years ago. According to The Art Newspaper, it will be unveiled by famed Mona Lisa Foundation member and chess grandmaster Anatoly Karpov on September 27th in Geneva, and evidence of the painting's authenticity will be presented at the University of California.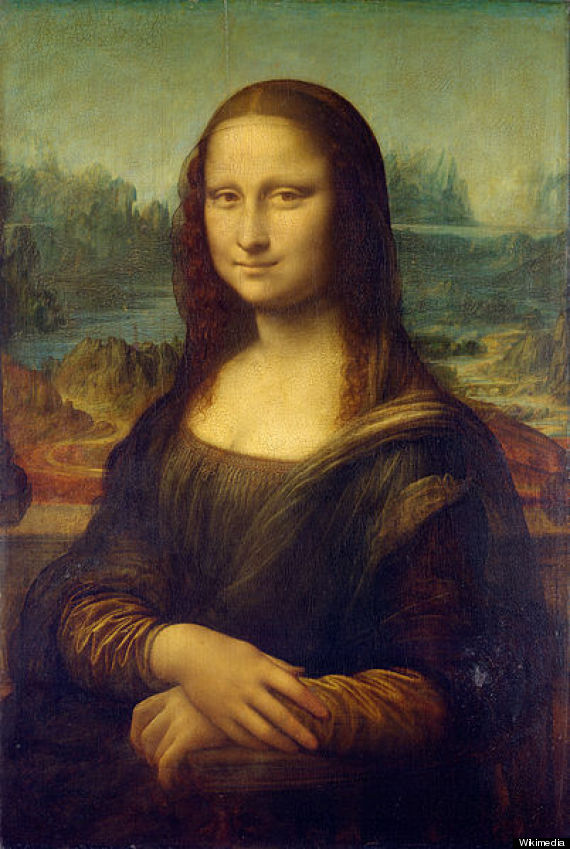 "Mona Lisa," Leonardo da Vinci, c. 150-1519.

So what do you think? Is this painting a younger version of the Mona Lisa or is it just a copy?
Here is a slideshow of some of Da Vinci's most beloved (and authenticated) masterpieces:

Loading Slideshow
1. Leonardo Da Vinci was a <a href="http://books.google.com/books/about/The_Heretic_s_Feast.html?id=rIjZo-cvifAC" target="_blank">committed vegetarian</a> at a time when this choice was highly unusual. A <a href="http://www.ncbi.nlm.nih.gov/pubmed/20375518" target="_blank"> 2010 study suggests that his nonconformist culinary decisions possibly contributed to his stroke</a>. Image: Last Supper 1495-1498

2. Da Vinci was the first person to explain <a href="http://www.uu.edu/dept/physics/scienceguys/2000Oct.cfm" target="_blank">why the sky is blue.</a> (Light scattering, duh.) Image: Lady with an Ermine oil on panel

3. Leonardo Da Vinci was <a href="http://www.guardian.co.uk/education/2010/jan/26/ambidextrous-children-schools" target="_blank">ambidextrous</a>, meaning he could write forward with one hand and backward with the other. Image: The Virgin and Child with St. Anne from 1500 until 1513

4. Leonardo Da Vinci was also <a href="http://www.telegraph.co.uk/science/science-news/8128233/Dyslexia-the-secret-of-Da-Vinci-and-Picassos-success.html" target="_blank">dyslexic</a>, and had trouble reading, writing and spelling. (Luckily his drawing skills weren't too shabby.) Image: Vitruvian Man

5. Mona Lisa is mostly happy, a little bit disgusted. <a href="http://discovermagazine.com/2006/may/10-da-vinci#.UWv0PyvwLKw" target="_blank">Discovery Magazine</a> reported on research on the painted lady's notoriously coy expression. Apparently "researchers at the University of Amsterdam and the University of Illinois used face-recognition software to determine that the Mona Lisa is 83% happy, 9% disgusted, 6% fearful, and 2% angry." Image: Mona Lisa between 1503 and 1505

6. The devoted artist took his interest in the mechanics of the human body to a new level by dissecting human cadavers to best understand how the human body operates. Image: Studies of Embryos

7. Leonardo Da Vinci, an accomplished lyre player, was first presented at the Milanese court as a musician, not an artist. Image: Study of horses circa 1490 Silverpoint on prepared paper

8. Ever the animal rights enthusiast, Leonardo Da Vinci <a href="http://www.guardian.co.uk/artanddesign/jonathanjonesblog/2011/nov/30/leonardo-da-vinci-animal-rights-activist" target="_blank">reportedly enjoyed purchasing caged birds so that he could set them free</a>. Image: The Virgin of the Rocks

9. Leonardo Da Vinci and Michelangelo were <a href="http://www.guardian.co.uk/culture/2002/oct/22/artsfeatures.highereducation" target="_blank">reportedly frenemies</a>. In <a href="http://www.guardian.co.uk/books/2010/apr/25/lost-battles-jones-michelangelo-davinci" target="_blank">"The Lost Battles: Leonardo, Michelangelo and the Artistic Duel That Defined the Renaissance,"</a> Jonathan Jones writes that two rival artists would often cause serious reality show level drama by insulting each other in public. Image: La Scapigliata

10. As if Leonardo Da Vinci hadn't accomplished enough in his lifetime, the multitalented artist and intellectual is now living the dream as an action hero in the new Starz drama "<a href="http://www.huffingtonpost.com/2013/02/11/da-vinci-demons-television-show-poster-art-trailer_n_2662059.html" target="_blank">Da Vinci's Demons.</a>"
Related on HuffPost: