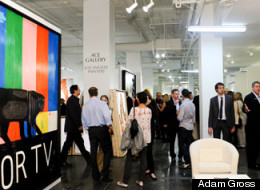 Art fairs are like chameleons, acclimating to their native habitat with ease. While Art Basel Miami is full of raucous all-night parties and a seemingly insurmountable labyrinth of art, Art Platform - Los Angeles takes the SoCal route, endowing the experience with a laid-back California attitude.
Back for its second year, the fair of choice for Cali-bred art lovers revolves around the pillars of being for Los Angelinos: light, space, innovation, and recreation. Emphasizing Los Angeles' status as an international arts capital, Art Platform takes over the sprawling city for a weekend, spotlighting the Golden State's homegrown talent at a variety of museums, galleries, personal collections and fancy homes. There are fairs, yes, but there are also benefits, personal tours, brunches and of course, parties.
The weekend promises infinite opportunities for art adventures. But since we know how much Californians hate stress, we asked Art Platform director and Huffington Post blogger Adam Gross to provide an itinerary to help you navigate the next few days. See his suggestions below and enjoy your art-drenched weekend.
"Art Platform-Los Angeles" runs from September 28 to September 30 with an opening preview September 27 at The Barker Hangar in Santa Monica, CA.
In addition to home and studio tours, VIPs will enjoy private tours of some of LA's most important museums and their special exhibitions and collections. Pictured here is an installation view of the exhibition of seminal LA artist Ken Price that recently opened at LACMA.

Continuing the tradition set by New York's Armory Show MOMA, this year's opening night Vernissage and After-Party will benefit LACMA's Muse museum council. Hosted by sbe at their Hollywood nightclub The Colony, where live DJs and art displays frame an electric environment of artists, gallerists, and enthusiasts. Tickets are $50/pp and grant access to Art Platform – Los Angeles from 5-9p on Thursday, September 27th and also the After-Party at The Colony. Tickets can be purchased by calling +1.323.857.6010 or going to: https://tx1.lacma.org/ (Click on Special Events)

Art Platform—Los Angeles presents Open Platform, a curated series of art panels, conversations and discussions which investigate the dialogue around significant issues in the city's cultural landscape. Organized by Aandrea Stang, former Senior Education Program Manager for MOCA, Open Platform highlights the region's most influential collectors, curators, museum directors, gallerists, scholars, critics and artists.

Art Platform – Los Angeles' VIP program has been crafted to afford locals and visitors alike unprecedented access into the private collections and artist studios that are such an integral part of LA's importance as an international art center. Tom Morgan's home (pictured here – and currently for sale) is but one example of the homes and studios available to Art Platform – Los Angeles' VIPs during their visit.

On Saturday, September 29th, LAND (Los Angeles Nomadic Division) will host their annual gala fundraiser at the home of Catharine and Jeffrey Soros in West Hollywood. LAND is a non-profit art organization founded in and is a public art initiative committed to curating site- and situation-specific contemporary art projects, in Los Angeles and beyond. LAND supports dynamic and unconventional artistic practices. More information and tickets: http:// www.nomadicdivision.org/joinus/fundraisers.html Artwork pictured and available as part of the LAND benefit auction: Garth Weiser, 8 x 20 ft., Marfa, December 2011, 2011, durock, plaster, wood, tempera paint, 96 x 240 x 5 in. (243.84 x 609.6 x 12.7 cm.). Photo courtesy of Mary Lou Saxon.

On Sunday, September 30th, Los Angeles' LACE (Los Angeles Contemporary Exhibtions) will host their annual Fall Social and auction at their gallery in the heart of Hollywood. LACE was founded in 1978 by a small group of artists and champions (and challenges) the art of our time by fostering artists who innovate, explore, and risk. Join us as we celebrate their nearly 35 years of service to LA's arts community. More information and tickets: http://welcometolace.org/events/view/lace-fall-social/

On Friday, September 28th, the Los Angeles art community will join together at the home of Shanit and Sam Schwartz to raise funds in support of GiveLove's ongoing efforts in Haiti. Founded by Patricia Arquette and Rosetta Getty after the 2010 earthquake, GiveLove has supported a number of projects to improve the lives of children. The 2nd annual event will feature an art auction curated by internationally renowned artist Sterling Ruby. More information and tickets: http://givelove.org/

Art Platform – Los Angeles, a modern and contemporary art fair for Los Angeles and sister fair to New York's Armory Show, opens their sophomore edition at Santa Monica's Barker Hangar on Thursday, 27 September. This kicks off a weekend of VIP events, openings, and tours for exhibitors, locals, and visitors alike.