There's not much to say about this picture, uploaded to Facebook earlier this month by the admin of Sports in Barcelona.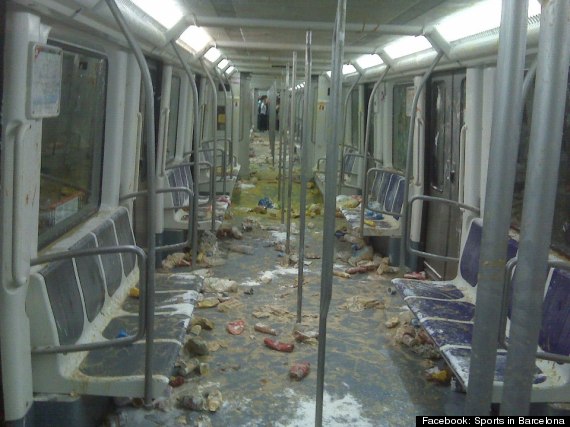 The description posted along with it is enough:
Looks like the sport of Metro food fights are all the craze in Barcelona ... This was taken 2345 last night at Diagonal Metro ! Jeeeez !!!!
For those who doubt the image's authenticity, an article on Spanish language web site LaVanguardia.com may offer some proof.
Local police were called in to disperse the mob, but it's unclear in reports why it happened in the first place.
At any rate, it looks like the hooliganism ultimately spilled off the streets and into Barcelona's underground public transit system. We have a feeling this took a while to clean up.
Also on HuffPost:
Spain's Tomatina Festival 2012
SUBSCRIBE AND FOLLOW
Get top stories and blog posts emailed to me each day. Newsletters may offer personalized content or advertisements.
Learn more