Excuse the cringeworthy SexyBack puns, but they're irresistible. Justin Timberlake's trying to bring Myspace back with a sleek and sexy new look.
A video preview of a redesign to the beleagured social network -- prominently featuring the singer and trying to channel his popularity -- was published on Myspace's website Tuesday. Timberlake is one of the principle financial backers of the group that purchased Myspace from News Corp. in 2011.
So what does the new Myspace look like? Not unlike Pinterest, based on our perusal: Posts are laid out in the gridded format that emphasizes large photo icons. Users can scroll through these posts horizontally, in contrast to the vertical scroll format used by many popular social networks.
Here's an example of a personal stream, where icons link to photos, videos or songs: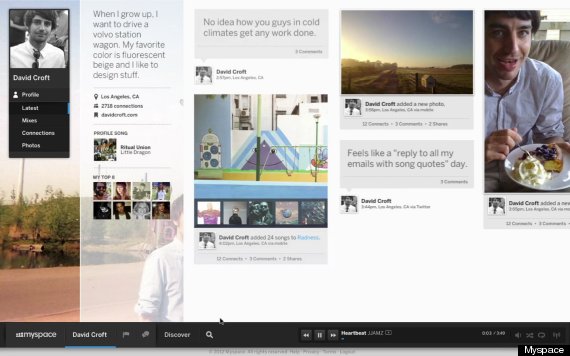 "[W]e're staying true to our roots in one important way — empowering people to express themselves however they want," the message accompanying the video at Myspace reads. "So whether you're a musician, photographer, filmmaker, designer or just a dedicated fan, we'd love for you to be a part of our brand new community."
Artists, in particular musicians, were among the first to pioneer the social network before it reached wide popularity -- and among the last to stay after Facebook overtook Myspace in unique visitors in 2008.
Image-heavy pages similar to the one above exist to showcase personal playlists, upcoming concerts and trending music news. There's even a nifty analytics page that lets those making films or music see the gender, age and geographic breakdowns of their audiences.
The business model that emerges is apparently this: Create the beautiful, image-heavy hub for musicians and other artists, and they'll share their work there like fashionistas and home-decor enthusiasts share on Pintererst. And in turn, music fans will follow.
Will it work? It's impossible to say, especially since we haven't used the site ourselves, but Justin Timberlake and co. can look to one encouraging statistic: According to Forbes, 60 percent of Myspace members in 2012 said they stay on the site in hopes of getting discovered.
Today, Myspace hopes more musicians rediscover it.
Also on HuffPost:
The new Myspace from Myspace on Vimeo.
Loading Slideshow
Pinterest

Certainly the hottest new social network, Pinterest doesn't have all the functions and features of Facebook quite yet -- basically, you're just posting photos to your different boards, which you can categorize by interest or hobby or whatever. You can also follow your friends' boards and comment on their pins. And that's it. Pinterest is a simple, visual concept that has a huge, vibrant community of active users. It <a href="http://techcrunch.com/2012/02/07/pinterest-monthly-uniques/" target="_hplink">hit 10 million users faster</a> than any other social network and is now the <a href="http://www.huffingtonpost.com/2012/04/06/pinterest-traffic-growth_n_1408088.html" target="_hplink">third most popular social network</a> in America, trailing only Facebook and Twitter. <br> <br> You can <a href="http://pinterest.com/" target="_hplink">request an invitation to join Pinterest here</a>.

Tagged

Tagged has a remarkably similar arc to Facebook: Also founded in 2004, and also originally tageted at young people, Tagged is now open to everyone and allows you to customize your profile, play games, message friends, post photos, and meet new people. It has more than 300 million users and more than twenty million monthly active users -- not too shabby, and perhaps worth a look if you want a robust Facebook alternative that's not going anywhere. To see what Tagged is all about, check out this video introduction for beginners. You can <a href="http://www.tagged.com/?" target="_hplink">sign up for Tagged here</a>.

Path

Path is one of several new social networks that seeks to improve on Facebook by making the experience more private and personal: Users are limited to 150 friends on the mobile-only service. A user is instructed to only add his or her closest friends, or anyone you'd invite to your birthday party; the average Path user <a href="http://www.nytimes.com/2012/04/15/business/path-familyleaf-and-pair-small-by-design-social-networks.html" target="_hplink">has 40 connections</a>. Path is sort of like a daily online journal that you open to your friends: You can post photos and videos using your smartphone's camera, update your location, share what songs you're listening to and more. Path has been praised for its intimate feeling and clean design. For more on this social network and its mission statement, check out the introductory YouTube video. (Ignore the Thai -- it's in English). <br> <br> You must have an iPhone or Android phone to participate in Path; a BlackBerry app is apparently on its way. Path has about a million active users, per a <em>recent <em>New York Times</em> article</em>.

Pair

Speaking of intimacy: Pair is a social network in which you can only have one connection, as its name implies. Pair is a sharing service for couples (or really good friends, I suppose), available on Android and iPhone. It takes privacy to the extreme: Pair calls itself a "timeline for just the two of you, where you can post cute video messages and photos that no one else will see." Your significant other may be forcing you to join it any day now. On Pair, you can share photos, videos, location, and to-do lists; you can also play Tic-Tac-Toe with one another and draw sketches in real-time. One of the most precious features of Pair is its "thumbprint" feature, on which you and your partner can virtually press your thumbs together. Like Pair as a whole, you will probably either find this adorable or schmaltzy. Path is available for free <a href="http://itunes.apple.com/us/app/pair/id503663173?mt=8" target="_hplink">in iTunes</a> and <a href="https://play.google.com/store/apps/details?id=com.tenthbit.juliet" target="_hplink">the Google Play store</a>.

Highlight

The number of social networks based on your current location, and your proximity to other users of an mobile application, is on the rise. These "social-location-mobile" (SoLoMo) apps dominated the recent South by Southwest festival, and the app that got the most press was Highlight. Highlight is iPhone only, and the mobile app hooks up with your Facebook and notifies you when you are near a friend, or a friend of a friend, or another Highlight user with similar interests. You can view this person's Highlight profile, and if you're intrigued, you can message that person and perhaps make a new friend or connection. Highlight CEO Paul Davison explains the app to Anderson Cooper in the accompanying YouTube video. Highlight is <a href="http://itunes.apple.com/us/app/highlight/id441534409?mt=8" target="_hplink">available for free in iTunes</a>.

Circle

Circle is, like Highlight, an app that tells you who's around you; unlike Highlight, it has a very pleasant design and lots of options for what information you share publicly and who can see you. You sign up for Circle with your Facebook account; the iPhone-only app shows you when Facebook friends are nearby, and also when friends of friends are close. You can choose to toggle on and off public visibility, if you don't want to be visible to friends of friends. Your profile shows your different Facebook networks (your college, high school, hometown, etc.) and you also have a mini-bio with your name, relationship status and interests. All of this can be toggled on and off as well. Circle is available <a href="http://itunes.apple.com/us/app/circle-whos-around-you/id488720081?mt=8" target="_hplink">on iTunes</a>.

Kismet

Another social location app for your iPhone, Kismet shows you who's around and lets you chat with your nearby neighbors; it also allows users to check in on Foursquare and see which other Kismet users are at their location. Kismet boasts a nice map view, which allows you to see a broad view of other Kismet users around you; there's also an invitation feature that allows you to invite your friends and other users to meet up at a certain place and certain time. You can <a href="http://itunes.apple.com/us/app/kismet/id490929215?mt=8" target="_hplink">download Kismet for iPhone here</a>.

Ban.jo

Our final SoLoMo app (and hopefully the last time I will ever have to write "SoLoMo" ever again) is Ban.jo, which differentiates itself by being available for iPhone AND Android AND on the web. Accessibility! Aside from cross-OS availability, Ban.jo is more of the same: See who's currently around you in list or map view, message nearby folks, check in and update LinkedIn, Twitter, Foursquare and Facebook. Ban.jo is also the only one of these apps publicizing the number of users it has: Its press kit claims that Ban.jo has over one million users worldwide in 185 countries. You can download Ban.jo <a href="http://itunes.apple.com/us/app/ban-jo/id417076117" target="_hplink">for the iPhone</a> or <a href="https://play.google.com/store/apps/details?id=com.banjo.android" target="_hplink">for Android</a>; you can also <a href="http://app.ban.jo/?__utma=18700074.216795228.1337200636.1337200636.1337200636.1&__utmb=18700074.4.10.1337200636&__utmc=18700074&__utmx=-&__utmz=18700074.1337200636.1.1.utmcsr=google|utmccn=(organic)|utmcmd=organic|utmctr=(not provided)&__utmv=-&__utmk=204321424" target="_hplink">try it out at Ban.jo's website</a>.

Nextdoor

Nextdoor is a social network for neighbors and neighborhoods. You join with your home address and are immediately placed into a home neighborhood; all of your connections, and all the content you see in your feed, comes from those that live near you. You don't have to make your address visible to your neighbors, but you do have to verify that you live there with Nextdoor in order to use the site. After you join, using Nextdoor is like a mix of browsing Craigslist and using your community bulletin board. You can find out what's happening in your 'hood and get recommendations for different local businesses and services; there's also a classifieds section for buying and selling. You can check out Nextdoor's pitch in the accompanying video. You can <a href="http://nextdoor.com/" target="_hplink">sign up for Nextdoor for free here</a>.

Roamz

A mobile app for Android and iPhone, Roamz brings in information from Twitter, Foursquare, Instagram and Facebook to let you know what cool stuff is happening around you -- "where the locals go," it claims. That's the real draw of Roamz. It's a social network where you can post status updates and photos and also get information about the places nearby. Check out a video for the app -- which its creators call "Social Googles for the Real World" -- on the left. You can download Roamz for <a href="http://itunes.apple.com/us/app/roamz/id459343660?mt=8" target="_hplink">free for iPhone</a> or <a href="https://play.google.com/store/apps/details?id=com.roamz.app&feature=search_result#?t=W251bGwsMSwxLDEsImNvbS5yb2Ftei5hcHAiXQ.." target="_hplink">for Android</a>.