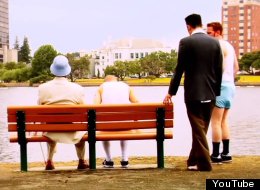 "We are true cinema lovers, to the core," Kahlil Karn, founder of the four-year-old Oakland Underground Film Festival, told The Huffington Post.
His statement is no exaggeration: Karn is a projectionist for both the Sundance and San Francisco International Film festivals. And though his team members have worked on local film projects including Frameline, SF Indiefest and the Mill Valley Film Festival, Karn's baby is the Oakland Underground Film Festival, coming to the Grand Lake Theater and other East Bay venues this week.
"There are few audiences more keen, educated and diverse than the Bay Area, and we feel we have a very important and specific responsibility to that audience," he said.
"Oakland has a special culture and character, and the people who call Oakland home take a lot of pride in their city," he continued. "So we search all of the new independent cinema for films that resonate with that culture and character best."
Featured films often include gritty social commentary, dark comedy and issues that many festivals shy away from. In 2009, the controversial "Black Dynamite," a "blaxploitation" comedy, showed at the festival before being nationally distributed and gaining substantial critical acclaim.
This year, films range from professional skateboarder Stacy Peralta's autobiographical account of the rise of the sport ("Bones Brigade") to an ode to hacker group Anonymous ("We Are Legion") to a staggering drama about child molestation in the clergy ("Wolf"), among many others.
But for Oakland, perhaps the most exciting film on the roster is "Smoked"--a dark comedy about Oakland's drug world by famed local performance artist Jamie DeWolf, celebrating its world premiere this weekend.
"The whole film is a love letter to Oakland," DeWolf told HuffPost. "Smoked" follows a botched cannabis club robbery, but explores Oakland's thriving underground in the process.
"[Marijuana] is a conduit to all of these different worlds: hippies, thugs, skaters, everyone," said DeWolf. "So with that as a guide, we explored all of these different themes in Oakland."
The festival opens on Thursday with screenings of "Bones Brigade" and "Wolf." To celebrate the screening, "Bones Brigade" cast members/skaters Tony Hawk, Mike McGill, Steve Caballero and Tommy Guerrero will be in attendance.
"San Francisco is one of the centers of skateboarding," Peralta told HuffPost. "The city has had a skate identity since the 1970s that rivals that of LA and San Diego. So to screen the film in the Bay Area is a perfect fit."
The Huffington Post San Francisco is proud sponsor of the Oakland Underground Film Festival, which runs from September 27-30. Visit the festival website for showtimes and full listing of featured films.
Oakland Underground Film Festival
Ya'Ke Smith's "Wolf" tells the story of a family that is rocked to its core when a son is molested by a trusted pastor. "I grew up in the church and knew people who were abused by clergy, but they were unable to heal because they didn't get the help they need," said Smith to The Huffington Post. "I wanted to give them a voice."

Jamie DeWolf's love letter to Oakland, "Smoked" explores the city's multiple personalities through a botched cannabis club robbery.

A follow-up to Stacy Peralta's popular "Dogtown and Z-Boys," "Bones Brigade" explores the complex personal relationships in the famed skater group, with emotional accounts from Tony Hawk, Tommy Guerrero, Rodney Mullen, Mike McGill, Lance Mountain and Steve Caballero.

Famed filmmaker Brian Knappenberger explores the rise of hacktivism in "We Are Legion," a documentary about hacker group Anonymous. "I think hacktivism is one of the most important phenomenons of our time," Knappenberger told HuffPost. "And though this is a global movement, the Bay Area has been extremely important."