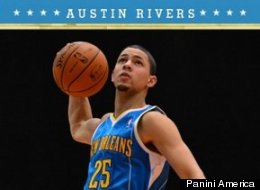 The stress and strains of our always-connected lives can sometimes take us off course. GPS For The Soul can help you find your way back to balance.
GPS Guides are our way of showing you what works for others in the hopes that you can find out what works for yourself. Whether it's photos that relax you or make you smile, songs that bring you back to your heart, quotes or poems that bring you balance or meditative exercises that help you de-stress, we all have tricks that we use when we get bent out of shape. We encourage you to look at the GPS Guide below, visit our other GPS Guides here, and share with us your own personal tips for finding peace, balance and harmony.
Professional basketball player Austin Rivers gives insight into his life off the court. Find out how he unplugs, recharges and finds inspiration in the slideshow below.
To chill out and unwind from the basketball court, I always take a second to get my thoughts together, I first like to pray to God, then I think of my all my priorities and make sure there all straight and on track, after that I know I have everything in order, so I can ease my mind and relax.

I also like to listen to music -- it helps me get away from everything, and just lets me think and concentrate on everything. I love hip hop, and listening to it helps me unwind. It's nice to throw on some headphones and tune out the world for little bit and be in your own world!

Another big way for me to relax is to think of my dreams, think of my goals and ways I can go about achieving them. I think about the people who inspire me and how they got to where they are. I will sit and relax, listen to music, think of what inspires me and chill! Then I will go out and make dreams into reality!

The biggest thing that inspires me is failure! I think and dream about it all the time -- that way I will work as hard as I can and do everything I can not to fail! It's something I won't let myself go through. Being a failure inspires me to never be one, failing Inspires me to go achieve all my goals and admirations.
Photo credit: Panini America's 2012 NBA Rookie Photo Shoot
For more GPS Guides, click here.