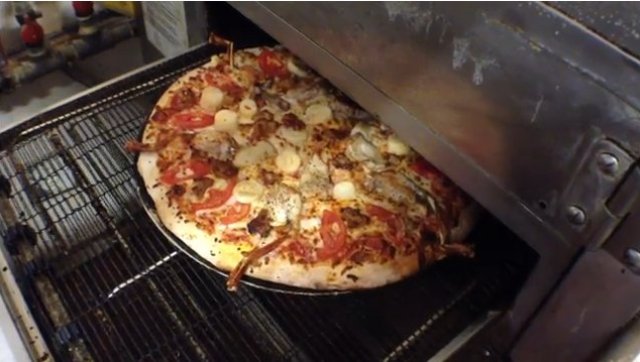 Evan's Neighborhood Pizza in Fort Myers, FL is serving up a pizza covered in swamp monsters. The family restaurant, which has been serving pizza to Fort Myers for 11 years, recently debuted the Everglades Pizza -- topped with "swamp cabbage" (which look like hearts of palm to us?), frog legs, alligator and python fillets. Yes, python fillets.
The owners, husband and wife Evan and Avis Daniell, concocted this $45 pie to drum up some excitement for the restaurant's Facebook page, but didn't really expect to sell many. "We've actually averaged one to two a month," Evan Daniell told News-Press. "It's a mix. Locals who are used to the idea of frog legs and gator, and tourists who want to try something completely different."
Also on HuffPost:
Most Bizarre Pizza Toppings
SUBSCRIBE AND FOLLOW
Get top stories and blog posts emailed to me each day. Newsletters may offer personalized content or advertisements.
Learn more