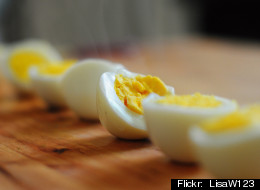 Everyone's got an opinion on the right way to hard boil eggs. You can try the pinhole method. Bake them instead of boiling them. Or you can add baking soda to the pot of water. Most of these methods hope to make peeling eggs easier, but we've come across a solution that makes all that null.
The best way to peel eggs is, drumroll please... not to peel them. It's genius. Why have we been dealing with cracked egg shells all this time? Blogger No Biggie shared this discovery with us and its simplicity will astound you. Rather than peel the hard boiled egg, slice it in half -- shell still on -- and then scoop out the egg half with a spoon.
Want to read more from HuffPost Taste? Follow us on Twitter, Facebook, Pinterest and Tumblr.
Hungry for eggs? Try these egg benedict recipes.
Get the Eggs Benedict recipe by Simply Recipes You can never go wrong with a classic eggs benedict. It's got everything you want to get you going in the mornings.

Get the Country Style Eggs Benedict recipe by Spoon Fork Bacon This dish is a combination of biscuits and gravy meets eggs benedict; all of the indulgent qualities we love about both dishes are formed into one wonderful breakfast meal.

Get the Asparagus and Bacon Eggs Benedict recipe by A Healthy Jalapeno Everyone loves bacon, and when it's paired with all the usual suspects of an eggs benedict, it really stands out.

Get the Eggs Benedict Over Savory Waffles recipe Against All Grain Who needs English muffins when you've got savory waffles to eat eggs benedict on?

Get the Eggs Benedict Huevos Rancheros recipe by I Adore Food When you can't decide between two dishes, sometimes it's best just to combine them. A poached egg with beans, salsa and hollandaise sauce makes this version of eggs benedict stand out.

Get the Salmon and Bagel Benedict recipe by Foodie Crush Replace the english muffins with bagels, swap the pork for salmon, and finish off with avocado and tomato for a fresh new take on this egg dish.

Get the Healthy Eggs Benedict recipe by The Gorgeous Gourmet There's no hollandaise sauce on these eggs, which means they're not technically eggs benedict, but they're rich and creamy and just as satisfying -- with a lot less calories.

Get the Smoked Salmon Eggs Benedict recipe by Katherine Martinelli Eggs benedict served on top of puff pastry, why haven't we thought of that before? This recipe was originally published in Puff Pastry at Brunch: 10 Sweet and Savory Recipes to Start Your Morning.

Get the Lobster Eggs Benedict recipe by The Bite House This recipe has everything you'd want in an eggs benedict and more. It's got lobster!

Get the Country Eggs Benedict recipe by Lana' Cooking Try this recipe for a country twist on the classic eggs benedict. You won't be able to get enough of the country ham.