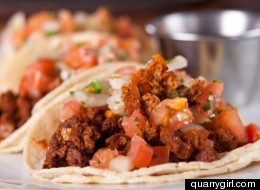 Vegetarianism can be a scary idea for the modern carnivore.
Fortunately, food is versatile, and foodies are even more so. Whether you're a stubborn meat-eater or a "Flexitarian" (see: part-time vegetarian) looking for a reason to go cold turkey—or simply eat less turkey—have we got the motivation for you.
We've rounded up some of our favorite gateway vegetarian and vegan foods in disguise that will leave your brain confused and your stomach growling. Check out our slideshow below for some inspiration of the vegetarian persuasion, including recipes and food photos that have us salivating.
Cognitive dissonance never looked — or tasted — so good.
11 Foods You Won't Believe Aren't Meat (SLIDESHOW)
A meal fit for 5-6 persons, this "meat" is imitation in name alone with no shortage of flavor. Savory seitan sponges up your favorite sweet and/or spicy barbecue sauce, guaranteeing a finger-licking good meal. Ingredients: 1 cup vital wheat gluten 3 T. nutritional yeast flakes 2 t. onion powder 1 t. garlic powder 1 cup water or vegetable stock safflower oil, for oiling pan 1 cup Sweet and Spicy Barbecue Sauce How to make it: In a medium bowl, place the vital wheat gluten, nutritional yeast, onion powder, and garlic powder, and stir well to combine. Using your hands, mix the water into the dry ingredients, and work into a soft dough that will feel very moist to the touch. Using a little safflower oil, lightly oil (or lightly mist) a 9-inch square baking pan. Transfer the dough to the prepared pan, and using your hands, flatten the dough to evenly cover the bottom of the pan. Using a sharp knife, cut the dough into 8 strips lengthwise, turn the pan a quarter turn, and then make one cut through the middle widthwise to form 16 pieces. Bake the seitan for 20 minutes at 350 degrees. Prepare the Sweet and Spicy Barbecue Sauce according to the recipe instructions. After 20 minutes of baking, remove the pan from the oven. Spread a little of the Sweet and Spicy Barbecue Sauce over each of the puffed strips. Return the pan to the oven and bake an additional 12-15 minutes. Serve the strips as an appetizer or main dish, or chop and use to add flavor to soups, salads, grains, and side dishes. Source: veganchef.com .

And you thought you couldn't teach an old dog new tricks. This vegetarian spin on the frank classic packs all the protein you'd expect without the fat. Guiltless grilling? Yes please. Ingredients: 4 Lightlife™ Smart Dogs® Veggie Protein Links grilling spray 1/4 head green cabbage, cut into 2 wedges 1/4 red cabbage, cut into 2 wedges 2 Tbsp toasted sesame oil, divided 1 cup shredded Granny Smith apple (1 cup = 1 med) 2 Tbsp sesame seeds, toasted 1 Tbsp cider vinegar 1 tsp agave sweetner 1/4 tsp kosher salt 1/8 tsp ground black pepper 4 Hot Dog Rolls How to make it: Spray cold grate of outdoor grill with grilling spray. Prepare grill for medium-high heat. Drizzle 1 tablespoon oil over cabbage; grill 8 to 10 minutes or until both sides have softened and have grill marks, turning once. Remove from heat; cool. Meanwhile, combine apple, sesame seeds, remaining 1 tablespoon oil, vinegar, agave, salt and pepper in medium bowl; set aside. Grill Smart Dogs 8 to 10 minutes or until hot, turning once. Meanwhile, remove core from cabbage and cut into shreds. Add to apple mixture; toss to combine. Place Smart Dogs in rolls and top each with 1/3 cup slaw. See full nutrition facts and recipe here. .

Who says you need meat to make a Sloppy Joe? Tempeh, garlic, onion, and jalapenos come together with a medley of other spices to recreate the robust flavor of a normal napkin-needing sandwich. Ingredients: 2 tbsp veggie oil 1 onion, diced 3 cloves garlic, minced ½ bell pepper, diced 1 jalapeno, diced ½ tsp dried oregano ½ tsp cayenne ¼ tsp cumin 2 packages tempeh, crumbled 1 tbsp raw sugar 1 cup tomato sauce How to make it: In a large pot, heat the oil over medium heat. Add in the onions, garlic, peppers and spices and cook for 1-2 minutes. Next, add in the crumbled tempeh and sauté briefly before stirring in the sugar, tomato sauce and ketchup. Season with salt and pepper and cook until the mixture is hot and bubbly. Spoon over soft burger buns, sprinkle with Daiya, garnish with a pickle and you're ready to eat! See full recipe here. .

For those in the mood for vegan or vegetarian-friendly Mexican, there is no shortage of taco alternatives to the tried-and-true chicken and beef flavors. Matador Cantina of Fullerton, CA., for instance, offers up Vegan Street Tacos "seasoned with 'soyrizo,' a house-made meat alternative with sautéed Poblano peppers and grilled onions," which, according to its Facebook page, is an offering also available as a meat substitute for any menu items. Enchiladas, fajitas, and burritos with all the flavor and none of the guilt. .

Vegan burger lovers rejoice! Non-veggie burger lovers: get ready to. With sweet corn and black beans taking center stage, regular meat-eaters won't mind the absence of meat in this mashup of fresh onions, tomatoes and other flavorful ingredients for your next grill-out. Ingredients: 1 pkg (12 oz each) frozen Lightlife™ Kick'n Black Bean Burgers grilling spray 2 medium ears of fresh sweet corn, husks removed 2 tsp extra virgin olive oil 1 can (14.5 oz each) fire-roasted diced tomatoes, drained well 1/4 cup chopped fresh dill weed 1/4 cup chopped red onion 2 Tbsp vegetable oil 1 Tbsp spicy brown mustard 1 Tbsp red wine vinegar 1/2 tsp finely chopped garlic 1/4 tsp kosher salt 1/4 tsp ground black pepper 4 leaves green leaf lettuce 4 hamburger buns How to make it: Spray cold grate of outdoor grill with grilling spray. Prepare grill for medium-high heat. Brush corn with olive oil; grill 10 to 12 minutes or until browned lightly, turning occasionally. Remove from heat; cool slightly. Meanwhile, combine tomatoes, dill, onion, vegetable oil, mustard, vinegar, garlic, salt and pepper in medium bowl; set aside. Grill burgers over medium heat 7 to 8 minutes or until hot, turning once. Meanwhile, cut corn kernels from cob with sharp knife. Add corn to tomato mixture; mix well. Place burgers and lettuce on buns. Top each with 1/3 cup salsa. Refrigerate leftover salsa. See full nutrition facts and recipe here. .

Meat may be a skewering staple, but that doesn't mean you can't grill up some killer kebabs without it. Tofu joins the usual suspects in onions, peppers and the succulent flavors of soy, lime juice and ginger for a recipe refresh next time you reignite the backyard grill. Ingredients: 1 14-ounce package extra-firm water-packed tofu, drained 1 tablespoon lime juice 1 tablespoon reduced-sodium soy sauce 1 teaspoon minced fresh ginger 16 fresh mint leaves 4 plum tomatoes, quartered and seeded 1 onion, peeled, quartered and separated into layers 2 jalapeño peppers, seeded and cut into 1/2-inch pieces 1/4 cup kecap manis (see note below) How to make it: Cut tofu in half horizontally, making two large slices about 1 inch thick. Fold a clean kitchen towel and place it on a cutting board or large plate. Set the tofu on the towel. Put another folded clean towel over the tofu and place a flat, heavy weight (such as a skillet) on top; drain for 15 minutes; remove the weight and cut the tofu into 1 1/2-inch pieces. Preheat grill to medium-high. Combine lime juice, soy sauce and ginger in a medium bowl. Add tofu and toss to coat. Cover and marinate in the refrigerator for 15 minutes. Tuck a mint leaf into each tomato quarter and thread onto 4 or 8 skewers alternately with tofu, onion and jalapeños. (Discard any remaining marinade.) Oil the grill rack (see Tip). Grill the kebabs, turning occasionally, for 7 minutes. Brush with kecap manis and grill until the vegetables are softened and the tofu is well glazed, about 3 minutes more. Note: Kecap manis is a thick, palm sugar˜sweetened soy sauce. It's used as a flavoring, marinade or condiment in Indonesian cooking. Find it in Asian food markets or online at importfood.com. To substitute for kecap manis, whisk 1 part molasses with 1 part reduced-sodium soy sauce. Tip: Oiling a grill rack before you grill foods helps ensure that the food won't stick. Oil a folded paper towel, hold it with tongs and rub it over the rack. (Do not use cooking spray on a hot grill.) To Make Ahead: Equipment: 4 or 8 metal or bamboo skewers See full nutrition facts and recipe here. .

Puns aside, this vegetarian variation will make even the most manic meat-lover salivate. Cheddar cheese, sour cream and sautéed peppers come together with LightLife SmartStrips to create the same Mexican taste you've come to love. Ingredients: 1 pkg Smart Strips® Steak, 6 oz each 1 medium green bell pepper 1 medium yellow bell pepper 1 medium sweet onion 1 medium tomato 1/2 cup salsa 1/4 cup sour cream 2 oz shredded Cheddar cheese 1 pkg fajita seasoning mix1.12 oz each 4 flour tortillas, 10 inch How to make it: In a small amount of cooking oil or spray, sauté the Smart Strips® Steak style and add the fajita seasoning. Set aside in an oven-proof dish or skillet. Sauté the peppers and onions separately for 2 to 4 minutes, mixing often (do not over cook; you want them to be a little crunchy.) Sauté each item individually, then add it to the dish with the steak strips. After each item has been added, place dish in a 250 degree oven to keep warm while you prepare the rest of the meal. Dice tomato and set aside. Prepare rice according to package directions. Microwave refried beans until heated through. When everything is ready, heat flour tortillas in the microwave. Set everything out and assemble fajitas. Serve with rice and beans on the side. See full nutrition facts and recipe here. .

There are plenty of ways to go about a vegetarian meatloaf: lentils, black beans, vegetarian ground beef, etc. For this loaf, meet soy crumbles, which most closely replicate the texture and flavor of regular meatloaf. You won't even be left wondering, "Where's the beef?" Ingredients: 1/4 cup Bullseye Hickory Smoke Barbecue Sauce 3/4 cup Hunts Ketchup 1 (12 ounce) package vegetarian burger crumbles 1 green or yellow bell pepper, chopped 1 minced red onion 1 clove garlic, minced 1 cup soft bread crumbs 3 tablespoons Parmesan cheese 1 egg, beaten 1/4 teaspoon dried thyme 1/4 teaspoon dried basil 1/4 teaspoon parsley flakes salt and pepper to taste How to make it: 1. Preheat oven to 325 degrees. Lightly grease a 5x9 inch loaf pan. 2. In a bowl, mix together the barbecue sauce and the ketchup. Mix 3/4 of the mixture with the vegetarian burger crumbles, yellow bell pepper, onion, garlic, bread crumbs, Parmesan cheese, and egg. Season with thyme, basil, parsley, salt, and pepper. Transfer to the loaf pan. 3. Bake 45 minutes in the preheated oven. Pour remaining barbecue sauce over the loaf, and continue baking 15 minutes, or until loaf is set. Source: esablog.com .

Not your grandma's meatball recipe: Cauliflower and cabbage make their way into this twist on the Italian classic with no flavor sacrificed in the process. The secret, as they say, is in the sauce. You'll need: 1 package spaghetti For the Sauce 1/2 cup extra virgin olive oil 2 28 oz cans of chopped tomatoes 1 medium onion chopped 3 cloves of garlic minced 1 bay leaf 1 teaspoon dried basil 1 teaspoon dried oregano 1/4 cup red wine fine sea salt and freshly ground black pepper to taste 1/2 teaspoon of unbleached sugar freshly grated parmesan for garnish For the Vegetarian Meatballs 2 cups grated cauliflower 2 cups grated cabbage 1 3/4 cups chickpea flour (also called Gram flour. Available at Indian grocery stores) 1/4 cup fresh flat leaf parsley chopped 1/2 cup freshly grated parmesan fine sea salt and freshly ground black pepper to taste Prepare the sauce 1. Heat the olive oil in a pan, add the onions, and saute for 5-7 minutes until they become soft. Add the garlic, cook for a minute, then add the tomatoes, bay leaf, basil, and oregano for 5 minutes. 2. Using a wooden spoon, crush the tomatoes. Stir in the red wine and cook on medium heat for ten minutes. Turn the heat to low and simmer uncovered for 30 minutes or until the sauce takes on a thick and rich consistency. Season with salt, pepper, and sugar. Cover to keep warm and remove from heat Prepare the Meatballs 1. Combine all of the ingredients in a large mixing bowl. 2. Form the mixture into 20-24 small bite size meatballs. If your hands get a bit sticky while forming the balls, flour them with the chickpea flour. 3. Fry the meatballs at medium heat for 2-3 minutes in olive oil until they turn a light golden color. Watch them carefully: Fry in batches of five as they will need to be turned and removed quite quickly onto a plate covered with a paper towel. 4. Add the meatballs to the sauce, and on low heat, cook for 20 minutes. 5. In a pot of boiling and salted water, cook the spaghetti as per the directions on the packaging. Drain. Serve the spaghetti in a bowls, topped off with the sauce, a few meatballs, and freshly grated Parmesan. Source: foodforvitality.com .

Stuffed peppers are a fun appetizer to get people salivating before the main course (or as stand-alone eentrees). Try these out for your next get-together and let your friends and guests think they're indulging. We won't tell if you won't. Ingredients: 1 pkg Lightlife™ Smart Ground® Mexican 12 oz each 6 medium green bell peppers 1/3 cup onion 1/3 cup celery 3 cup cooked brown rice 1-1/4 cup salsa 2 tsp chili powder 1 cup shredded reduced-fat Mexican blend cheese How to make it: Cut tops off peppers, discard tops and remove seeds. In large pot of boiling water, cook peppers for 3-5 minutes. Drain and rinse in cold water; set aside. In a nonstick skillet, cook onion and celery over medium heat until translucent. Stir in Smart Ground® Mexican, rice, 1 c. salsa, chilies and chili powder. Mix thoroughly. Spoon into peppers. Place stuffed peppers in a 9 in x 13 in x 2 in baking dish coated with nonstick cooking spray. Add 1/4 c. water to dish. Cover and bake at 350° for 45-50 minutes or until heated through. Uncover; sprinkle with cheese and top with remaining salsa. Return to oven and bake uncovered 2-3 minutes longer, or until cheese is melted. See full nutrition facts and recipe here. .

Editor's Note: We've been informed Curly's has since closed, but don't let this stop you from trying this dish out elsewhere—kitchen or otherwise. On Curly's Vegan Chicken Bacon Ranch: "The soy chicken was breaded and super crispy, the tofu bacon was salty and the ranch dressing was all creamy and unifying. One of my top five sandwiches of all time. The sweet potato fries were also better than your average fries. They were almost freakishly light and crispy. I would eat the whole meal over again right now if I could." -Jennifer, ItAintMeatBabe.com .