This week things got hot and heavy on the Arts & Culture page as people were peeved about "Piss Christ," perfected their Psy pony dance and learned that there may have been an early version of the Mona Lisa that looks different from the image we know and love. Read on for more...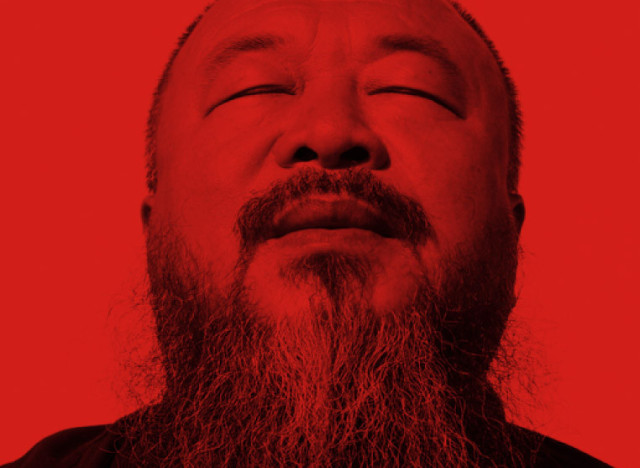 Culture reporter Gazelle Emami spent 80 minutes in the studio with Ai Weiwei, China's most controversial artist. Click here to read the extensive interview on China's art scene, Ai's tax case, and the artist's extensive stray cat collection:
"Ai, 55, can come off grumpy: unsmiling and wary-eyed. But he quickly relents to his gentler attributes — a waggish sense of humor, calm speech patterns and a fondness for lost animals. At any given point over the past 12 years, somewhere between 20 and 60 stray cats and dogs have made his studio their home. "We started to say, 'Oh we can have them!' Ai laughs with his eyes, as if his decision bemuses him.
This day, a soft white cat named Lei Lei ("come, come" in Chinese) wanders into the room and onto the table for a nap. "He's never missed one interview. I think he likes the human voice while he sleeps. 'Lei lei, lei lei,'" Ai calls, whistling softly. Dressed in a white t-shirt and jeans, Ai's defining features dominate his appearance — a globular belly and stringy beard that hangs low."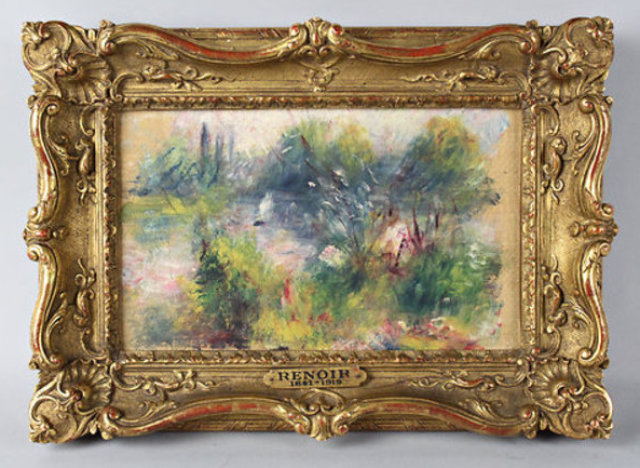 In 2010 a Shenandoah Valley resident unknowingly bought Pierre-August Renoir's "Paysage Bords de Seine" at a flea market, for the bargain bin price of seven dollars. At the time, "Renoir Girl, as she asked us to refer to her, was hoping to earn anywhere from $75,000 and $100,000 for the painting, based on an auction house estimate. Her plans for spending the money included a trip to the Louvre Museum with her mother, whose hunch led her to verify the painting's authenticity, she told us.
But now it appears that trip may be delayed: a recent investigation indicates the painting was stolen. A report published Thursday by the Washington Post details the mysterious crime. The saga began nearly 61 years ago, when "Paysage Bords de Seine" was spirited out of the Baltimore Museum of Art. The Post reporter found documentation of the painting at the BMA from 1937 until its theft on November 17, 1951. Questions of who stole it, where it languished for decades and how it would up at a flea market remain. It's not even December 2012 yet, and already the world is ending. A man with a slight paunch and a trademark gallop has sparked numerous exhaustive analyses on reputable web sites the world over. Who is 'Psy'? What is Gangnam Style? Is the invisible horse really just a dance prop or is it something more?
6 Psy Facts Worth Telling Everyone
Writing in the Wall Street Journal, Jeff Yang explains that Psy is part of a corps of entertainers known in South Korea as "gwang-dae," after "a caste of performers traditionally attached to royal households" who had license to skewer those in power. The founder of a K-Pop database told Yang that today's unofficial gwang-dae -- such as Psy -- are "clown or jester-like," and that unlike mainstream K-Pop stars, they don't have to be sexy to be popular. The closest analog in America she could offer was Andy Samberg and Lonely Island, except that "In Korea, gwang-dae actually top the music charts." Ouch!

In NY Mag, Hua Hsu posits that Psy's "satire, irony and swagger" stem from him not being from Gangnam. Au contraire! Psy is a native son of the wealthy district, according to the NY Times, and traveled to the US for higher education, in the way of so many privileged Gangnam tots. (South Korean students at Manhattan's Parsons School of Design are all from "the same few blocks in Gangnam," according to writer Sukjong Hong.)

Which brings us to this period. Yes, Psy learned some things during his time studying at Boston University and the nearby Berklee College of Music in the nineties, though what precisely is debatable. A BU spokesman told boston.com that Psy studied English for a semester in 1997, but "no one remembers him at this point." Over at Berklee, he never declared a major, and took classes in voice and clarinet. The Atlantic's Max Fisher makes more of the stint than just woodwind lovin' though, suggesting that the "exposure to American music's penchant for social commentary, and the time spent abroad that may have given him a new perspective on his home country, could inform [Psy's] apparently somewhat critical take on South Korean society."

Everyone got excited when a video of Psy performing Beyonce's "Single Ladies" in 2011, dressed as Beyonce, was discovered. Tell us what isn't exciting about that! It turns out though, crossdressing is old hat for our modern hero. In a wide-ranging interview on the South Korean chat show "Healing Camp," Psy talks about growing out of his old schtick of dressing up as popular lady singers. Roughly translated into English: "Since being married, I don't feel comfortable wearing those racy clothes. I kind of feel like a local clown. Do I still need to crossdress to make my fans happy?"

Scooter Braun, the evil genius who manages Justin Bieber AND Carly Rae Jepsen, did the deed with Psy earlier this month. "We've come to an agreement to make some history together," Braun says in a video marking the occasion of him signing Psy. Psy will soon and forever after be known as the "first Korean artist to break a big record in the United States," Braun promises. No shame right now, we are excited.

Do yourself a favor and head to that super long "Healing Camp" interview we mentioned earlier. Scroll to about eight minutes and 30 seconds in and prepare to make the exact same expression the "Healing Camp" host to the left has on. Because this is the section where Psy gruesomely details his solution to the painful leg cramps that "paralyze" him on stage, according to the closed captioning. To manage, he introduced DJing segments into his concerts 2 and a half hours in, when the pain peaked. "I would be standing behind the DJ box covering my lower body, [and] while I am DJing and dancing, my physical trainers would come up behind me and start prodding my legs to dissolve the blood clots." This procedure is apparently done with 30 to 40 acupuncture needles, after which "a pool of dark red blood oozes out." And scene.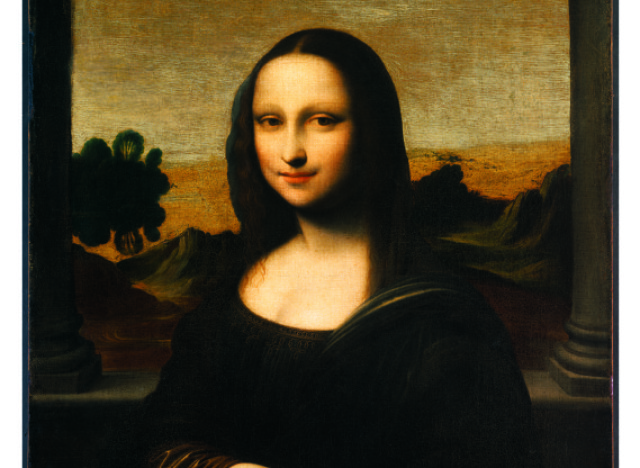 Art experts this week are claiming that they have found an early version of Leonardo da Vinci's shyly smiling beauty, Mona Lisa, reports the Daily Mail.
The work, dubbed the Isleworth Mona Lisa, was reportedly discovered by English art collector Hugh Blaker in Isleworth, London shortly before World War I. Though slightly larger than Leonardo's famous portrait, the subject in the Iselworth became famous for its striking resemblance to Lisa del Giocondo, sparking years of debate as to whether Blaker had discovered Mona Lisa's prequel, ABC News reports.
Now, nearly one hundred years later, the not-for-profit Mona Lisa Foundation has announced that it will reveal "historical, comparative and scientific evidence" that will prove that the long-speculated treasure is indeed the handiwork of the 16th century master.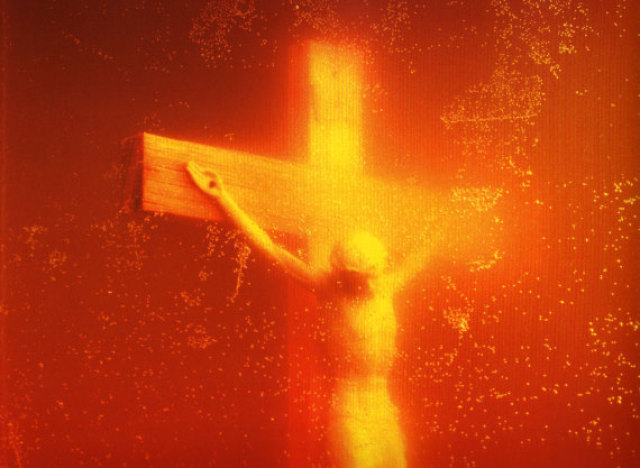 Thursday marked the debut of Andres Serrano's latest show, "Body and Spirit" at Edward Tyler Nahem gallery in New York. On view is "Piss Christ," Serrano's 1987 pièce de résistance that seems to have been causing apoplexy in a number of politicians, religious leaders, and FOX News commenters, who then quickly regained their powers of speech.
On Friday, Rep. Michael Grimm (NY) told FOX News: "I call on President Obama to stand up for America's values and beliefs and denounce the 'Piss Christ.'" Gawker was able to sum up the bold request in a headline: "Heathen President Refuses to Condemn Piece of Art From 1987."
Now that we think about it, this was a big week! Check back in Monday for the next wave of arts madness.