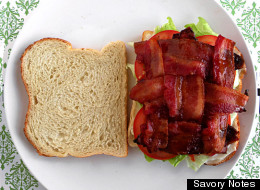 What better way to celebrate dodging the aporkalypse (man, that was a close one!) than with a quick tutorial on how to make a bacon weave? Since the bacon shortage was just a big scare, we can now indulge in our favorite breakfast food guilt-free.
Get ready BLT lovers, bacon cheddar burger fans, and insane piles of bacon addicts, the bacon weave is the solution to the problem you never knew you had: how to get bacon in every single bite you take. We owe a big thank you to Savory Notes, who brought this genius bacon technique to our attention.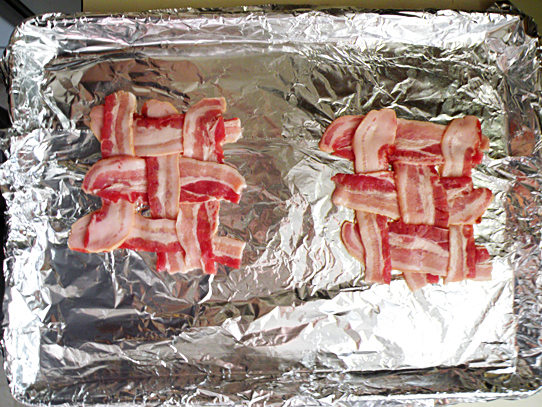 To make a bacon weave, interlace the strips of bacon as one would a lattice top for a pie. Bake the weaves in a 350 degree oven for roughly 30 minutes. If you want to get fancy like blogger Savory Notes does -- which we highly recommend -- you can top your bacon with whiskey and brown sugar before baking. Check out her bacon weave recipe. You won't regret it.
Want to read more from HuffPost Taste? Follow us on Twitter, Facebook, Pinterest and Tumblr.
Check out these blt-inspired recipes.
Get the BL (Slow-Roasted) T recipe from Not Without Salt As the name of this recipe suggests, the "T" for tomatoes are slow-roasted before going into the BLT. What you get is amazing concentrated flavor. The mayonnaise is jazzed up with basil also for more flavor. Instead of frying the bacon, bake it for easy cleanup.

Get the Fried Green Tomato BLT recipe The tomatoes in your BLT don't have to be ripe -- try it with fried green tomatoes for a Southern twist. The tomato slices are dredged in cornmeal for extra crispiness. Spread the sandwich with basil mayo for more flavor.

Get the BLT Spring Rolls recipe from White On Rice Couple This BLT-inspired recipe takes its cue from Asia -- it's a BLT spring roll after all. Crisp bacon, lettuce and tomato are all wrapped up in rice papers and served with a soy dipping sauce.

Get the BLT Macaroni Salad recipe from Skinny Taste Forget the standard macaroni salad -- try this BLT-inspired one for your next picnic. It includes baby spinach for texture and flavor. The creamy mayo dressing ties everything together.

Get the BLT Muffins recipe from So Hungry I Could Blog This recipe captures all the great flavor of a BLT sandwich in a savory breakfast item. The muffins are studded with crumbled crispy bacon, sliced sun-dried tomatoes and minced parsley. Mayonnaise in the batter ensures the muffins are moist.

Get the BLT Salad with Buttermilk Dressing recipe from Steamy Kitchen This easy salad will have everyone impressed and only you will know how easy it was to put together. The baguette croutons and bacon bake together in the oven to save on time. The buttermilk and mayonnaise dressing only takes seconds to make.

Get the BLT Wraps recipe from Recipe Girl BLT sandwiches aren't always the easiest to eat -- with all the ingredients sliding all over the place. This wrap recipe solves that dilemma. Instead of fresh tomatoes, the recipe uses sun-dried for a a more concentrated flavor.

Get the BLTA Lettuce Wraps recipe from As A Verb The "A" in this version of the BLT is for avocado. Along with diced tomato and crumbled bacon, it's used as a filling for lettuce leaves so there's no need for bread. Simply wrap and eat.

Get the Cheddar BLT Burgers with Tarragon Russian Dressing recipe This famous burger recipe from the restaurant BLT Burger has all the fixings of a standard BLT sandwich but includes a juicy burger. The beef patty is soaked in cold water and basted in butter during grilling -- steps that keep it super moist.

Get the BLT Tart recipe from The Tomato Tart This tart or galette includes a filling of roasted heirloom tomatoes, onions and crisp bacon. In the last minutes of baking, top the tart with a cracked egg. Sprinkle with chopped lettuce before serving.

Get the Crab Cake BLT recipe from KokoCooks If a crab cake wasn't indulgent enough, this one is served on a roll with lettuce, tomato, bacon and Old Bay mayo.

Get the Heirloom BLT Pizza recipe from A Cozy Kitchen This unique BLT-style pizza is packed with flavor. Instead of tomato sauce, the pizza is spread with goat cheese alfredo sauce. It then gets topped with sliced heirloom tomatoes and mozzarella cheese. Garnish with thinly sliced basil before serving.

Get the BLT Strata recipe This strata is basically a savory version of French toast baked in casserole form. It includes roasted tomatoes and crisp bacon layered with sandwich bread. The whole thing is saturated with a thick custard overnight and then baked until puffy. Prepare it the night before for breakfast the next day.

Get the Skirt Steak BLT With Basil Mayonnaise recipe For those who feel bacon isn't enough meat on a BLT, you might like this version, which includes a topping of sliced skirt steak. A pungent basil mayonnaise provides a counterbalance in flavor.

Get the BLT Grilled Pizza recipe This smoky grilled pizza begins with a spread of mustard and mayonnaise instead of tomato sauce. It's then topped with cheese, tomato slices and crisp bacon. Add the shredded lettuce after the pizza comes off the grill.

Get the BLT with Avocado and Pink Chili Mayo recipe Sriracha hot sauce turns the mayo in this BLT recipe a pretty pink -- it also gives it a noticeable kick. Adding avocado slices to the sandwich gives it a nice creamy texture when biting in.