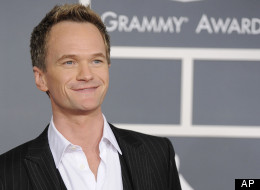 If you don't know about Neil Patrick Harris' food obsession, proudly announced via his Twitter feed dedicated entirely to food porn, we're here to tell you that this guy's a glutton. Well, glutton may be a bit harsh, but Neil Patrick Harris sure can eat.
Not only does he love food, but he's also the guy at the restaurant who takes pictures of all his dishes, which are often elaborate tasting menus consisting of anywhere between 6 to 16 courses at some of the more notable restaurants. Lucky for us, he Tweets those photos out at @NPHFoodPorn for vicarious eating.
Here's an idea of the type of restaurants NPH visits and their prices:
Scarpetta in New York City: 3 course tasting menu starting at $89, with an optional $55 dolar wine pairing.
Le Filet in Montreal: 5 plate tasting menu for 2, starting at $70.
Park in Westmount: 5 course tasting menu starting at $65, with the option to add more plates.
One thing we can say for sure, NPH has exquisite taste. Yet, he still knows how to enjoy a deep-fried candy bar. We knew there was a reason we loved him beyond being the youngest doctor in America!
Want to read more from HuffPost Taste? Follow us on Twitter, Facebook, Pinterest and Tumblr.
Here's an example of his tweets, from June 20th, tweeting his 16 course meal at Le Filet.
Neil Patrick Harris Food Porn
"Blue Point oysters with grapefruit and rosemary. Loved."

"Cavendish cup oysters, cooked with a misogratin. Great."

"Fluke sashimi, with Japanese plum, wasabi, and cucumber. Amazing sauce!"

"Tuna Tartare with egg confit and nori tempura. Outsanding."

"Scallops, avocado, orange, beet. I only like scallops raw, so this was ideal."

"Appalaches venison tartare, with dried grapes, comte, and truffle. Again, delicious."

"Arugula, endive, pear, blue cheese. My body was needing greens at this point... "

"Grilled half lobster, with hollandaise and an urchin sauce. Remarkable. A must have."

"Cod, macadamia, celery root, chorizo flakes. Delicate, yet bold flavors."

"Crab risotto, asparagus, shellfish jus. Phenomenal texture and flavor. Another must have."

"Grilled octopus, marrow, cherry tomatoes. Now they're just showing off. Super tender and great."

"Spaghettini with seafood, tomato, and fried leeks. Al dente, spicy. Outrageously good."

"Onion rings. Because, really, why not? The onions were pickled, making them almost sweet. Best I've had."

"Cavatelli pasta, foie gras, veal check. Tiny bites of deliciousness..."

"Sauteed greens. Kinda boring but still delectable."

"Maple cake with vanilla ice cream and candied walnuts. Dense, full of flavor, perfect. A superb meal!"