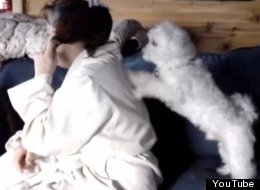 Not all pet tricks have to be stupid pet tricks. Some of them can be downright handy.
We've already shown you how great dogs are at fetching beers for their owners, and now we've found 17 other actually useful pet tricks being demonstrated on YouTube.
These pups can not only fetch, speak and roll over, but load the dishwasher, bring in the groceries and even give back rubs as well. Check out each actually useful trick below and maybe try teaching one to your own dog tonight.
Actually Useful Dog Tricks
The oldest useful dog trick: getting the paper.

This dog closes drawers like a much bigger dog.

In the little dog division, this dog makes closing doors look good.

Dogs can be green, too.

This dog scores points for using no additional aids.

Now if they could just teach him to bark "Gesundheit!"

Most dogs just claw at the bed, but this dog scores points for effort (and actually moving the blanket a little).

Smurf is a little worker bee.

Getting dogs to clean up after themselves seems like a great idea.

Grace may just picking up her toys, but her golden retriever charm gives her major points.

After a long day of work, sometimes you need some help getting your socks off.

We appreciate the guide. Would we let our dog handle our dishes though?

Who is having more fun here?

Very impressive. Now if only Nutmeg could fold.

Now this is impressive.

Who needs kids?

This dog FTW!