Grossinger's, Former Borscht Belt Resort, Sits Abandoned In Liberty, New York (PHOTOS)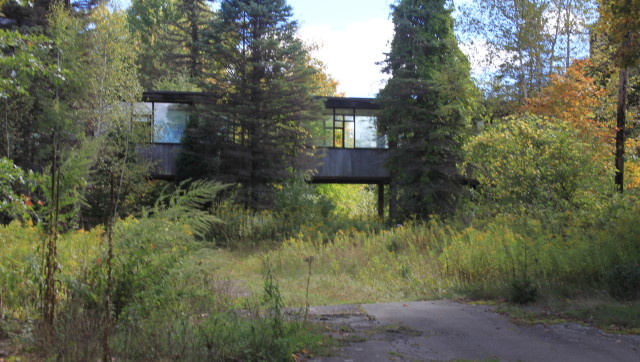 Huffington Post Travel
Grossinger's Resort in the town of Liberty in New York's Catskills was famous back in its heyday.
The resort was part of the so-called "Borscht Belt," where primarily Jewish families from New York City vacationed starting in the 1920s. Grossinger's gained increasing fame in 1952, when it became the first resort to use artificial snow for its ski-fanatic patrons.
By the time of the founder's daughter's death in 1972, the property included 35 buildings on 1,200 acres.
Grossinger's, like many of its fellow Borscht Belt resorts, was closed in 1986 and to this day sits abandoned next to a still working golf-course. In September, the Catskills tourism board announced a winner of its "Capture the Catskill" contest in an attempt to move away from its outdated identity.
When we went to check it out on a recent weekend, we were sufficiently freaked out by the former resort's eeriness. Weeds and even bright flowers, lined the area, and there was more graffiti on the buildings than anticipated. Though it was a beautiful fall day, you couldn't escape the feeling of being watched.
Finding the resort is surprisingly easy, despite some reports we had seen. Follow signs to the Grossinger's Golf Club, which, though a bit rundown, is still active. You can't miss the abandoned former resort buildings on your way.
Herewith, some photos of the former resort.

MORE:
Destinations
,
U.S. Destinations
,
New York Travel
,
Abandoned Homes
,
Abandoned Buildings
,
On The Road
,
Borscht Belt Resorts
,
Abandoned Resort
,
Grossingers Abandoned Resort
,
Borscht Belt New York
,
Grossingers Resort
,
Grossinger Abandoned Resort
,
Grossingers Former Borscht Belt Resort Sits Abandoned In Liberty New York Photos
,
Huffington Post Grossingers
,
Former Borscht Belt Resort Sits Abandoned In Liberty New York
,
Grossingers
,
Abandoned
,
Catskills
,
Borscht Belt