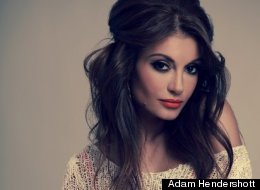 The stress and strains of our always-connected lives can sometimes take us off course. GPS For The Soul can help you find your way back to balance.
GPS Guides are our way of showing you what works for others in the hopes that you can find out what works for yourself. Whether it's photos that relax you or make you smile, songs that bring you back to your heart, quotes or poems that bring you balance or meditative exercises that help you de-stress, we all have tricks that we use when we get bent out of shape. We encourage you to look at the GPS Guide below, visit our other GPS Guides here, and share with us your own personal tips for finding peace, balance and harmony.
Layla Kayleigh's GPS Guide
I think music plays a huge part in me chilling out, I really enjoy being in the car, having a moment alone and listening to my favorite songs.

I love Frank Ocean and Adele. I like Frank Ocean's earlier stuff a little more, but still think he's an incredible artist. There's a song right now byRudimental and John Newman called "Feel The Love," and it just puts me in such a happy head space. I later found out they were English, and think I subconsciously must've felt that because the sound reminded me of London, where I grew up.

Gosh, everything. So much beauty around us, nature, love, people watching. I'm inquisitive by nature and watching the world and people in action inspires me. Definitely my husband and daughter, they make me want to be a better person in every way for myself and for them.

I love taking long showers! I know it sounds so simple, but when you're always on the go, just sitting down in the shower and hearing and feeling the water is very de-stressing. I also love Korean spas when you get in your birthday suit and they scrub you down for a couple of hours. It's a borderline spiritual experience!
Layla Kayleigh is a British model and MTV personality. She currently hosts MTV's "Retromania" and has been the co-host of Randy Jackson's "America's Best Dance Crew" for last six seasons. She continues to report on special projects for CBS's "The Insider" and corresponded for The World Poker Tour, ESPN's Best Damn Sports Show and G4 Network.
Photo credit: Adam Hendershott
For more GPS Guides, click here.