Magician David Blaine Ready To Shock After 4 Years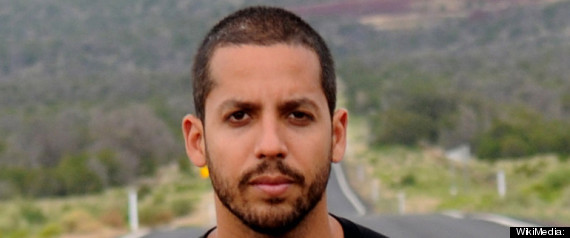 NEW YORK -- Magician-daredevil David Blaine is ready to shock people.
Blaine is returning to New York City on Oct. 5 for a three-day, three-night stunt called "Electrified: One Million Volts Always On." It will be streamed live.
A trailer for the stunt shows the 39-year-old endurance artist wearing a futuristic-looking bodysuit in between two conductors.
Blaine's last stunt was hanging upside down without a net high over New York's Central Park for 60 hours in 2008. But the grand finale of the "Dive of Death" stunt didn't go according to plan.
His other stunts include holding his breath underwater for 17 minutes and 4 seconds, being buried alive for a week in a see-through coffin and being encased in a block of ice for 63 hours.
___
Online:
CLICK:
Loading Slideshow
Blaine performs 'Drowned Alive' at the Lincoln Center in New York.

Magician David Blaine entertains troops during a visit to Kandahar Air Field in Afghanistan, July 28, 2011. DOD photo.

Magician David Blaine talks with comedian Jon Stewart onboard a C-32 aircraft while enroute to visit troops during a 5-day USO tour. DOD photo.

Blaine suspended from trees.

Blaine was suspended above London Bridge for 44 days in 2007.
Copyright 2014 The Local Paper. All rights reserved. This material may not be published, broadcast, rewritten or redistributed.