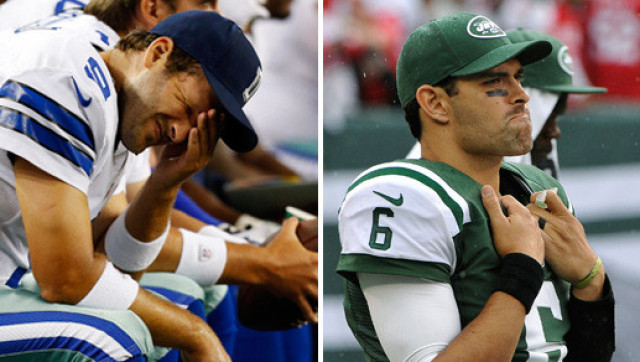 AP
Week 4 wasn't a good week for quarterbacks.
Sure, Ryan Fitzpatrick threw four touchdown passes. But he also threw four interceptions and the Buffalo Bills lost 52-28. Miami's Ryan Tannehill threw for more than 400 yards, but his two interceptions and costly fumble allowed Arizona to rally and win in overtime. The "Costly Fumble Club" also counted Cam Newton as a member. Mark Sanchez had a long day against San Francisco's defense, throwing 29 times (to a decimated receiving corps that lost Santonio Holmes in catastrophic fashion) and mustering just 103 yards with an interception in a 34-0 loss.
Sanchez's performance seemed hands down the worst by a signal caller in Week 4. But then Tony Romo endured a Monday Nightmare against the Chicago Bears. The Cowboys' quarterback matched a career-high with five interceptions (although one may have actually been a fumble), two of which were returned for touchdowns, and was pulled for Kyle Orton before the game ended.
Was it all Romo's fault? One of his go-to targets, Dez Bryant, dropped a number of critical passes that could have helped Dallas stay in the game. A dropped pass by Kevin Ogeltree also led to one of Romo's interceptions.
As was the case in Dallas, there was plenty of blame to go around for the teams that didn't fare well this week. So, who had the worst performance of Week 4? Scroll down to cast your vote.
NFL Worst Performances Of Week 4
FOLLOW HUFFPOST