Across the country, advocates are painting their towns pink in support of Breast Cancer Awareness month, but some supporters are getting sick of the girly-hued activism overload.
"The pink drives me nuts," Cynthia Ryan, an 18-year survivor of breast cancer, told the Associated Press last year. "It's the cheeriness I can't stand."
While the annual Susan G. Komen for the Cure pink campaign is undeniably the largest –- and most visible -- initiative for breast cancer, advocates aren't limited to simply snapping on a bright pin.
Just three days into Breast Cancer Awareness Month, we've already seen less cheer, and more snark.
Someecards, for example, is doing what it does best, giving us reason to LOL even while facing a devastating issue.
PHOTO: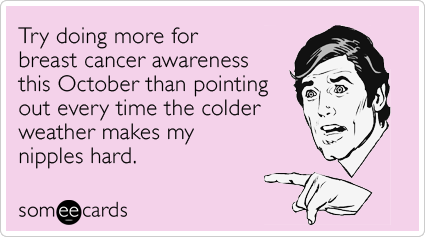 Perhaps such alternatives will help open up supporters to something other than what critics call "pinkwashing."
Coined last year for the inundation of pink tees, tanks and food products that generate money for breast cancer charities, "pinkwashing" leaves some activists feeling concerned.
A few have noted that companies profit too much from the products they promote and others say that the campaign doesn't generate enough of a conversation.
"At one time, pink was the means," Karuna Jaggar, executive director of Breast Cancer Action, told the AP. "Now, it's almost become the end in itself. In its most simplistic forms, pink has become a distraction. You put a pink ribbon on it, people stop asking questions."
Are you advocating for breast cancer patients and survivors this month? Tell us how in the comments section below!
Click through the slideshow below to read about celebrity breast cancer survivors who are fighting for a cure.
SLIDESHOW:
Celeb Breast Cancer Survivors
Eleven years after beating breast cancer, Betsey Johnson melded two of her defining passions--fighting the disease and creating eye-popping fashion pieces. Last year, the style icon came out with a collection of socks, tanks, bracelets and other stand-out pieces that benefitted breast cancer charities.

After undergoing a double mastectomy in 2008, Christina Applegate vowed to "have cute boobs" until she's 90 and to make sure that all women have access to critical care. The "Samantha Who?" star kept good on her promise and founded Right Action For Women, a nonprofit that educates women about breast cancer and provides aid to those who can't afford life-saving screenings. Want to help? Donate here.

Even before this nine-time Grammy award winner was diagnosed with breast cancer in 2006, she was advocating for its victims, Health.com reports. Now that Sheryl Crow's defeated the disease, she's ensuring that others have the same opportunity. Crow helped found the Sheryl Crow Imaging Center. Dedicated exclusively to preventing and treating breast cancer, the center is the only one of its kind in the country and it also provides free treatment to uninsured women. Want to help a patient in need? Donate here.

Inspired by the fact that both she and her mom are breast cancer survivors, Cynthia Nixon now serves as the Susan G. Komen for the Cure spokeswoman. "I feel like I have a very concrete story to tell," she said in a testimonial, My story isn't just my story, it mine and my mother's story." Nixon's served as an ambassador for the foundation, which is the world's largest grassroots network of breast cancer survivors and activists, since 2008. Want to help? Donate to the Susan G Komen Foundation here.

Breast cancer survivor Melissa Etheridge is known for her symbolic anthem "I Run" and for her advocacy for breast cancer research. To encourage her fans to join her crusade, the singer auctioned off her 12-string guitar from her summer tour last year. "Pink Page."