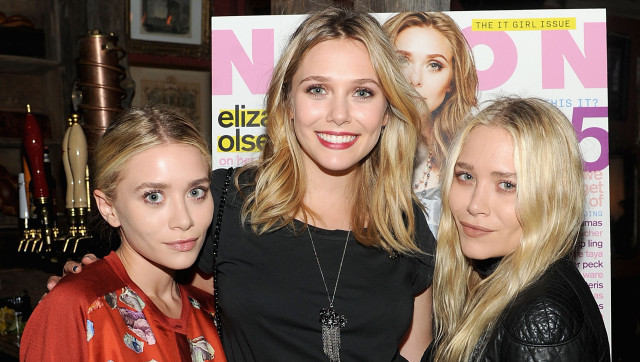 We here at HuffPost Style are definitely our own harshest critics when it comes to what we wear -- turns out, looking at pictures of fabulously-dressed stars all day can make one feel slightly lackluster. But every once in a while, it's nice to remind ourselves that celebs are also filled with their own self-criticism when it comes to personal style. Enter, the always-lovely Elizabeth Olsen to bring us back down to earth.
In an interview with Grazia, the 23-year-old reveals that she isn't much of a fashion plate, claiming that she hardly ever shops. (To be fair, the actress is on quite a few top designers' gift lists, so her closet is certainly not wanting for clothes.) Elizabeth continues to talk style -- family style, to be specific. The "Very Good Girls" star says that sisters Mary-Kate and Ashley have more of a knack for dressing than she does:
"Most of my clothes are from The Row and if I'm not wearing The Row, then it's something that I saw in their closet. I'll say 'Can I borrow this?' and they'll be like, 'Just take it.' They have extensive, beautiful wardrobes. I'm always wondering, 'God damn, how do they figure that looks so good?' I can't pull off some of the things they wear. They're classier and more interesting while I'm a pretty basic dresser."
Even though we're going to have to disagree with Lizzy on this one, it's kind of awesome to think about raiding her sisters' closets. Just imagine: fur coats, avant-garde platform heels and oversized sunnies for miles. Well, since we don't see ourselves getting access Elizabeth's sisters' closets any time soon, we'll have to just mull over the fact that fashionable stars also nitpick their looks. That definitely gives us a little perspective... What do you think of Elizabeth's take on her personal style?
Check out some of Elizabeth Olsen's style. She looks pretty fashionable to us!
Elizabeth Olsen's Style Evolution
SUBSCRIBE TO & FOLLOW LIFESTYLE
HuffPost Lifestyle is a daily newsletter that will make you happier and healthier — one email at a time. Learn more