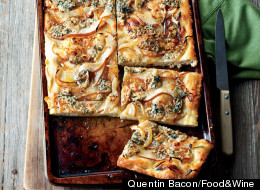 We've already gone over how you can make bread cute. And we've talked about how you can make professional bread in your own kitchen. Now, we're going to show you how to make the most rewarding -- and easiest -- bread with a fall-inspired focaccia recipe.
Focaccia is a typical Italian flatbread which can be topped (or not) with anything you can imagine. Some toppings are sweet, like this roasted grape recipe, some are savory, like this olive focaccia. And some focaccia recipes are a little bit of both, like this one that mixes onions, pears and blue cheese.
Get the Focaccia with Caramelized Onions, Pear and Blue Cheese recipe
Get more fall recipes.
Get the Creamy Barley With Tomatoes And Spinach recipe by Kitchen Trial & Error

Get the Barley and Grilled-Vegetable Salad recipe

Get the Roast Tomatoes, Onion & Pearl Barley Soup recipe by Senses in the Kitchen

Get the Barley Risotto recipe

Get the Pearled Barley Salad with Apples, Pomegranate Seeds and Pine Nuts recipe

Get the Black Bean and Pearl Barley Burgers recipe by Angry Asian Creations

Get the Beef and Barley Stew with Mushrooms recipe by Simply Recipes

Get the Cauliflower and Barley Salad with Toasted Almonds recipe by The Spice Garden

Get the End-Of-Summer Barley Salad recipe by Running To The Kitchen

Get the Moroccan Chickpea Barley Salad recipe by Simply Recipes

Get the Barley Risotto With Roast Pumpkin & Beets recipe by Senses in the Kitchen