When Derrick Doba's wife's computer was stolen, the culprit inadvertently left behind a incriminating and embarrassing clue -- a nude photo of himself.
The laptop was swiped from his Mesa, Ariz., office on Sept. 14 while his wife, Christiana, was backing up items on it.
"She was out of the office and I was in the back and when I heard the door open, I thought it was her," Doba told the Huffington Post. "But it wasn't her. When she came back, she started asking, 'Where's my computer?' and it took 10 minutes for it to sink in that someone walked into the office and took it."
The Dobas have filed a police report and thought the incident might end there.
Then, when Derrick logged onto their LogMeIn.com to remotely access the stolen laptop, he confronted the burglar.
"The other individual on the other end didn't really know what was happening and we started fighting over control of the cursor," he told KPHO-TV.
During their heated encounter, Doba wrote the person using the computer a note via a Microsoft Word document using what he admits were some choice words.
"I basically said, 'Bring back the computer, we can see you, and the police are on the way,'" he told the station. However, the person using the computer logged off.
Then, a few days later, the Dobas' new laptop showed up and they were able to restore all the files on the old computer to the new one using their online backup system, Carbonite.com, KNXV-TV reported.
Along with old photos and documents, there was something new: A folder of photos; very personal photos, including one of a burly, blonde-haired guy working at the computer naked.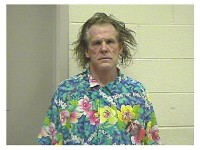 Using the photos as evidence, the Dobas have been able to find some clues track down the naked guy -- who looks like a celebrity impersonator of Nick Nolte's mugshot (left). It seems that he and a female companion were recently staying at a hostel in Yuma, AZ.
"There is a photo of them in a hotel room surrounded by what looks like drug residue," Doba told HuffPost.
Initially, the police didn't give much chance of getting the computer back, but the evidence that Doba has been able to give them has spurred them to reopen the investigation.
Since photos of the naked computer thief have been made public in the Phoenix area, Doba has heard of lots of eyewitness sightings of the man, only clothed.
"Some people told me they saw the couple fighting on the Metro light rail," he said.
Although the very public exposure of the naked man could be embarrassing enough, Doba doesn't want to stop with humiliation.
"I want to get this guy," he said. "I want justice."
That may happen. Detectives were able to identify the woman based on the photos that Doba accessed and went to speak to the suspects on Tuesday evening.
VIDEO: (Story Continues Below)
Things You Can't Do Naked
Thomas Edwin March, 51, had the essentials: a pair of 3D glasses, three 20-ounce cans of Ice House beer, a smashed cheeseburger, and a laptop (possibly to blast a little Bob Seger). Party time. But he got arrested because he was allegedly naked on the beach, and Bunche Beach isn't a nude beach.

Anthony Michael Hedger, 24, was arrested after authorities in South Carolina saw him walking down a highway naked carrying his 13-month-old son, also naked.

Aydrea Meaders is accused of stripping during an upstate New York school assembly. She is facing child endangerment and lewdness charges.

Osmer Hernandez, 33, of New Orleans, La., was arrested when he seranaded cops while naked and masturbating.

Police in Flagler Beach, Fla., arrested Marty R. Parrish after an officer saw him "walking south on the Flagler Beach Boardwalk naked" except for a hat on his head.

John David Kinder, 25, was arrested for allegedly dancing naked outside a Florida woman's house on Aug. 15. He was charged with disorderly conduct.

Matthew Ibarria, a fugitive from Florida wanted for allegedly attacking a relative, was arrested after jumping naked from a car in Georgia. This dashboard video from a Kingsland Police Department vehicle allegedly shows him running away. Read more.

Mabb is accused of exposing herself at an intersection in Pompano Beach, Fla. She allegedly told police she didn't "give a f--k" about her actions, according to a police report.

Lindsay Medd Stevens was arrested by police in Knoxville, Tenn., for indecent exposure after his neighbor saw him cutting a tree down -- while completely in the buff. Knox County sheriff's deputy Scott Ritch told WATE-TV that he saw Stevens standing completely nude in his yard cutting a tree, only to run inside his house when he saw the officer.

Latham, 22, allegedly got naked, stole a man's truck and then ran it into the front of a home at 50 mph. Read more.

Keith Fehr is accused of wearing a black dress and exposed himself to children at a park in Illinois. Read more.

William Bliss was arrested in March, 2012 after claiming four men made him carry a nuclear bomb -- while he was naked and drunk in the middle of an Iowa City street. Read more.

Jacob Lee Bovia is facing real indecent exposure charges for exposing his fake genitalia to a group of women on Maryland's Anne Arundel Community College campus. Read more.

It's not easy to be the most most memorable visitor when thousands of NASCAR fans come to town, but West Virginia's Joshua Greene made a pretty good run for that honor when police caught the streaking 27-year-old with a raccoon in his car.

Hodges, 20, of Florida, allegedly fled to a nudist colony and threatened residents there after committing an armed robbery at a nearby Lowe's. The fully-clothed Hodges was reported to have been easily identified by his pursuers in the naked environment.

Chad William Forber, 41, has been charged with possession of methamphetamine, resisting or obstructing a peace officer and possession of drug paraphernalia, stemming from an incident where he was found naked in public covered in nothing but Crisco.