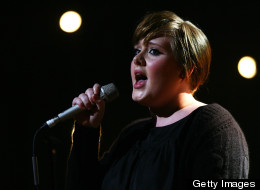 After over a year of speculation, Adele's "Skyfall" theme song finally exists.
Called "Skyfall," the brassy and soulful tune fits perfectly alongside the work of Shirley Bassey in the oeuvre of James Bond title tracks.
"This is the end / Hold your breath and count to 10," Adele sings on her first song since breaking out with the album 21. "Feel the earth move and then / Hear my heart burst again."
The chorus is a plea that's partially based on the Bond film's title: "Let the skyfall / When it crumbles / We will stand tall and face it all / Together."
"Skyfall" was recorded with a 77-piece orchestra at London's Abbey Road studios.
"I was a little hesitant at first to be involved with the theme song for 'Skyfall,'" Adele said in a statement. "There's a lot of instant spotlight and pressure when it comes to a Bond song."
Fortunately, she was calmed by the film's script (credited to Neal Purvis & Robert Wade and John Logan) and the fact that being a part of the Bond franchise meant being a part of history.
"I'll be back combing my hair when I'm 60 telling people I was a Bond girl back in the day I'm sure," Adele joked.
The song debuted at 7:07 p.m. EST, and you can watch the lyrics video above. (A French radio station played an edited version earlier on Thursday.)
Adele's theme could break sales records on iTunes, reports Showbiz 411 writer Roger Friedman.
The "Skyfall" theme was released in conjunction with the 50th anniversary of the first James Bond film, "Dr. No," which premiered on Oct. 5, 1962.
"Skyfall" is out in theaters on Nov. 9. Until then, listen to Adele's theme on repeat.
Ursula Andress as Honey Ryder

Daniela Bianchi as Tatiana Romanova

Honor Blackman as Pussy Galore.

Shirley Eaton as Jill Masterson

Claudine Auger as Domino

Molly Peters as Patricia

Karin Dor as Helga Brandt

Dianna Rigg as Tracy

Jill St. John as Tiffany Case

Jane Seymour as Solitaire

Maud Adams, left, as Andrea and Britt Ekland, right, as Goodnight

Barbara Bach as Major Anya Amasova (a.k.a. Agent XXX)

Lois Chiles as Dr. Holly Goodhead

Carole Bouquet as Melena Havelock

Maud Adams, again, this time as Octopussy.

Tanya Roberts, left, as Stacy Sutton, and Grace Jones, right, as May Day

Maryam D'Abo as Kara Milovy

Talisa Soto as Lupe Lamora, left, and Carey Lowell as Pam Bouvierin, right.

Izabella Scorupco as Natalya Simonova and Famke Janssen as Xenia Onatopp.

Michelle Yeoh as Wai Lin

Sophie Marceau as Elektra King

Denise Richards as Dr. Christmas Jones.

Halle Berry as Jinx Johnson.

Eva Green as Vesper Lynd.

Olga Kurylenko as Camille and Gemma Arterton as Strawberry Fields.

Naomie Harris as Eve.

Berenice Marlohe as Sévérine.

Judi Dench as M, the head of MI6.