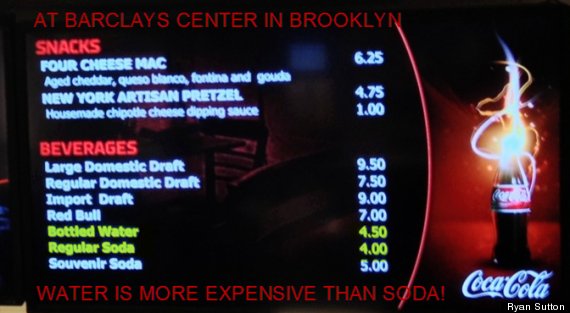 That's right. A bottle of Dasani water costs $4.50 at the new stadium, while soda costs $4. As if it weren't crazy enough that a single bottle of water costs $4.50, customers are given extra incentive to buy soda because it's cheaper. Granted, you get 20 oz. of water and only 16 oz. of soda, but still. It's water.
As recently as September, Ratner said he was just "thrilled" to work with Bloomberg and added, "New York City has set a standard for the country and the world when it comes to public health and we are very proud to be the first to adopt the standards for sugary beverages in our new venue."
The stadium opened Friday and The New York Times spoke to several concertgoers with one annoyed customer bluntly asking, "Is this a Bloomberg thing?" Another called their soda a "French-sized" beverage and said they "wouldn't have minded if it was a little bit cheaper, too."
Related on HuffPost:
Jay-Z Christens Barclays Center
SUBSCRIBE AND FOLLOW
Get top stories and blog posts emailed to me each day. Newsletters may offer personalized content or advertisements.
Learn more