Ordering drive-thru is one of those activities, like reading "Ulysses" or filming your own "Gangnam Style" parody video, that often seems like it will be more pleasurable in theory than it winds up being in practice. It takes forever to snake through the line; they botch your order; you spill In-N-Out special sauce all over the freshly-detailed leather seats of your Audi A6.
But this year's installment of an annual study of drive-thru experiences by QSR magazine aims to solve the first two of those problems, at least. (When you decide to eat hamburgers in the front seat of a $43,000 car, you're on your own.)
The magazine sent test-drivers out to the drive-thru windows of several of the leading fast food chains to rate the brands on several key metrics, which aimed to discern how fast, friendly and clean the different brands were. The testers found major disparities.
When it came to speed, Wendy's reigned supreme. The average order there took just 129 seconds start to finish, more than 50 percent less than at its slowest competitor, Burger King, where the average order took 201 seconds. The runner-up for speed was Taco Bell, where the average order took 145 seconds.
Here are the full findings on order quickness:

Most of the brands did well on cleanliness overall, though there were some performance discrepancies on the mystifying "visibility of dumpsters" metric. Taco Bell and Burger King were the most likely to hide their dumpsters, with Bojangles and Krystal being the least likely.
Perhaps the most striking finding, though, came in the service categories. Fried chicken chain Chick-fil-A dominated, with 57 percent of servers being rated "very friendly" and another 35 percent being called "pleasant." They were also the most likely to make eye contact, smile and say "please." And they almost never got an order wrong.
Here's a chart of the indicating how often servers said various pleasantries: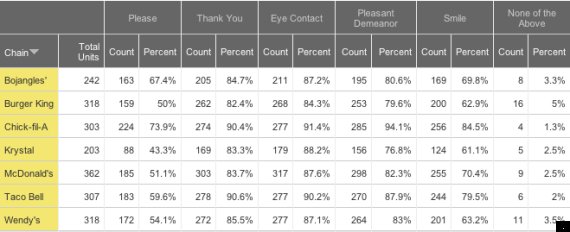 At least the company is being nice in some ways.
Earlier on HuffPost:
Loading Slideshow
10: Chick-fil-A, $4,051,000,000

Although Chick-fil-A has recently found itself <a href="http://www.huffingtonpost.com/2012/07/30/chick-fil-a-brand-approval-rating-anti-gay-controversy_n_1719359.html" target="_hplink">embroiled in social controversy</a>, it managed to make the top ten in 2011.

9: KFC, $4,500,000,000

Although KFC lost 275 locations last year, they still managed to remain in the top ten in 2011.

8: Pizza Hut, $5,500,000,000

Pizza Hut came out on top in a <a href="http://www.huffingtonpost.com/2011/07/27/pizza-hut-ads_n_911106.html#s316917&title=Super_Sincere" target="_hplink">study on ad effectiveness in 2011</a>. An ad for the chain's Ultimate Stuffed Crust Pizza made consumers the hungriest.

7: Dunkin' Donuts, $6,500,000,000

With 115 new locations, Dunkin' Donuts had the second largest location growth in 2011 (beaten by Subway by an insane margin -- they opened 872 new locations).

6: Taco Bell, $7,000,000,000

Taco Bell's 2011 started out turbulently, with a well-publicized lawsuit surrounding the content of their beef. They counteracted the suit with (among other measures) <a href="http://www.huffingtonpost.com/2011/01/28/taco-bell-beef-meat-lawsuit-ads_n_815303.html" target="_hplink">full page ads in the <em>New York Times</em> defending their meat</a>, managing to right the ship and have a great year -- even before the launch of this year's famous <a href="http://www.huffingtonpost.com/2012/06/05/doritos-locos-most-popular_n_1571160.html" target="_hplink">Doritos Loco Taco</a>.

5: Burger King, $8,400,000,000

Burger King hopped on the avocado band wagon last year, which was only one of many changes the chain underwent, including the <a href="http://www.huffingtonpost.com/2011/08/19/burger-king-de-thrones-king_n_931208.html" target="_hplink">dethroning of their mascot, The King</a>.

4: Wendy's, $8,500,000,000

It seemed likely that <a href="http://www.huffingtonpost.com/2012/03/19/wendys-burger-king-number-two_n_1364514.html" target="_hplink">Wendy's would dethrone Burger King to become the second biggest burger chain in the U.S.</a> -- and it turns out, they totally did.

3: Starbucks, $9,750,000,000

Starbucks closed the most locations of any of the chains in the top ten last year, shuttering 310 locations. In 2011 the chain also <a href="http://www.huffingtonpost.com/2011/01/17/starbucks-new-size-trenta-graphic_n_810083.html" target="_hplink">rolled out its insane, 31oz Trenta size</a>.

2: Subway, $11,400,000,000

Subway was recently crowned both <a href="http://www.huffingtonpost.com/2012/05/10/best-fast-food-restaurants_n_1507319.html" target="_hplink">America's favorite fast food restaurant</a> and its <a href="http://www.huffingtonpost.com/2011/03/07/worlds-largest-restaurant-chain-subway_n_832511.html" target="_hplink">biggest chain</a>. Opening 872 new locations in 2011, their total number of U.S. locations rose to 24,722, nearly beating McDonald's and Starbucks combined.

1: McDonald's, $34,172,000,000

Well, no surprise here, right? While no longer the largest fast food chain in America, McDonald's is surely the most successful -- their 2011 U.S. revenue beats Subway and Starbucks' totals combined. A recent American Consumer Satisfaction Index survey revealed that the chain is, however, <a href="http://www.huffingtonpost.com/2012/06/21/mcdonalds-low-customer-satisfaction_n_1615606.html" target="_hplink">at the bottom in terms of customer satisfaction</a>, so McDonald's may not reign forever.