At 31, Chris Thile is special in an already special circle: the mandolinist who first won awards as part of the Grammy-winning trio Nickel Creek is this year's youngest MacArthur genius. The annual fellowship grant from the John D. and Catherine T. MacArthur Foundation gifts $500,000 to each genius to spend as his or her genius dictates -- pretty good pocket change for someone who hasn't even been out of college a decade.
In the face of such a high-stakes tradition, it might be tempting to try to adopt sang froid. But Thile isn't shy about grinning through the confetti. Sitting next to Junot Diaz and across from Charlie Rose this week, Thile beamed and ran overtime with every one of his exuberantly gestured thoughts, while Diaz, the 43-year-old writer of the moment who also made this year's cut, spoke in flawless metaphors and kept still. More than equals, they resembled the Karate Kid and Mr. Miyagi.
Thile might extend the student-sensei analogy to his relationship with all 22 of his new cohorts. When the composer spoke with The Huffington Post this Tuesday, less than 24 hours after the normally top secret list leaked, he talked of a "dauntingly lofty" new personal bar, swearing to us multiple times up and down that he's going to "try so hard to live up" to the standards of a group that includes a neurosurgeon and a telescope designer in its varied ranks. Did you hear that, doubters? Read on for the rest of what Thile said, including what it physically felt like to get the life-changing news, why he kept dodging the call, and his plans for all that cash.
HP: How does it feel to be a genius?
CT: I'm feeling pretty spectacular.
HP: How did you find out the news?
CT: The call started while my mother was driving me from my folks' place in Vernon, Kentucky to Nashville, where Punch Brothers [Thile's new band] had a gig. It was a strange number. I felt like it was a 'make sure to vote' robot. In my mind, I was like, 'Don't worry. I'm going to vote. Everything's cool!' Eventually Daniel Socolow -- the director of the Fellowship -- he left a message just saying his name, which I didn't recognize from anything, and saying he had something of interest to discuss with me.
I'm a musician, so a lot of times when people leave messages like that, they've gotten my number through a friend and want me to play on their record or something. So I wasn't even going to call back, but then he called me again -- at this point, my mom had already dropped me off in Nashville -- and he left a message saying, 'Don't tell anyone about this call.' Anyone who's seen any television knows you get that call right before getting shot. So the first thing I did was show it to someone. I played it for my tour manager. He googled the number and said, 'It appears to be from the MacArthur Foundation.'
Right then, I felt like an eighth of a person. I was in a state. A total state. I imagine it could be called hyperventilating. I thought, 'Wait, this can't be about me. They want me to confirm or recommend a buddy, or maybe the Foundation does other stuff that I'm not thinking about, NPR or PBS stuff -- This program has been made possible by the John D. and Catherine T. MacArthur Foundation, you know.
I called back, and the secretary said, 'He'll call you within five to 15 minutes.' And I'm freaking out. The boys actually took [and Tweeted] a picture of me laying down in the dressing room.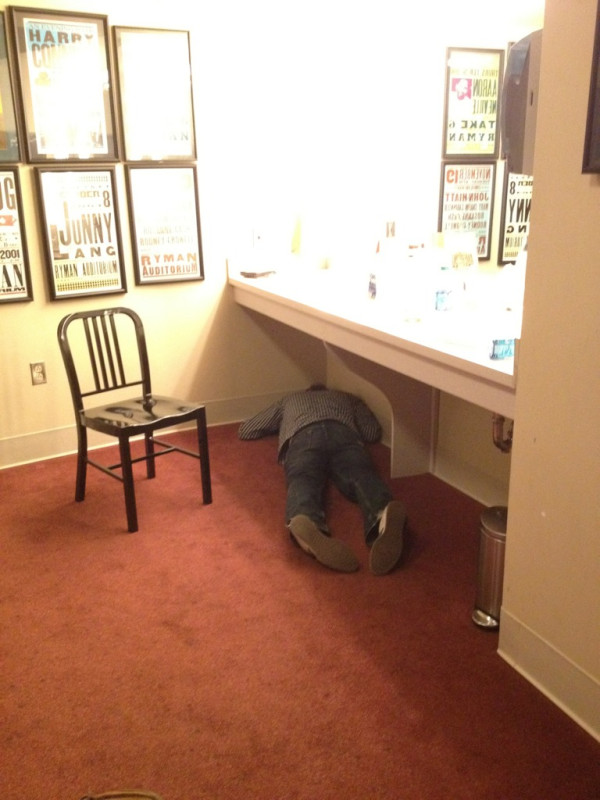 Courtesy Chris Thile
He called me back and slowly unveiled that I'd been given a fellowship. At that point there's just this feeling of levitating. I literally felt like I was floating. Then it would just be this alternating between levitating and an intense heaviness that was kind of all wrapped up in, 'I don't deserve this but I want to deserve this. I want to do good enough work to not stand out on this list. I just want to blend in and not be the dud on that list of people' -- a list I only just saw yesterday, you know, when the AP leaked the thing. I was just looking down that list and, god, I'm still just flabbergasted. The company is dauntingly lofty. I swear to god, I'm going to try so hard to live up to them.
HP: When did all this happen?
CT: About two weeks ago.
HP: So you weren't expecting the news at all? You didn't have the date of the MacArthur announcement circled in red on your calendar?
CT: You don't apply. It literally comes out of the clear blue sky. You get nominated, you're not made aware that you've been nominated. No one tells you. It's completely bizarre, a total hyperventilating situation. I play mandolin. I grew up going to bluegrass festivals -- and granted I've been an ambitious little fucker since I was five -- but this is bizarre. It's bizarre, and it's wonderful and it's inspiring and it's terrifying.
CT: I'm afraid I'm not able to articulate it better.
HP: Do you know who nominated you?
CT: They don't ever want you to know. Everyone who nominates and confirms is sworn to secrecy. I think occasionally people kind of can't hold on to the secret, but my buddy Edgar [Meyer], he won it several years back, and he doesn't know who nominated him. In an age where nothing is secret anymore, the MacArthur Foundation is really bringing it on the magical front.
HP: Now that you are $500,000 heavier, how to you plan to lose the weight?
CT: A very small allocation will go to some incredibly nice liquor to enjoy with dearest friends and family and collaborators. And then I think I may buy myself a little mandolin present. The one I have my eye on is a 1924 Gibson F5. It has a curly maple back and sides and the top of it is Adirondack Spruce. It's a lot of mandolin.
HP: What does that mean?
CT: It's just an absolute hoss, as we say in the bluegrass world. The box just explodes with sound. It matches you stroke for stroke. What caught my eye is it's two serial numbers away from mine. It's the same batch probably, on the workbench. And a buddy of mine owns the mandolin in between the two.
HP: Have you been able to play it yet?
CT: It's with me right now. I'm looking at it in its case. I've basically bought it with an approval period. I have three days to decide.
HP: How much does a mandolin like that go for?
CT: This one is in the 180 [thousand dollar] zone. My other one is what I spent most of the money I made playing in Nickel Creek on. It's 200 [thousand dollars].
HP: That's steep! How does anyone buy one of those without winning a genius grant?
CT: The vast majority of these mandolins don't get played. Almost no players have them. It's all collectors. It's a shame, because they literally go to sleep. They don't get devalued though, and that's actually more sad. There's no financial incentive for the people who collect them to get them in the hands of players.
HP: But they degrade over time?
CT: Without sound vibrating through the wood, the wood tightens up. Mine, the one that I currently own, hadn't been played in 80 years. It sat under a bed. It's taken me years to wake it up, whereas if it had been played that whole time it'd be awake and it'd just be getting better. Ones that spend their lives in the hands of great players sound incredible.
In classical music, there are programs that put these instruments in the hands of players. I would love to try and head up a program like that in bluegrass. There are wonderful young mandolin players who don't have access to great instruments, and there are tons of great instruments just sitting in boxes. It literally drives me to distraction.
HP: You're in a position to do something now. How are your bandmates taking the news of your newfound status?
CT: They are just being so sweet and supportive and making sure to give me enough shit so I don't float away.
CLICK through the slideshow below for all 23 of this year's MacArthur geniuses:
Chris Thile New York, NY Age: 31 Mandolinist and Composer creating a new musical aesthetic and a distinctly American canon for the mandolin through a lyrical fusion of traditional bluegrass orchestrations with a range of styles and genres.

Benjamin Warf Children's Hospital Boston Boston, MA Age: 54 Pediatric Neurosurgeon revolutionizing treatment of hydrocephalus and other intra-cranial diseases in very young children and advancing standards of and access to health care in both the developed and poorest regions of the world.

Melody Swartz École Polytechnique Fédérale de Lausanne Lausanne, Switzerland Age: 43 Bioengineer enhancing understanding of the dynamic processes of tissue vascularization and immune responses to tumor invasion using a large toolbox of concepts and methods from biophysics, cell culture, molecular genetics, engineering, and immunology.

Daniel Spielman Yale University New Haven, CT Age: 42 Computer Scientist connecting theoretical and applied computing to resolve issues in code optimization theory with implications for how we measure, predict, and regulate our environment and behavior.

Benoît Rolland Benoît Rolland Studio Boston, MA Age: 58 Stringed-Instrument Bow Maker experimenting with new designs and materials to create violin, viola, and cello bows that rival the quality of prized nineteenth-century bows and meet the artistic demands of today's musicians.

Nancy Rabalais Louisiana Universities Marine Consortium Chauvin, LA Age: 62 Marine Ecologist documenting the environmental and economic consequences of hypoxic zones in the Gulf of Mexico and informing strategies for restoring the degraded waters of the Gulf and the Mississippi River basin.

Laura Poitras Praxis Films New York, NY Age: 48 Documentary Filmmaker revealing the consequences of military conflict abroad in illuminating documentaries that portray the lives and intimate experiences of families and communities largely inaccessible to the American media.

Terry Plank Columbia University New York, NY Age: 48 Geochemist probing the usually invisible but remarkably powerful thermal and chemical forces deep below the Earth's crust that drive the motion of tectonic plate collisions.

Dylan C. Penningroth Northwestern University Evanston, IL Age: 41 Historian unearthing evidence from widely scattered archives to shed light on shifting concepts of property ownership and kinship among African American slaves and their descendents following emancipation.

Maurice Lim Miller Family Independence Initiative Oakland, CA Age: 66 Social Services Innovator designing programs of mutual support and self-sufficiency that break the cycle of economic dependency for low-income families and build more resilient communities from the ground up.

Sarkis Mazmanian California Institute of Technology Pasadena, CA Age: 39 Medical Microbiologist illuminating the complex interplay between microbes and the host immune system and the role certain bacteria may play in the development, or mitigation, of a broad range of human diseases.

An-My Lê Bard College Annandale-on-Hudson, NY Age: 52 Photographer approaching the subjects of war and landscape from new perspectives to create images that blur the boundaries between fact and fiction and are rich with layers of meaning.

Elissa Hallem University of California, Los Angeles Los Angeles, CA Age: 34 Neurobiologist exploring the physiology and behavioral consequences of odor detection and chemoreception in invertebrates and identifying interventions that may eventually reduce the scourge of parasitic infections in humans.

Olivier Guyon University of Arizona Tucson, AZ Age: 36 Optical Physicist and Astronomer designing telescopes and other astronomical instrumentation that play a critical role in the search for Earth-like planets outside our solar system.

David Finkel Washington Post Washington, DC Age: 56 Journalist pushing beyond the constraints and conventions of traditional news writing to craft sustained narratives that heighten the reality of military service and sacrifice in the public consciousness.

Junot Díaz Massachusetts Institute of Technology Cambridge, MA Age: 43 Fiction Writer using raw, vernacular dialogue and spare, unsentimental prose to draw readers into the various and distinct worlds that immigrants must straddle.

Eric Coleman University of Colorado School of Medicine Denver, CO Age: 47 Geriatrician addressing system-wide deficiencies in patient transitions from hospitals to homes and other sites of care and improving the health outcomes of millions of older adults suffering from chronic illness.

Maria Chudnovsky Columbia University New York, NY Age: 35 Mathematician investigating the fundamental principles of graph theory and laying the conceptual foundations for deepening connections between graph theory and other major branches of mathematics, such as linear programming and geometry.

Raj Chetty Harvard University Cambridge, MA Age: 33 Public Economist elucidating key policy issues of our time in theoretical and empirical studies that refine our understanding of the impact of public finance on economic activity.

Claire Chase International Contemporary Ensemble Brooklyn, NY Age: 34 Arts Entrepreneur forging a new model for the commissioning, recording, and live performance of classical music and opening new avenues of artistic expression for the twenty-first-century musician.

Uta Barth Los Angeles, CA Age: 54 Conceptual Photographer exploring the nature of vision and the difference between how we see reality and how a camera records it in evocative, abstract compositions that focus attention on the act of looking and the process of perception.

Natalia Almada Altamura Films Mexico City, Mexico Age: 37 Documentary Filmmaker capturing complex and nuanced views of Mexican history, politics, and culture in insightful and poetic works that affirm the potency of documentary film as both an art form and a tool for social change.