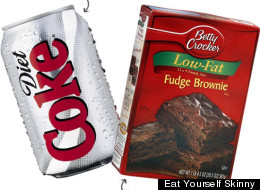 The diet craze has sparked some strange phenomenons, like eating cabbage soup for two weeks straight or chowing down half a grapefruit before every meal. We're getting used to seeing people count their calories or curb their carb intake -- though, as food lovers, we don't like it one bit.
Sometimes though, we see something so alarming on the food scene that it stops us dead cold -- and as food editors we're pretty desensitized since we see a lot of bizarre food choices. But when we saw brownies made with nothing more than Diet Coke and low-fat brownie mix on the food blog Eat Yourself Skinny we were shocked. Oh horrors of horrors, we thought, why would anyone do that to a brownie? So naturally, we baked them up.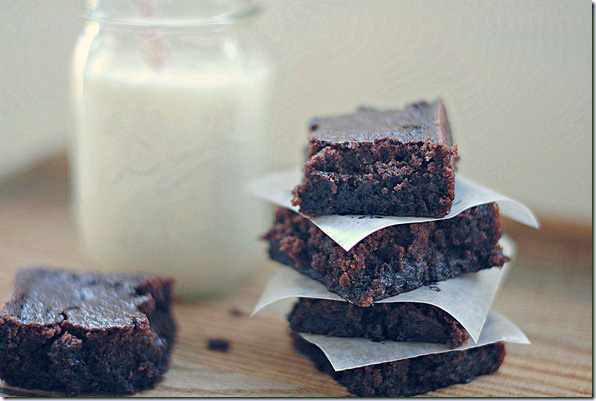 Photo by Eat Yourself Skinny
The end result was surprising, to say the least. Here's what our editors thought:
"I like these. I can tell that these aren't 'normal' brownies because they have a lighter and fluffier texture, yet still retain a pretty good chocolate taste. Do I like these more than 'normal' brownies? Well, no. I miss the fudgy density that I think are one of the strongest points of brownie mixes. But if I was craving a brownie and avoiding oil/eggs, then this is totally a worthy substitute."
"Ok these are definitely not brownies, but if you presented them to me as 'sticky chocolate cake' I would think it was delicious. They don't have the density of brownies, but rather a sticky, sponge cake-like quality. My biggest fear was that it'd taste like diet soda, but thankfully the artificial sweetener was undetectable."
"They sort of look like brownies and taste like brownies, but the texture is very sticky and sponge-like. The taste is ok, sort of like a mass-produced brownie, but if you didn't tell me I wouldn't know they were made with Coke."
"This would satisfy that afternoon need for a sweet fix."
The take away for us was that these brownies were definitely not bad. They tasted like chocolate, and not at all like Diet Coke. And while they didn't have a brownie consistency, they we're a fine substitute for the real thing. So if you're someone who wants to watch what you eat, you might not be sorry to give these a try.
Want a real brownie now? Check out these recipes.
Get the Full Moon Brownies recipe by Whipped If you're looking for a deep, chocolatey brownie, this recipe's for you. With cocoa powder and dark chocolate, it has a richly dark flavor.

Get the Layered Brownies recipe by What's Gaby Cooking Oreo cookies and homemade cookie dough find their way into these brownies.

Get the Peanut Butter and Fleur de Sel Brownies recipe by Love and Olive Oil If you think Reese's Peanut Butter Cups do the peanut butter and chocolate combination best? Think again. These peanut butter and chocolate brownies can't be beat.

Get the Thick Brownies recipe by A Spicy Perspective This is a whole lot of brownie. It's thick, rich and dense -- a true chocolate lover's dream come true.

Get the Cream Cheese Swirl Brownies recipe by A Pretty Life While we love our brownies plain and full of chocolate, we can't help but be impressed when they're covered with swirls of cream cheese.

Get the Peanut Butter Cheesecake and Cookie Dough Brownies recipe by Table for Two This is the ultimate dessert brownie. Not only does it have peanut butter, but it also incorporates cheesecake and cookie dough.

Get the Chocolate Fudge Brownies with Chocolate Buttercream Frosting recipe by Eats Well With Others This brownie recipe offers a triple chocolate dose. The chocolate batter is mixed with chocolate chips and it's topped with chocolate buttercream frosting.

Get the S'mores Brownies recipe by Prevention RD What more could you want form a rich brownie than topping it with melted chocolate and broiled marshmallows?

Get the Snickers Cheesecake Brownies recipe by Bakers Royale Not only are these brownies rich and fudgey, but they're topped with a layer of cheesecake and Snickers bars.

Get the Cinnamon Brownie recipe by The Little Red House If you've never tried the combination of cinnamon and chocolate, you're in for a real treat. They complement each other beautifully.