From Douglas Main, OurAmazingPlanet Staff Writer:
The U.S. Southwest typically evokes images of endless deserts, without a drop of water in sight. But about 14,000 years ago, the Southwest was home to many large lakes, such as Lake Bonneville, which covered much of present-day Utah and was nearly as large as Lake Michigan. Over the years, Bonneville evaporated, leaving behind today's Great Salt Lake, and other smaller bodies of water.
Just how those huge original lakes got there, though, has been a long-unanswered question.
One leading theory: Enormous ice sheets that once covered much of North America split the jet stream that runs eastward across the northern United States and Canada and redirected storms and rainfall southward over the western states.
But that hypothesis is wrong, according to a study published Sept. 27 in the journal Science.
Rain from the south
Were that hypothesis correct, there would have been heavy rainfall between the coast and the lakes, dropped there by weather systems moving east, the authors of the new study reasoned. To reconstruct ancient levels of rainfall in the area, the scientists looked at levels of old lakes, and analyzed the type of pollen found in sediment cores in the ocean. Rainfall affects the type of plants that grow in an area and how much pollen they produce — pollen that is blown out over the ocean and settles on the seafloor.
Their analysis found that the area was quite dry indeed, suggesting that the altered jet stream wasn't the source of the lakes. [50 Amazing Facts About Earth]
Instead, researchers think that large storms from the tropics came north, dropping large amounts of rain to form these ancient lakes, said Mitch Lyle, study author and Texas A&M researcher. Researchers think this is the likely explanation, due to evidence of heavy rainfall to the south of ancient Lake Bonneville, in an area stretching between present-day Utah and the Baja peninsula.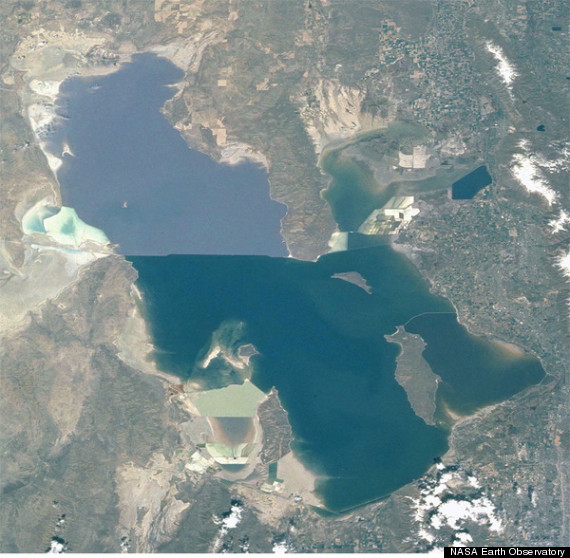 The Great Salt Lake. This photograph was taken by an astronaut aboard the International Space Station in the summer of 2001.
Past and future climate
The study affects the way scientists think about North America's ancient climate, and, indirectly, what may happen in the future, in our warming world. Climate change can have very specific local effects, and change what areas receive rain, and when, he said.
"It has been assumed that all the great basin lakes operated in unison, i.e., that the whole West got more precipitation at the same instant," Lyle told OurAmazingPlanet. "But our data show that large-scale patterns developed and changed over thousand-year time frames."
In this case, tropical rains formed huge lakes that served as home to ancient inhabitants of North America. For example, some of the oldest known human remains in North America have been found near Paisley Cave in present-day southeastern Oregon, on the banks of an ancient lake, Lyle said.
Reach Douglas Main at dmain@techmedianetwork.com. Follow him on Twitter @Douglas_Main. Follow OurAmazingPlanet on Twitter @OAPlanet. We're also on Facebook and Google+.
Copyright 2012 OurAmazingPlanet, a TechMediaNetwork company. All rights reserved. This material may not be published, broadcast, rewritten or redistributed.
Also on HuffPost:
Loading Slideshow
Rain clouds sweep over the desert plains on the Birdsville Track June 9, 2005 near Marree, Australia. (Photo by Ian Waldie/Getty Images)

A storm cloud passes over as the US space shuttle Discovery sits on Pad 39A on November 3, 2010 at Kennedy Space Center in Florida. (TIMOTHY A. CLARY/AFP/Getty Images)

A girl gathers flowers of rapeseed (brassica napus) in a field some 300 km from Kiev prior to heavy rain on May 10, 2010. (SERGEI SUPINSKY/AFP/Getty Images)

Rain clouds sweep over the desert plains on the Birdsville Track June 9, 2005 near Marree, Australia. (Photo by Ian Waldie/Getty Images)

Clouds hang over the Hong Kong skyline on May 22, 2011. (Ed Jones/AFP/Getty Images)

The cathedral of Strasbourg, eastern France is pictured on September 18, 2011 as the sun sets on a cloudy sky. (PATRICK HERTZOG/AFP/Getty Images)

Simon Buret, the singer of French band Aaron, performs during the second day of the 36th edition of the Paleo festival on July 20, 2011 in Nyon. (FABRICE COFFRINI/AFP/Getty Images)

A cumulonimbus cloud as seen from a commercial airliner on May 28, 2009. (KAREN BLEIER/AFP/Getty Images)

Rainclouds cover the buildings in the central business district of Bangkok on June 16, 2008. (PORNCHAI KITTIWONGSAKUL/AFP/Getty Images)

Huge rainclouds gather on the horizon beyond Belarabon Station May 17, 2007 in Cobar, Australia. (Photo by Getty Images)

Rain clouds loom over the city skyline November 23, 2005 in Sydney, Australia. (Photo by John Pryke/Getty Images)

Villagers walk against a backdrop of cyclone clouds on the outskirts of the eastern temple city Bhubaneswar on May 25, 2009. (ASIT KUMAR/AFP/Getty Images)

Dark rainclouds loom before a heavy downpour, which delayed the start of the IPL Twenty20 cricket match between Pune Warriors India and Royal Challengers Bangalore at The Subroto Roy Sahara Stadium in Pune on May 11, 2012. (INDRANIL MUKHERJEE/AFP/GettyImages)

Indian walk along Juhu Beach in Mumbai on July 22, 2008 as monsoon rainclouds gather overhead. (SAJJAD HUSSAIN/AFP/Getty Images)

Storm Clouds gather during day 3 of the Fifth Test between South Africa and England on January 23 2005 at Centurion Cricket Ground, Pretoria, South Africa (Photo by Tom Shaw/Getty Images)

Also On The Huffington Post...

Research is finding that there may be a link between lightning and migraines. The reason could be changes to the air's ionic charges from a lightning strike affecting a person's brain, giving them a migraine. But the scientists admit more research needs to be done. Patrick Jones has the story.