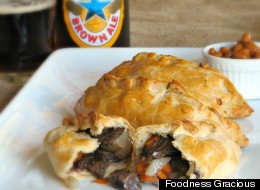 You know that old legend about English food? That it's terrible, grey, sad, unpalatable? Everyone who ever told you that was a liar or was lied to themselves. And we're here to prove it to you today.
If you think about it, the climate of Great Britain lends itself to warming, comforting foods that go well with big dark beers and crusty breads. How could that possibly be bad? Not to mention the fact that English cuisine brought us HP Sauce -- one of earth's single greatest condiments.
Today, we've compiled some of our favorite, savory, traditional English specialties and a few sweets. We're starting at breakfast and heading on to dessert. We can't stress enough how much your life will improve by giving English food a try. Just make sure to have a good ale on hand, and hungry people to share with.
As always, if we missed your favorite dish, let us know in the comments!
Want to read more from HuffPost Taste? Follow us on Twitter, Facebook, Pinterest and Tumblr.
Get the Full English Breakfast recipe from Mondomulia

Get the Welsh Rarebit recipe from The Pioneer Woman

Get the Cornish Pasty recipe from Foodness Gracious

Get the Shepherd's Pie recipe from Salad in a Jar

Get the Vegetarian Shepherd's Pie recipe

Get the Yorkshire Pudding recipe from Simple Bites

Get the Fish and Chips recipe from Crispy Bits & Burnt Ends

Get the Mushy Peas recipe from Eat and Relish

Get the Summer Pudding recipe from The District Domestic We know, we know, we're a little late. Consider it something to look forward to next year.

Get the Autumn Trifle recipe from The Traveler's Lunchbox

... a pile of Eton Mess atop a subwoofer. Enjoy!