Madonna is set to hit a major career milestone -- and she wants her biggest fans to join the celebration!
Oct. 6 marks 30 years since the release of the pop queen's debut single, "Everybody." To celebrate the song that launched one of music's most legendary careers, Madonna's official web site is asking fans to pay tribute to the Material Girl using her own iconic work as a source of inspiration.
Fans should pick their favorite Madonna single or album sleeve and come up with their own sleeve face creation! You can stick to the original photo's look and feel or make it even more fun by adding accessories and/or an unexpected background -- the only limit being your imagination.
Once done, e-mail your creation to madonnacontests@gmail.com before 11:59pm EST on Oct. 19, 2012, using "MY MADONNA SLEEVE FACE" as your e-mail's subject line. Madonna will select her favorite 10 photos out of the submissions.
The "Touchdown" grand prize winner will get an exclusive fan pack thats include an autographed football helmet signed by Madonna right after her 2012 Super Bowl performance, one pair of Golden Triangle pit tickets to an upcoming MDNA Tour show, one month's supply of Vitacoco, "Addicted to Sweat" full DVD set, one album cover lithographs set and one pair of "Truth or Dare by Madonna" shoes (size and styling of your choice). Nine additional fan packs also comprise great Madonna-themed goodies.
So what are you waiting for? Strike a pose, there's nothing to it!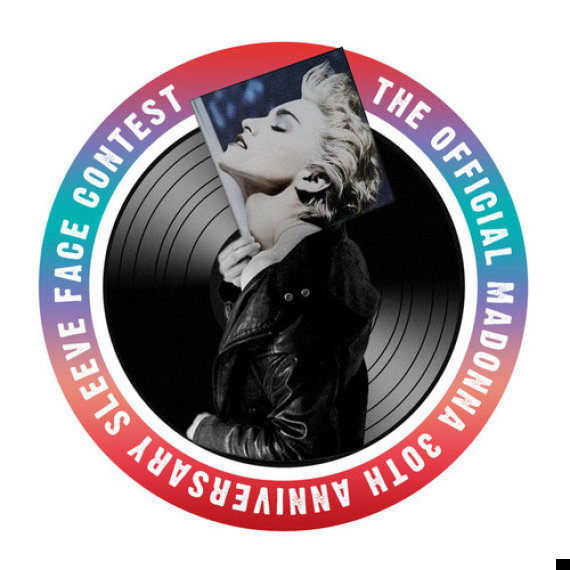 Click here for additional details and full details on all of the incredible prize packages.
Submitted photo must be a JPEG file. Maximum file size is 1MB.
One entry per member please. Multiple entries received from the same member/person will be disqualified.
This is an Internet offer only. All entries must be submitted via email to madonnacontests@gmail.com
A selection of the valid collected entries will be posted to Madonna's official site and social pages, as well as Huffington Post Gay Voices.
Loading Slideshow
'Open Your Heart,' 1986

A gay couple and a woman in drag are among the many voyeurs watching Madonna in her peep show number in this video (which also saw the debut of her now-iconic conical bustier).

'Cherish,' 1989

Much has been made of the subtle homoerotic elements seen in Madge's otherwise playful "Cherish" video. Directed by the late photographer Herb Ritts, the video also stars Tony Ward, who would briefly date Madonna the following year, as a hunky merman.

'Vogue,' 1990

Madonna penned her smash hit in honor of the underground club dance that was then taking the LGBT community by storm. Personally, this Marie Antoinette-inspired performance of the song at the 1990 MTV VMAs is our favorite.

'Justify My Love,' 1990

A healthy dose of LGBT imagery was one of the many reasons "Justify My Love" was deemed too hot for MTV in 1990. Madonna smooches a woman in lingerie, while her then-boyfriend Tony Ward (also seen in her "Cherish" video) cavorts with a number of men in S&M drag.

'Bye Bye Baby,' 1993

Madonna's 1993 Girlie Show Tour was peppered with lots of homoerotic and lesbian imagery. In what was perhaps the show's most overtly gay moment, Madonna donned a Marlene Dietrich-inspired top hat and tails and proceeded to playfully grope and spank one of her cabaret-styled backup girls.

MTV VMAs Drag Queen Tribute, 1999

"It takes a real man to fill my shoes," Madonna quipped at the end of this stunning tribute performance, which saw some amazing drag queens re-creating many of the diva's most iconic looks over the years.

The Britney/Christina Kiss, 2003

In a throwback to her now-legendary 1984 performance of "Like A Virgin," Madonna was joined onstage by Britney Spears and Christina Aguilera, both of whom she rewarded with an open-mouthed kiss, at the 2003 VMAs.

'Forbidden Love,' 2006

Madonna got political -- and gay -- during this moment from her Confessions Tour when two of her barechested male dancers, emblazoned with Jewish and Islamic symbols engaged in a steamy dance using only their arms.

'Girl Gone Wild,' 2012

Madonna got down and dirty with a group of chiseled back-up dancers in the steamy video for her 2012 single. Intercut with scenes of the diva herself gyrating wildly are shots of barechested men in high heels and in scintillating embraces.

Madonna In St. Petersburg, 2012

The Queen of Pop spoke out while in St. Petersburg, which adopted a law this year to curb "homosexual propaganda," as part of her MDNA Tour. Madonna urged her audience -- most wearing pink wrist bands distributed at the door -- to "show your love and appreciation to the gay community," according to Reuters. "We want to fight for the right to be free," she said.